Elevator pitch
Mentoring programs such as Big Brothers Big Sisters of America have been providing positive role models and building social skills for more than a century. However, most formal mentoring programs are relatively novel and researchers have only recently begun to rigorously evaluate their impact on changing at-risk youth's perspectives and providing opportunities for them to achieve better life outcomes. While a variety of mentoring and counseling programs have emerged around the world in recent years, knowledge of their effectiveness remains incomplete.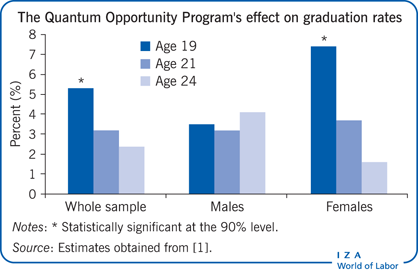 Key findings
Pros
Rigorous studies of the effectiveness of mentoring programs find positive but modest effects on some mentees.
By providing positive role models, mentors promote resiliency among at-risk youth.
Mentors help to build mentees' (frequently weak) social skills.
Community-based after-school programs can provide safe havens where youth can express themselves and receive guidance in engaging in social and community activities.
Activities to improve youth's social and emotional skills are most effective among younger children and at-risk youth.
Cons
Mentoring programs tend to be better at improving youth's noncognitive and social skills than their academic performance.
Positive effects are small and tend to dissipate quickly.
Mentors may overprotect youth, reducing their costs of engaging in criminal activity and other risky behaviors, and weaken the ties between youth and their parents, breaking important social bonds.
Mentoring programs may increase enrollees' awareness of their disadvantages, which can lead to disappointment and risky behaviors.
Grouping high-risk youth can expose them to negative peer influences, which is associated with increased substance abuse, delinquency, and violence ("deviancy training").
Author's main message
Rigorous analyses of mentoring programs find positive but modest effects, with the most disadvantaged or at-risk youth benefiting most. The evidence indicates that mentoring programs tend to be better at improving youth's non-cognitive and social skills than their academic performance. There is also evidence that benefits dissipate quickly over time, and that programs can backfire, especially in the long term.
Motivation
Young people tend to be among the big losers of many economic and financial crises, with their rates of unemployment frequently double those of the adult population in many developed and developing countries. In addition, the share of those being neither in employment nor in education or training (NEET rate) is relatively large, with an incidence close to 30%, with lower and upper bounds between 5% and 50%. Beyond the scarring effects of joblessness on future earnings, job satisfaction, health, and family formation, other severe consequences of joblessness are poverty, violence, and social instability. Clearly, understanding what mechanisms can improve youth's opportunities is a top priority on many government agendas.
Mentoring and counseling programs are one type of intervention that aims to help youth achieve better outcomes. Mentors seek to assess the unmet needs of at-risk youth and the barriers they face and then facilitate access to a service mix that can address both needs and barriers.
Discussion of pros and cons
While informal mentoring is likely as old as humanity, formal mentoring programs are relatively recent. "Nearly half of the current mentoring programs were established in the past five years, and only 18% have been operating for more than 15 years" [2]. Most are school- or community-based. In the typical model, an experienced person (the mentor) assists a disadvantaged, at-risk young person (the mentee) in developing the skills and knowledge to enhance professional and personal growth. This relationship can be one-to-one or group mentoring, in which one mentor is assigned a group of mentees. Many mentoring programs seek to build strong positive relationships between (mostly) at-risk youth and mentors. They aim to help mentees develop self-esteem, motivation, tenacity, trustworthiness, perseverance and resiliency, among other noncognitive skills, and to reduce personal, familial, and social barriers that prevent young people from valuing school and succeeding academically [3]. Mentors may also help mentees build social and cultural skills—such as study habits, style of speech, dress, physical appearance—to guide them through secondary school and the transition to college.
Because rigorous evidence in MICs (middle income countries) and LICs (low income countries) is scarce, we will condense existing knowledge on recent rigorous evidence on mentoring programs mainly (but not exclusively) from high-income countries to inform the debate in MICs and LICs. Moreover, as most counseling and mentoring programs tend to operate while young people are still in school and aim at improving under-privileged children and adolescents' educational outcomes, many of the outcomes are not per se employment outcomes (but are instead educational outcomes such as attending school, improving grades, reducing crime and engagement in risky behaviors, and graduating from high school).
Limitations and gaps
Despite the large body of evaluation literature on mentoring programs, not enough is known about their effectiveness. Most of the evidence comes from the US, and few of the studies examine youth employment outcomes. More evaluation is needed, in particular, of the long-term impacts of mentoring programs in light of the findings of diminishing effects over time—and of detrimental effects in some cases. In addition, studies need to take a broader, multi-angle focus on the effects of the program on young people's lives, including employment outcomes, earnings, risky behaviors, and other measures of family life and physical and mental well-being.
Summary and policy advice
Evaluations of mentoring programs find positive but modest effects, especially for females, the most disadvantaged or at-risk youths. The results vary considerably depending on the characteristic of the individuals involved and the quality of the relationships formed between mentors and mentees [6]. As one study noted, "robust research does indicate benefits from mentoring for some young people, in some circumstances, in relation to some outcomes." However, there are also concerns that the benefits dissipate over time and that, in some cases, these programs may worsen outcomes for some mentees.
Considering the potentially unintended medium- to long-term effects of some of these programs, policymakers, practitioners, and researchers should design programs and evaluations to better identify who benefits most (and least) and why, so that programs can be tailored to the problems and needs of particular youths. Studies and data collection need to focus on a broad spectrum of life outcomes (including noncognitive skills) over a long period of time. Only with that kind of information it will be possible to disentangle outcomes and answer the following questions: Do the short-term changes generated by mentoring programs persist, or do they fade over time? Do they translate into longer-term payoffs, as measured by different life achievements?
Acknowledgments
The author thanks an anonymous referee and the IZA World of Labor editors for many helpful suggestions on earlier drafts.
Competing interests
The IZA World of Labor project is committed to the IZA Guiding Principles of Research Integrity. The author declares to have observed these principles.
© Núria Rodríguez-Planas