Elevator pitch
Neither public opinion nor evidence-based research supports the claim of some politicians and the media that immigrants take the jobs of native-born workers. Public opinion polls in six migrant-destination countries after the 2008–2009 recession show that most people believe that immigrants fill job vacancies and many believe that they create jobs and do not take jobs from native workers. This view is corroborated by evidence-based research showing that immigrants—of all skill levels—do not significantly affect native employment in the short term and boost employment in the long term.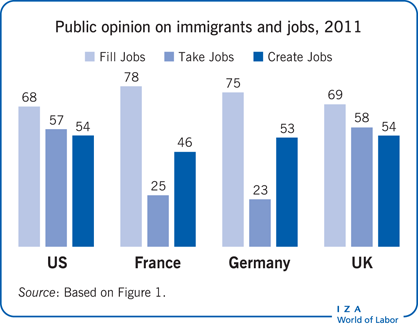 Key findings
Pros
Immigrants who are self-employed or entrepreneurs directly create new jobs.
Immigrant innovators create jobs indirectly within a firm, leading to long-term job growth.
New immigrants fill labor shortages and keep markets working efficiently.
High-skilled immigrants contribute to technological adaptation and low-skilled immigrants to occupational mobility, specialization, and human capital creation; both create new jobs for native workers.
By raising demand, immigrants cause firms and production to expand, resulting in new hiring.
Cons
Low-skilled immigrants may compete in the short term, but the effect is small and not statistically significant.
If low-skilled immigrant workers only supplement the work of high-skilled native workers, they may be trapped in low-skill, low-paying jobs.
If low-skilled immigrant labor is employed in lieu of physical capital, technological advances and capital upgrading are impeded.
A country that becomes dependent on low-cost immigrant workers may have to outsource jobs when these workers are not available.
Immigrants may increase production without boosting productivity.
Author's main message
Immigration's positive effects far outweigh any negative impact. Migrants choose locations with available jobs and fill labor shortages. Whether high- or low-skilled, migrants rarely substitute directly for native workers. Instead, migrants often complement native workers or accept jobs that natives don't want or can't do. They create new jobs by increasing production, engaging in self-employment, and easing upward job mobility for native workers. The presence of immigrants increases demand and can spur new businesses to open, creating more jobs for immigrant and native populations.
Motivation
Job loss is a core topic of heated public debates on immigration, but much of the public discourse is uninformed by the evidence (Figure 1). If policymakers are to draft immigration measures that are context-specific, broadly advantageous, and acceptable to native and immigrant populations, common misconceptions about immigration must first be exposed. Educated answers to two core questions can provide sound information for decision-making: Do native workers really fear that immigrants will take their jobs? If so, is such fear backed up by scientific studies? In both cases, the answer is no.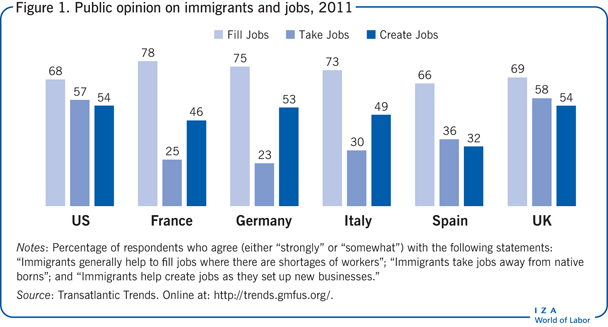 Discussion of pros and cons
A brief discussion of the economic theory of migration's impact on jobs helps put the issue in perspective. It is important to understand possible adjustment mechanisms that can be triggered by migration related to labor supply changes, such as the mobility or displacement of native workers, professional upgrading, and firm adaptation. Key concepts include skill distinction, competition versus complementarity, and job protection.
Limitations and gaps
It is difficult to accurately measure the employment impacts of immigrant workers on native workers because of the absence of a direct measure of the counterfactual—what would have happened had there been less migration. Natural experiments and quasi-experimental research have been able to fill part of that analytical gap.
Data accuracy is another problem, particularly for employment classification, self-reported wages (such as in national censuses), and foreign experience and education. Simple stratifications, such as number of years of formal education, do not adequately define skill levels. Job categories are imperfectly transferable across countries, so professional experience is also not easily quantifiable.
Studies usually choose to evaluate either legal or unauthorized migrants. It is difficult to gather accurate information on unauthorized immigrants. To overcome this problem, some research has focused on periods after unauthorized immigrants have been granted amnesty.
Future research should continue to concentrate on immigrant cohorts' skill and education levels and on native workers' occupational specializations in response to rising migrant employment, particularly in the long term. To deepen understanding of labor market reactions to immigration, research should include impacts in developing countries.
Summary and policy advice
The evidence does not support policy intervention to "protect" native employment. Instead, the quantitative evidence shows that, overall, immigrants do not take native workers' jobs in the long term and that they stimulate job creation through increased production, self-employment, entrepreneurship, and innovation. They also provide opportunities for native workers to upgrade their occupation and specialize in higher-skill jobs. Any short-term negative effects on native employment are small and insignificant. For the most part, these findings align with public opinion in developed countries. In the worst case, the only workers whose jobs are affected are those with strikingly similar skills and background—generally earlier immigrants. High-skilled immigrant workers complement physical capital and technology and the human capital of both low- and high-skilled native workers. This complementarity leads to greater and more efficient production and to economic growth, making all consumers and the national economy better off.
This mechanism functions naturally only when labor markets are flexible. Admitting immigrants with a mix of skills while maintaining flexible labor markets allows firms to adapt to the labor supply. Countries benefit from engaging rather than restricting immigrant workers.
Acknowledgments
The author thanks two anonymous referees and the IZA World of Labor editors for many helpful suggestions on earlier drafts and Victoria Finn for excellent research assistance.
Competing interests
The IZA World of Labor project is committed to the IZA Guiding Principles of Research Integrity. The author declares to have observed these principles.
© Amelie F. Constant