Elevator pitch
Policy evaluation aims at assessing the causal effect of an intervention (for example job-seeker counseling) on a specific outcome (for example employment). Frequently, the causal channels through which an effect materializes can be important when forming policy advice. For instance, it is essential to know whether counseling affects employment through training programs, sanctions, job search assistance, or other dimensions, in order to design an optimal counseling process. So-called "mediation analysis" is concerned with disentangling causal effects into various causal channels to assess their respective importance.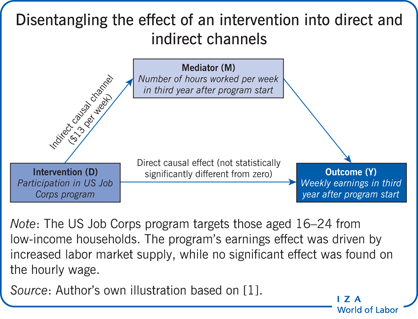 Key findings
Pros
Mediation analysis of a particular policy effect gives a better understanding of why specific policy interventions are effective or ineffective.
Mediation analysis directed at a policy effect's causal channels is likely to result in better policy advice, particularly with respect to the optimal design of the various components of a policy intervention.
Analyzing causal channels helps to understand the aspects of an intervention whose effectiveness appears particularly interesting (i.e. more relevant than that of other aspects).
Cons
Analyzing causal channels requires stronger behavioral (or identifying) assumptions than evaluating the "conventional" (total) causal effect of a policy intervention.
Sufficiently rich data, which plausibly justify key behavioral assumptions, are needed to analyze causal channels; panel data are typically required in these cases, but are not always available.
Author's main message
Policy evaluations have widely neglected the potential merits of analyzing causal channels to deliver more accurate policy advice. Mediation analysis appears increasingly attractive in a world with growing availability of rich data, even though it relies on non-trivial behavioral assumptions and comparably strong data requirements. The assessment of causal channels by mediation analysis should thus be considered for future policy evaluations. For instance, when investigating the extent to which a labor policy's effect on earnings comes from increased search effort, increased human capital, or other mediators that are themselves affected by the policy.
Motivation
Policy evaluation typically aims at assessing the causal effect of a policy intervention, often referred to as a "treatment" (e.g. an active labor market policy), on an economic or social outcome of interest (e.g. employment or income). Most evaluations focus on the "total" causal effect of the treatment, rather than the underlying causal channels that drive this effect. That is, these evaluations do not typically investigate the possibility that the total effect may be rooted in distinct causal channels related to intermediate variables that affect the final outcome. These intermediate variables are often referred to as "mediators," and the investigation of their role is known as "mediation analysis." If such mediators exist, the total effect can, under particular assumptions, be decomposed into several channels.
As the Illustration shows, the various channels are a direct effect of the treatment on the outcome, and one (or multiple) indirect effect(s) which "run(s)" through the mediator(s). Such decomposition frequently offers a more comprehensive picture about social and economic implications than the total effect alone, and may be important for deriving meaningful policy conclusions [2].
Discussion of pros and cons
Limitations and gaps
A survey of previous literature shows that the analysis of causal channels generally requires stronger behavioral (or identifying) assumptions than merely evaluating the (total) causal effect of a policy intervention. Partly related to that, data requirements are also higher when evaluating causal channels. First, a comparably rich set of characteristics needs to be observed, to the extent that selection on observables and IV assumptions appears credible in the context of mediation analysis. However, whether a data set is "rich enough" is ultimately not directly testable by means of statistical methods, but needs to be judged on a case-by-case basis, in light of the theoretical considerations and empirical evidence. Second, a panel data set is typically required to measure the various factors at play at different times for the causal framework under consideration (such framework consisting of an initial treatment, an intermediate mediator, a final outcome, and possibly observed covariates that need to be controlled for).
Furthermore, not all methods that are commonly applied in policy evaluation have yet been transferred to the context of mediation analysis. For instance, the feasibility and merits of approaches used in the context of "natural experiments" (interventions that are not experimentally assigned by the researcher but nevertheless contain a quasi-random element) have not yet been considered for analyzing causal channels. This represents a substantial area for the development of further evaluation methods to address and analyze causal channels in future research.
Summary and policy advice
Mediation analysis comes with the caveat that it generally implies higher behavioral restrictions and data requirements than analysis of the (total) causal effect of some policy intervention. However, if these concerns can be satisfactorily addressed, then mediation analysis can allow for a better understanding of particular causal effects through the evaluation of specific causal channels. This may result in more accurate policy advice, particularly when it comes to the optimal design of (the various components of) a policy intervention. For instance, mediation analysis permits investigating specific aspects of an intervention that are of particularly high interest, such as how important placement into training programs is as part of a counseling process aimed at the reemployment of job-seekers.
The feasibility and attractiveness of mediation analysis in policy evaluation will likely increase in a world with growing availability of rich data and appropriate software packages. It is therefore recommended to take the assessment of causal channels into consideration in (the design of) future policy evaluations. This can be most credibly achieved by designing policy experiments with double (or two-step) randomization of both the policy intervention (e.g. job-seeker counseling) and the mediating factors (e.g. training participation). This will imply that several of the behavioral assumptions discussed above are valid according to the chosen experimental design. Policymakers may therefore want to engage or collaborate with researchers to run such experiments in order to improve on "classical" policy evaluations of the total causal effect of an intervention.
Acknowledgments
The author thanks two anonymous referees and the IZA World of Labor editors for many helpful suggestions on earlier drafts. Previous work of the author (together with Markus Frölich) contains a larger number of background references for the material presented here and has been used intensively in all major parts of this article [1].
Competing interests
The IZA World of Labor project is committed to the IZA Guiding Principles of Research Integrity. The author declares to have observed these principles.
© Martin Huber