Elevator pitch
High levels of economic inequality may lead to lower economic growth and can have negative social and political impacts. Recent empirical research shows that income and wealth inequalities in Eastern Europe since the fall of socialism increased significantly more than previously suggested. Currently, the average Gini index (a common measure) of inequality in Eastern Europe is about 3 percentage points higher than in the rest of Europe. This rise in inequality was initially driven by privatization, liberalization, and deregulation reforms, and, more recently, has been amplified by technological change and globalization coupled with relatively ungenerous income and wealth redistribution policies.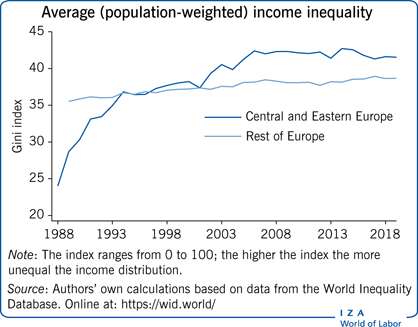 Key findings
Pros
Income inequality grew radically in Eastern Europe during the transition to market economies.
The rise in inequality is significantly higher when fiscal data with better coverage of top incomes are used to measure inequality.
Major determinants of increased income inequality include market reforms, the rise of private capital, and relatively low levels of income redistribution.
Wealth inequality in some Eastern European countries is among the highest in Europe.
Cons
Income and wealth distribution data for Eastern Europe are imperfect and inequality estimates are very uncertain.
Household survey data suggest that income inequality in Eastern Europe is generally close to the EU average level.
Wealth inequality increased in all ex-communist countries, but on average it is lower than in other European countries.
Income redistribution in Eastern Europe seems to be slowly converging to Western European levels.
Author's main message
Income inequality in Eastern Europe has grown significantly more since the collapse of socialism than previously thought—as found in recent research supplementing household survey data with information from fiscal sources and national accounts. Currently, income inequality in ex-communist countries is, on average, higher than in the rest of Europe. Eastern European governments should thus enact reforms to increase income redistribution, such as more progressive income taxation and employment-conditional low-wage subsidies. Wealth or inheritance taxes should be considered in the Baltic countries as they are among the most wealth-unequal states in Europe.
Motivation
High or increasing economic (income and wealth) inequalities can lead to serious negative economic, social, and political consequences. Even though empirical research on the effects of inequality is plagued with imperfect data and methodological constraints, there is a significant body of evidence suggesting that inequality can have profound detrimental impacts on economic growth, individual happiness and health, political participation, and other outcomes. Recent studies have found that increasing income inequality may be responsible for growing worldwide dissatisfaction with democracy [1] and the rise of support for populism and illiberalism [2]. Research has also shown that income inequality is negatively associated with intergenerational mobility and equality of opportunity for income acquisition [3].
In this context, the experience of the post-socialist Central and Eastern European (CEE) countries is particularly worth studying. These countries had relatively equal income and wealth distributions under socialism, but witnessed an explosion of inequality during the process of transition to market economies. The trajectories of inequality growth in the CEE countries have been shaped by several economic and political processes, including the depth of their initial transition recession and growth performance during the transition period. Recent progress in constructing more comprehensive income and wealth distributions by relying on combined data from household surveys, tax sources, and national accounts statistics reveals that the magnitude of inequality rise in the CEE region has previously been severely underestimated. This article summarizes existing knowledge and exploits novel estimates of income and wealth inequality trends in the CEE countries to illuminate factors that were responsible for the expansion of inequalities in the region.
Discussion of pros and cons
Limitations and gaps
While there has been significant recent progress in measuring income and wealth inequality in Eastern Europe, the availability of high-quality income and wealth data is still limited. For example, there is no reliable information on the pre-2014 trends in wealth distribution using household survey or administrative data. For many ex-communist countries, data on income distribution from fiscal or other administrative sources are scarce. The existing inequality estimates for post-socialist countries are still based mainly on household survey data and, therefore, are probably of lower quality than estimates for other European states. Research on the economic determinants or consequences of the post-1989 income inequality eruption in the region is sparse and should be re-evaluated in light of new inequality estimates based on DINA. Currently, very little is known about the impact of redistribution or pre-distribution policies (mechanisms shaping the pre-tax pre-transfer income distribution such as regulatory, education, or health policies) on the final income distribution in post-socialist countries.
Summary and policy advice
Recent research provides evidence that income inequality in Eastern Europe during the transition to market economies has increased significantly more than previously thought. Wealth inequality in some ex-communist countries exploded to reach the highest levels in Europe, while several others reached levels found in matured capitalist economies. Market reforms, the rise of private capital, and limited redistribution all contributed to the elevation of inequality in the region. To bring Eastern European income inequality levels closer to those observed in other parts of Europe, governments should engage more actively in pre-distribution and redistribution policies. Unfulfilled citizens' demand for redistribution in many CEE countries could be a reason for a recent political trend toward illiberalism and populism. Concerning pre-distribution, CEE countries should reform policies shaping market income distribution such as financial sector regulation, minimum wage legislation and labor union rights, the availability and quality of health and education services, and others. Responding to high public demand for redistribution, more extensive redistributive policies should be implemented. This could be achieved using more progressive taxation of personal incomes and transfers to the poorer parts of the population. The latter should be achieved using employment-conditional low-wage subsidies, which have been shown to reduce poverty and increase employment in the US, the UK, and other advanced countries. Given that wealth inequality in some post-socialist countries, notably in the Baltics, is among the highest in Europe, there is a rationale for introducing net wealth or inheritance taxes in those countries.
Acknowledgments
The authors thank the anonymous referees and the IZA World of Labor editors for many helpful suggestions on earlier drafts. Financial support from the Polish National Science Centre through grant no. UMO-2017/25/B/HS4/01360 is gratefully acknowledged.
Competing interests
The IZA World of Labor project is committed to the IZA Code of Conduct. The authors declare to have observed the principles outlined in the code.
© Michal Brzezinski and Katarzyna Sałach