Elevator pitch
Using administrative records data and survey data to enhance each other offers huge potential for scientific and policy-related research. Two recent changes have expanded the potential for creating such linked data: the improved availability of data sources and progress in data-matching technology. These developments are reflected, among other ways, in the growing number of academic papers in labor economics that use linked survey and administrative data. While the number of studies using linked data is still small, the trend is clearly upward. Slowing the growth, however, are concerns about data security and privacy, which impede data access.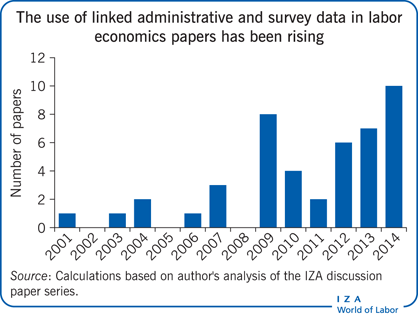 Key findings
Pros
Data linkage overcomes some of the shortcomings of the two separate data sources.
Data linkage opens new research opportunities by combining highly reliable administrative data with detailed survey data.
Administrative records, already collected routinely, are a cheap and authoritative source of data for enriching survey data.
Data linkage can lower survey costs by requiring fewer questions.
Data linkage enables sensitive data, such as wages, to be drawn from administrative records, reducing the burden on respondents and likely lessening survey dropout and item nonresponse rates.
Cons
Linking data can be very costly and time-consuming, mainly because of drawn-out negotiations with data providers.
Privacy concerns and resulting legal constraints and the need for data anonymization restrict data access and content.
Requesting consent to use the linked data may introduce consent bias (consenters differ from non-consenters) or may reduce response rates, introducing yet another selection bias.
Sound linkage requires a unique identifier for each individual; without such identifiers, linkage becomes burdensome and matching quality may suffer.
Author's main message
Data linkage opens new research opportunities by combining highly reliable administrative records with detailed survey data. Researchers wishing to link the two data sources should establish that both data sources include unique personal identifiers and that the survey includes a properly worded consent request for respondents. Most important, any data security concerns of the data provider (typically a government institution) must be resolved in advance, to avoid having data security concerns lead to restrictions on access or to demands for strict anonymization of the data, which reduce its research potential.
Motivation
The greater availability of survey data and administrative records has had a great impact on the quantity and quality of empirical research in labor economics in recent decades. A relatively new trend is to link both data sources to enhance the research potential of the data. Data linkage is a promising and innovative strategy as it supplements highly reliable administrative records with survey information that is crucial for the statistical analysis but is usually unobserved in the administrative records. As a result, the linked data set contains a large number of variables providing an optimal data source for statistical analysis.
This research potential has been recognized by the scientific community, as illustrated, for instance, by the increasing number of IZA discussion papers using linked data since 2001. However, despite the clear advantages of data linkage, practical implementation remains challenging and time-consuming. Restrictions placed on the use of the data are reflected in the low absolute number of IZA discussion papers using linked data for example. While most of the technical problems in linking survey and administrative data have been solved, the main challenges for research purposes spring from legal constraints related to privacy concerns. These constraints have led to restrictions on data use, as well as consent bias and limited access.
Discussion of pros and cons
Limitations and gaps
The rising demand for linked data within the scientific community has intensified the need to find less time-consuming and restrictive procedures to access those data. The main challenge when linking administrative and survey data for scientific research is to find better and more reliable legal solutions that can simplify the process of matching and accessing linked data. Moreover, because linking these data sources is a relatively recent development, data providers may need to acquire more know-how with data provision before fully understanding the associated risks and becoming more experienced in determining which restrictions are necessary and which are not.
In addition to projects analyzing linked data on the national level, it would be interesting to link international data sources, such as German survey data and Spanish administrative data. In a world of increasing international migration, such an initiative could offer new research opportunities to labor economics, by enabling them to follow individuals across borders. However, besides the usual legal constraints that arise when linking national survey and administrative data, international linking presents another important challenge: how to track individuals in different data sources when they move between different countries.
Summary and policy advice
Linking survey and administrative data offers the potential for many new research opportunities for scientific and policy-related projects. While the number of linking projects in labor economics has been growing, that number is still very small. Growth in the number of projects has been slowed by concerns for individual privacy since consent to share administrative data is rarely available unless obtained explicitly through surveys that request such permission from respondents. As a result, legal constraints on the use of administrative data limit access to linked data and reduce the number of variables available for analysis because of the need to anonymize the data. Issues of privacy and consent remain the main challenge when linking both data sources. To ease these bottlenecks, policymakers, who have a lot to gain from the findings of research using linked data, should facilitate data linkage projects for scientific research. Doing so would result in the more efficient use of existing records and could also spark new research projects that may contribute novel insights and allow for drawing more reliable policy conclusions.
Acknowledgments
The author thanks two anonymous referees and the IZA World of Labor editors for many helpful suggestions on earlier drafts. The author also thanks Jan Wergula for excellent research assistance.
Competing interests
The IZA World of Labor project is committed to the IZA Guiding Principles of Research Integrity. The author declares to have observed these principles.
© Steffen Künn