Elevator pitch
A good boss can have a substantial positive effect on the productivity of a typical worker. While much has been written about the peer effects of working with good peers, the effects of working with good bosses appear much more substantial. A good boss can enhance the performance of their employees and can lower the quit rate. This may also be relevant in situations where it is challenging to employ incentive pay structures, such as when quality is difficult to observe. As such, firms should invest sufficiently in the hiring of good bosses with skills that are appropriate to their role.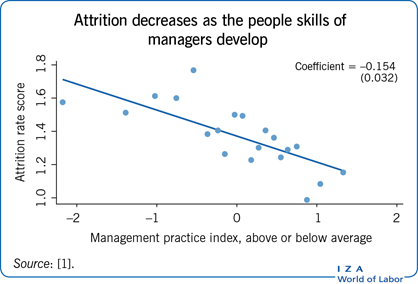 Key findings
Pros
Economists now have good data to measure the effects of bosses on workers' performance.
Being assigned to a good boss increases personal productivity relative to being assigned to a bad boss and the effects are large.
Good bosses have some universal traits: they coach and teach and offer insight into the strategy of the firm and the worker's career goals in light of that strategy.
The effects of good bosses dominate the effects of good peers.
Workers quit bad bosses and bad bosses are more likely to leave the firm.
Cons
Boss traits are not universal; a good boss at one firm might not be a good boss at another firm.
Managerial talent is sometimes innate, at other times it is learned.
Good bosses are good in part because they attract good workers.
Author's main message
Firms make extensive investments in their employees. They invest in the hiring of workers that match the firm's needs, and they invest in workers' human capital once they are employed. New research suggests that the hiring and training of good bosses may carry substantial weight when it comes to workers' performance. Investing in a good boss has positive effects on the productivity of the workers he or she supervises, and on the retention of these workers. Hence, firms are now seeking to assess the effects that bosses have on their workers' performance, and to assess the traits of the bosses that have the most impact.
Motivation
Most workers have bosses. A boss is someone who manages the day-to-day workflow and activities of the workers they supervise. Most importantly, a boss is also someone who coaches and trains subordinates. Within manufacturing, first-line supervisors make up 10% of the non-managerial workforce; that is, every ten workers have one boss. Within the retail trade, they make up 12% of the workforce. First-line supervisors constitute an occupational category in government statistics, e.g. the US Bureau of Labor Statistics (BLS).
Much has been done to measure the effects of CEOs or other high-level leaders on the performance of firms. These managers are natural targets for research because data are widely available for them and because they play important roles in managing firms and workers. But, there are far fewer high-level managers (like CEOs) than there are bosses, and the direct impact of CEOs on workers is likely less important.
Though past research literature has largely been silent on the effects of bosses, the press has been replete with musings on boss effects and traits. It is often said that workers do not leave bad firms, they leave bad bosses. New research asks, do good bosses elicit higher performance among workers, and lower quit rates? The answer is that good bosses indeed have both effects on their workers.
Discussion of pros and cons
Economists are increasingly finding better data to measure the effects of bosses on workers' performance, as well as the sources of these effects. Firms are also increasingly doing so through their own People Analytics groups (groups within large firms that analyze data on employees and their performance).
A likely reason why there has been so little evidence on the role of bosses in the workplace is that, until recently, it has been very difficult to obtain data from firms that can be used to estimate the impact of bosses. There are a few key requirements in the data to estimate boss effects. First, productivity data on workers is needed, along with links to the identity of each worker's boss. Second, it is necessary that workers change bosses. It could be true that good bosses are assigned good workers. To control for this possibility, one must estimate a worker's baseline performance and then move the worker to another boss to estimate the boss effect. Furthermore, it is necessary that the data set is sufficiently large. The boss effect is based on evaluations of the job changers who join the boss's team; therefore, there must be a lot of job changers to produce a robust result.
Two recent studies make use of new data sources that allow for the estimation of boss effects. The first is a study of workers in a large US firm that performs technology based service (TBS) jobs [2]. The authors are not allowed to reveal the jobs that are done by the employees, but can reveal that individual productivity is measured by computers that record the start and finish times of each transaction. There are many examples of this type of work, including retail sales clerk jobs, airline reservation agent jobs, insurance claims adjuster jobs, call center jobs, and computer monitored data entry jobs. The company studied has 23,878 workers who are followed monthly from June 2006 through May 2010, for a total of 5.7 million observations. The observed workers have 1,940 bosses. Each worker stays for an average of two years and has an average of four bosses during that time. Workers change bosses often, so the "boss effect" on productivity is easily assessed.
The second such study is on the management of new car salespeople [3]. This study follows an auto sales firm in Japan from December 1998 through November 2005; monthly data on profits by salesperson for 70 branches are available. Given 996 workers, there are 44,490 observations with 158 managers.
Limitations and gaps
Common sense suggests that many of the traits that make good bosses are universal: e.g. a good boss is someone who can teach well and is an expert in their field. However, more effort is needed to further explore these traits, particularly given the sizable role of bosses in the economy. In exploring the traits of children that cause them to earn more as adults, economists have shown that non-cognitive traits such as motivation and social skills can be as important as cognitive skills. Moreover, this literature explores at what age good traits are best taught, suggesting young children are better learners because habits become ingrained with age. The literature on bosses should also explore in more detail whether boss traits are innate or can be taught. There are likely to be some key traits that are needed to perform well as a boss. But ultimately, only a core portion of boss traits are likely to be universal: managing engineers is not the same as managing retail sales clerks.
A manager who seeks to be a top performer is surely given the advice to hire good people. Studies of performance improvements in schools identify the careful hiring and firing of teachers as a source of success for top principals [6]. Unfortunately, few studies that have employed data for managers and subordinates could identify the hiring patterns of managers. So it should be emphasized that the estimated performance effects of good bosses on workers do not permit bosses to hire better workers: these studies show that when workers move from a bad boss to a good boss they see their performance rise. Thus, while a portion of the performance gains induced by good bosses may include the careful hiring of workers, the focus has been on the effects of bosses on existing workers when bosses teach and coach the workers they have.
Summary and policy advice
That bosses have a big impact on workers' performance is an important finding in the economics literature and has implications for how to manage firms optimally. Much of the existing literature focuses on the use of incentive pay, and often finds that incentives do increase performance. New research on bosses makes the following point: in circumstances where it may be hard to use incentive pay because it is hard to measure workers' performance, it may be just as valuable to assign workers to good bosses. Rather than investing in incentive pay for workers, firms can invest in the hiring and training of good bosses. Ongoing research is also focusing on the degree to which good bosses hire good workers, and supervise them well, and form good matches between the boss and the worker.
Acknowledgments
The author would like to thank an anonymous referee and the IZA World of Labor editors for many helpful suggestions on earlier drafts.
Competing interests
The IZA World of Labor project is committed to the IZA Code of Conduct. The author declares to have observed the principles outlined in the code.
© Kathryn Shaw