Elevator pitch
Big Data refers to data sets of much larger size, higher frequency, and often more personalized information. Examples include data collected by smart sensors in homes or aggregation of tweets on Twitter. In small data sets, traditional econometric methods tend to outperform more complex techniques. In large data sets, however, machine learning methods shine. New analytic approaches are needed to make the most of Big Data in economics. Researchers and policymakers should thus pay close attention to recent developments in machine learning techniques if they want to fully take advantage of these new sources of Big Data.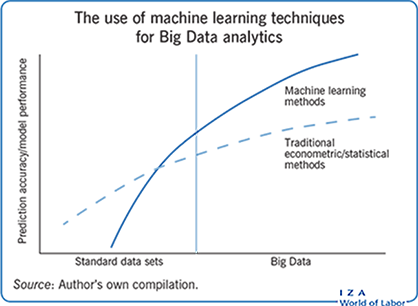 Key findings
Pros
Complex data are now available, characterized by large volume, fast velocity, diverse varieties, and the ability to link many data sets together.
Powerful new analytic techniques derived from machine learning are increasingly part of the mainstream econometric toolbox.
Big Data allows for better prediction of economic phenomena and improves causal inference.
Machine learning techniques allow researchers to create simple models that describe very large, complex data sets.
Machine learning methods and Big Data also allow for the complex modeling of relationships that predict well beyond the sample.
Cons
Predictions based on Big Data may have privacy concerns.
Machine learning methods are computationally intensive, may not have unique solutions, and may require a high degree of fine tuning for optimal performance.
Big Data is costly to collect and store, and analyzing it requires investments in technology and human skill.
Big Data may suffer from selection bias depending on how and by whom data are being generated.
Access to these data may involve partnering with firms who limit researcher freedom.
Author's main message
Due to the prevalence of connected digital devices, observational data sets are now available that are much larger and of higher frequency than traditional surveys: so-called Big Data. This has created opportunities for economists and policymakers to learn about economic systems and choices with a higher degree of precision. However, new methods, particularly those related to machine learning, are needed to take full advantage of Big Data. Furthermore, policymakers should consider a broader range of data as sensitive, researchers need checks to avoid unintentional bias, and economists should learn general-purpose coding languages.
Motivation
The term "Big Data" entered the mainstream vocabulary around 2010 when people became cognizant of the exponential rate at which data were being generated, primarily through the use of social media [1]. Engineers and computer scientists quickly realized that Big Data cannot be defined purely in terms of size; while it is certainly true that the volume of data has increased by orders of magnitude over the past decade, other factors have changed the informational landscape as well.
While data were traditionally only collected for a specific purpose, often by a national statistical agency, the world is becoming increasingly quantified, where even the smallest company collects and records detailed and sometimes individualized data. This is done through a vast ecosystem of software (apps) and hardware (sensors) embedded in the vast sea of "smart" technology, including phones, Wi-Fi connected appliances, cars, and satellites. This data avalanche has dramatically increased both the variety of data and the velocity at which the data are recorded. New opportunities abound for creating novel data sets from previously unstructured information, such as text [2] and satellite images [3]. This development has opened new areas of economic query; questions which previously could only be answered many months or even years after-the-fact can now be addressed in real time. Economists have thus moved from forecasting to nowcasting. For instance, it is now possible to use real time Google searches to predict changes in unemployment [4], or Yelp data to predict local business patterns [5].
Discussion of pros and cons
It is important to note that as the amount of available data increases, all methods will tend to improve in terms of their predictive accuracy. In recent years, however, researchers have noticed that the performance of machine learning techniques has tended to improve at a much faster rate. Tasks once considered impossible for machines to perform (e.g. reading comprehension or playing complex games, such as Go) have now been mastered by the latest generation of machine learning tools, such as deep neural networks, and their performance now exceeds that of expert humans. So, where does this leave the average economics practitioner? If the available data tend to be small and relatively simple, then existing methods and traditional software packages should suffice. If, on the other hand, researchers find themselves dealing with Big Data, then learning new analytic paradigms from machine learning and investing in new software tools will lead to substantial performance improvement.
One common misconception about recent advances in Big Data tools is that they focus exclusively on prediction at the expense of causal inference. While it is true that, from a computer science perspective, prediction is the major focus of machine learning, and that causal inference has received comparatively less attention, this does not mean that the developments are irrelevant for causal inference. In fact, many econometricians have turned their attention to modifying machine learning algorithms to perform better causal inference [6].
Limitations and gaps
The unprecedented rate at which high-dimensional individualized data are being generated, along with breakthroughs in the processing of these data, means that Big Data poses a host of limitations and concerns. A primary concern is maintaining privacy. Surveys are typically carefully constructed to anonymize individuals so that sensitive information does not point to any given household. With Big Data, information that is de-identified may be ex-post identified using machine learning matching tools. To give a sense of the scope of the problem, one study finds that as few as four spatio-temporal credit card data points are sufficient to uniquely identify 90% of individuals in a database containing supposedly de-identified credit card transactions [13]. Policy around data security needs to be designed with this new reality in mind—many more kinds of data should be considered sensitive and should have additional security considerations.
Another concern is how the broad use of machine learning predictions in policy and businesses may have unintended consequences. Racism may be unintentionally embedded into algorithms by using correlates of race as proxies. If these algorithms are sufficiently opaque, the racism may be unknown even to the algorithm builders themselves. Strong checks are therefore needed to ensure that algorithmic predictions have their intended effect and are not unintentionally contributing to racial bias.
Depending on how the data are generated, Big Data may suffer from selection bias. Not everyone has the same propensity to use digital devices, or any given app or website, resulting in possible biases, particularly when making generalizations about subgroups which happen to be represented in the data. Appropriate weighting and selection methods must be used to ensure results are representative without strong caveats. Another concern is that many valuable sources of Big Data are often controlled by private firms that limit researcher freedom. It is common to see veto rights in data sharing agreements, which could result in publication bias in terms of the results that are allowed to be published. Firms are encouraged to be transparent and allow researchers freedom in this respect, and policymakers should consider policy to address this issue.
Summary and policy advice
The rise of Big Data is an exciting time for the ambitious economist, policymaker, or social scientist. Never before has so much data been available to test existing theories and develop new ones. Economists have a natural edge in this endeavor, as they are used to working with complex data. However, this edge is rapidly declining. Newer methods from machine learning are expanding the ability to handle Big Data at scale, and researchers risk being cut off from the frontier if these methods are not incorporated into their toolkit. Economists understand how to construct and test causal statements, which makes their skills highly valuable in a data-saturated world. The challenge lies in learning how to implement these methods at scale.
Researchers and policymakers should take seriously the limitations and gaps of Big Data, but also its potential. Issues of privacy, selection bias, and private firms controlling research output derived from their data remain serious concerns going forward. Beyond the limited advice in dealing with these issues discussed above, further collaboration should be encouraged between computer scientists and data scientists to develop two-way knowledge sharing. Economists are also encouraged to "get their hands dirty" and learn to code in more general-purpose languages, such as Python or R, to develop a theoretical and practical understanding of machine learning methods. Eventually, these methods should be taught as part of the core empirical sequence in graduate programs, just as econometrics was expanded to include causal estimation methods, and policy organizations should consider offering training courses in these methods.
Acknowledgments
The authors thank an anonymous referee and the IZA World of Labor editors for many helpful suggestions on earlier drafts.
Competing interests
The IZA World of Labor project is committed to the IZA Guiding Principles of Research Integrity. The author declares to have observed these principles.
© Matthew Harding and Jonathan Hersh