Elevator pitch
Working hours across the world are falling, but considerable variation remains. In some countries people work 70% more hours per year, on average, than in other countries. Much of this variation is due to differences in the prevalence of part-time work and patterns of female labor market participation. Looking ahead, the question of how reducing working hours will affect productivity is significant. In addition, how individuals divide up their leisure and work time and what the appropriate work−life balance is in an increasingly technological future are important concerns.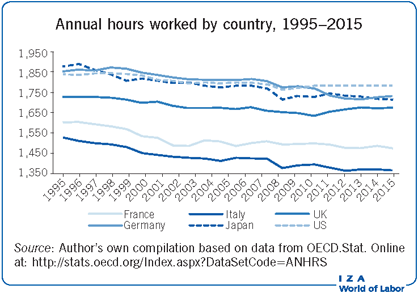 Key findings
Pros
Working hours have been steadily falling in most countries for the last 50 years.
Fewer working hours does not necessarily mean lower total output or lower productivity.
Countries with higher shares of part-time workers tend to have relatively low annual and weekly working hours.
As working hours decrease, workers focus more on work–life balance considerations and how to spend their leisure time.
Cons
The labor markets in many countries are still not very flexible in that hours of work cannot be chosen by many employees.
Not all workers are experiencing fewer working hours; for example, some highly educated workers are now working more hours.
Advanced technology and increasing use of robots is likely to affect the supply of routine jobs and the demand for labor for many low- and semi-skilled workers.
The distributional and welfare implications of fewer working hours are not completely clear and could cause greater inequality.
Author's main message
Declining working hours, their variation, and their distribution over different occupations and sectors is a topic of great importance. There is constant pressure to reduce working hours on grounds of work−life balance considerations. Debate is ongoing as to whether and how this can be achieved through technological change, without causing a regressive redistribution of income away from less skilled workers. Looking ahead, achieving the optimal balance between these factors will be a major challenge for policymakers.
Motivation
Working hours in most countries have been falling over the last 50−100 years. The Illustration shows the trends for six developed countries during the past 20 years. There are numerous potential drivers of this trend, including: changing demand conditions, shifts in preferences over labor−leisure trade-offs, active pressure from employee trade unions, technological advances improving workplace productivity, enlightened governments introducing maximum working hours legislation, and demographic changes in the pattern of work by men and women. It would be difficult to econometrically disentangle the relative importance of these different factors [1]. Instead, this article traces the origins of this movement toward fewer working hours and presents an overview of key patterns.
Discussion of pros and cons
Limitations and gaps
Nobody really knows what the future of work will look like. Technological progress will cause some jobs to disappear but others to grow. Some evidence suggests that there has been a "hollowing out of occupations" as a result of technological change, with an increase in low and high-skill jobs but a fall in clerical, secretarial, and routine non-manual jobs. Has there been a corresponding hollowing out of working hours [13]? Do some highly skilled workers now work more hours than the less skilled in all countries—not just the US, and is there a corresponding increase in inequality in working hours worldwide? More research is needed on this topic to determine the patterns across countries and their consequences.
Likewise, the pattern of working time is changing, with people now able to use smart phones to read emails and to work remotely or while on the move. How these changes will play out in terms of working hours, productivity, and a host of other issues is hard to predict, but continual appraisal is required. Moreover, the optimal pattern of work across the day and the week varies for each occupation. As such, more experimental work needs to be done of the kind that was conducted over 90 years ago at the Hawthorne plant but has never really been repeated. Economists rarely talk to ergonomists/occupational therapists about the optimal pattern of work or the details of how working time relates to productivity over the course of the working day, or indeed, how working time will shape up in the technological future.
Summary and policy advice
Key challenges such as increasing life expectancy, aging populations, and inadequate savings and pensions mean that governments need to take a careful look at working patterns and their projected changes in an increasingly technologically-oriented future. Although the famous economist John Maynard Keynes was somewhat ahead of his time when projecting drastic reductions in the working week to around 15 hours a week, the implications of shorter working time need to be addressed. Modern economies need flexible labor markets with variable working times across occupations and sectors in the face of rapid technical change. This poses challenges to governments to consider appropriate policy responses. Likewise, the evidence that there is a trend of rising working hours amongst some groups of highly skilled workers, whilst there is a simultaneous hollowing out of routine job opportunities is worrying [13]. How will governments be able to ensure that the fruits of technical progress are equally shared if nations become more prosperous, whilst at the same time ensuring workers are incentivized to work? How will governments be able to encourage employers to share working hours among larger numbers of employees if total available working hours fall with rising automation? These challenges will require much more innovative approaches to employment taxes than currently exist. The policy implications of a decline in average working hours, while working hours across sectors and countries remain highly variable, is of concern.
As life expectancy rises, policymakers must also be concerned about the demographic balance between the number of working young and the numbers of state-dependent retirees. The world has seen the growing fiscal problems this is causing in Japan, problems that are also likely to be visited on many Western countries in the next 20 years. The reality is that the old must work more years to increase their pension savings to maintain their standard of living into an increasingly lengthy old age. However, the requirements of the young to find jobs is incompatible with the needs of older workers to retire later. How can working hours be shared between the old and the young—that is the question? This will require radical economic policy solutions in the future.
Acknowledgments
The author thanks the IZA World of Labor editors for many helpful suggestions on earlier drafts. Previous work of the author contains a larger number of background references for the material presented here and has been used in parts of this article [5].
Competing interests
The IZA World of Labor project is committed to the IZA Guiding Principles of Research Integrity. The author declares to have observed these principles.
© Peter Dolton