Elevator pitch
Both the availability and sheer volume of data sets containing individual molecular genetic information are growing at a rapid pace. Many argue that these data can facilitate the identification of genes underlying important socio-economic outcomes, such as educational attainment and fertility. Opponents often counter that the benefits are as yet unclear, and that the threat to individual privacy is a serious one. The initial exploration presented herein suggests that significant benefits to the understanding of socio-economic outcomes and the design of both social and education policy may be gained by effectively and safely utilizing genetic data.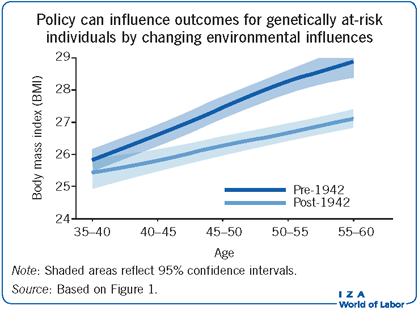 Key findings
Pros
Genetic data provide a useful way to understand individual differences in socio-economic outcomes.
By understanding the genetic basis of specific outcomes, policies and treatments could be more efficiently targeted.
Recent research indicates that genetic associations with outcomes such as obesity may vary across birth cohorts due to different prevailing environmental contexts.
Differences in genetic inheritance between full biological siblings offer a new source of information to estimate causal effects.
Cons
The majority of evidence so far reflects only simple associations between individual genetic factors and socio-economic outcomes, in contrast to causal relationships.
The effect sizes for most genetic factors are very small in magnitude.
Use of genetic data causes concerns for infringement of individual privacy and human rights.
The availability of genetic data may influence decision making and potentially lead to discrimination based on one's genotype.
Author's main message
Molecular genetic data offer the potential to design new, effective approaches to improving societal outcomes. For example, existing research has significantly advanced knowledge of how mental health influences education and labor market outcomes. Yet there remain concerns surrounding the potential for data on inherited predispositions to be abused in either the workplace or in insurance coverage. Given the complexities of the new data, it is critical that researchers educate the public on the true promise it offers, so that society can become comfortable with genetics playing a role in policy design.
Motivation
In 2001, scientists working collaboratively from around the world completed the sequencing of the human genome. Since that feat, medical research has increasingly focused on disease mechanisms at the cell and molecular levels, helping to generate significant interest in the development of "personalized medicine." Research has even begun to shed light on how molecular genetics influences many commonly studied individual socio-economic outcomes, such as educational attainment and fertility. However, societies now face some critical questions as gene-based research continues to progress: Should molecular genetic information be considered in the design of social and economic policies? Should genes come to play a central role in society's thinking about socio-economic issues?
For many decades economists have generally ignored the role of genetic factors. For example, many researchers investigated the intergenerational transmission of traits and socio-economic outcomes such as inequality, but were hesitant to identify the source of intergenerational correlations. Those that attempted to ascertain the role of genetic factors used samples of biological siblings in a bid to understand heritability in various traits and outcomes, ranging from educational attainment to smoking to risk attitudes. Heritability is generally defined as the proportion of variation in a population that is accounted for by genetic factors. Many social scientists may have refrained from undertaking these exercises, in part due to concerns that the results could be distorted to suggest they are promoting social eugenics.
With molecular genetic data, researchers can examine if differences in the genetic code at specific locations of the DNA chromosome pair are linked with these specific differences in socio-economic outcomes. Variation among individuals' DNA sequences may directly or indirectly (through environmental channels) influence many socio-economic outcomes. While early studies by economists typically explored variation in a specific genetic marker, called a candidate gene, recent work considers either a larger number of genetic factors simultaneously or a summary measure of individual genetic variation.
Perhaps it is not surprising that both social scientists and policymakers have serious concerns about the idea of using molecular genetic data. The major reason social scientists resist examining how genetic factors relate to individual behaviors is possibly that genes are purely predetermined. Hence, any impact genes have on socio-economic outcomes would be innate, which leaves no role for policy interventions. This simplistic reasoning is incorrect [1], an issue that will be elaborated on below.
Discussion of pros and cons
Limitations and gaps
Knowledge on how genetic factors influence socio-economic outcomes is still in its infancy but is quickly evolving. Many of the advances over the last decade have been due to the availability of larger data sets and increased computational power. A companion study provides a much more critical and technical assessment of a subset of research to date in this area [11]. In a nutshell, the study speculates that advances in the statistical and econometric tools used to measure both genetic effects and gene–environment interactions will determine the speed by which future progress can be made.
Looking forward, careful research design may address many existing limitations. There appear to be substantial benefits from building on the same set of ideas that have transformed modern labor economics research when estimating relationships between outcomes and explanatory variables, including genetic factors. For example, studies that exploit variation in genetic factors between full biological siblings living in the same household will likely present more credible evidence on the role of specific genetic markers. Similarly, studies that ensure environmental factors are credibly exogenous will likely prove to be more convincing. Across all types of studies using genetic information, attention needs to be paid toward the way in which data were collected to reduce spurious associations related to differences across human subpopulations in genetic frequencies or differences in environmental conditions across birth eras. On the former, for instance, when analyzing data from a sample consisting of individuals from multiple ethnicities some genetic markers may be related to the outcome just because there is both a different outcome and different genetic prevalence due to ethnicity. Thus, there are benefits from potential interdisciplinary collaboration in research design for studies using genetic data.
Summary and policy advice
The mix of enthusiasm and trepidation regarding the potential social impact of genetic data is not unique to any government or individual. The enthusiasm is well-placed. For many health problems, there are enormous gains to be made from incorporating these data. For example, tools have been developed to better educate individuals on the trade-offs that different medical treatments could provide based on inheriting a genetic mutation that predisposes an individual to a specific disease. Similarly, for many social and educational outcomes, the behaviors under study exhibit a large degree of heritability. Research can provide guidance on one's risk of certain poor outcomes based on their genetic makeup.
As an example, suppose that certain skills have a large genetic component. In an era with "skill-biased technological change," individuals endowed with these genetically-linked skills may disproportionately complement new technologies, thereby increasing labor productivity. If research finds that genetic variation operates differently for men and women, then this may provide a new explanation for gender disparities in wages and occupation choice.
To respond to knowledge of one's genetic makeup requires a rich understanding of the uncertainty inherent in these estimates as well as how these genes respond to different policies and interventions. Indeed, there is evidence that individuals respond in a heterogeneous manner to the same environmental influences based on their genetic makeup. Thus, one of the main policy challenges will be to understand how to utilize genetic data to remediate gaps in socio-economic outcomes. That said, an advantage of genetic information is that it is fixed at conception. This allows researchers to draw conclusions on the role of environments and policies, since one can see how individuals with similar endowments respond to different policies.
However, the trepidation is also justified. Like many other new sources of "big data" or artificial intelligence, there is the potential for misuse. Possible sources of abuse include not just the potential promotion of eugenics-style initiatives, but also discriminations by insurers or employers. However, given the significant potential benefits of incorporating these data with appropriate safeguards, it is hoped that policymakers can become more confident that the question to ask will shift from "Whether we should use data on molecular genetic factors?" to "How can we maximize the benefits while minimizing the harm?"
Acknowledgments
The authors thank an anonymous referee and the IZA World of Labor editors for many helpful suggestions on earlier drafts. Previous work of the authors contains a larger number of background references for the material presented here and has been used intensively in all major parts of this article [3], [4], [7], [8], [9], and [11]. Support from David Cesarini, Jason Fletcher, and J. Niels Rosenquist, among many others, as well as financial support from SSHRC is gratefully acknowledged.
Competing interests
The IZA World of Labor project is committed to the IZA Guiding Principles of Research Integrity. The author declares to have observed these principles.
© Weili Ding and Steven F. Lehrer