Elevator pitch
The open science and research transparency movement aims to make the research process more visible and to strengthen the credibility of results. Examples of open research practices include open data, pre-registration, and replication. Open science proponents argue that making data and codes publicly available enables researchers to evaluate the truth of a claim and improve its credibility. Opponents often counter that replications are costly and that open science efforts are not always rewarded with publication of results.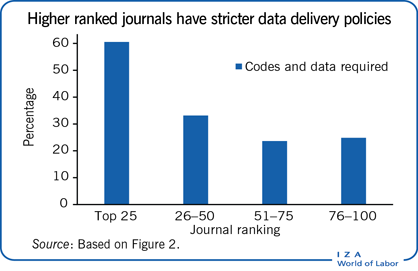 Key findings
Pros
Open science and research transparency offer the potential to improve empirical economic research's credibility.
Sharing data and codes may allow other researchers to detect false-positive findings and increase the visibility and prominence of academic publications.
A growing number of free data repositories allow researchers to share information more effectively, thus eliminating the monetary cost of storing data and code.
A growing number of simple, low-cost, editorial policies may easily decrease the extent of publication bias.
Cons
Sharing data in a usable format requires considerable time and effort by knowledgeable people.
There is a lack of funding for, and to some extent interest in, replication studies.
Transparent practices such as pre-analysis plans may stifle researchers' creativity and possibly prevent important breakthroughs arising from exploratory analysis.
There may be substantial upfront costs to transparency and openness and open science efforts are often not rewarded with publication of results.
Author's main message
Open science and research transparency can lead to improved credibility within empirical economic research, which represents a key input in economic policy design. Nonetheless, there remain concerns surrounding the costs associated with open science and the lack of incentives for transparent research. Despite these concerns, the potential benefits justify the efforts. Researchers and policymakers should thus pay close attention to recent developments in open research that may alleviate some of the main drawbacks, such as encouraging registered reports and editorial policies to promote transparent practices.
Motivation
There is an increasing demand for evidence-based policy in many countries. Economists are well suited to this endeavor, as they regularly work with large data sets and sophisticated methods to estimate causal effects. However, there is also growing concern that limited transparency may weaken the credibility and reproducibility of results. An increasing amount of evidence across economics suggests that scientific journals often publish only a subset of results, and that these may not be representative of the entire set of findings. For instance, results that find a significant effect of a particular program or policy may be more likely to end up published than null results.
In addition, a growing body of research shows that findings published in scientific journals may not be reliable or replicable. These issues cast doubt upon the credibility of published research in the eyes of policymakers and citizens. This is particularly relevant today, as, for instance, opinion poll data from the General Social Survey suggest that about 58% of Americans have only some confidence or hardly any confidence at all in the scientific community.
Discussion of pros and cons
Limitations and gaps
The large number of journals not requesting authors to post their data and codes combined with the small number of replication studies being conducted (or published) means that open science faces several considerable obstacles. A primary concern is that open science efforts are often not sufficiently rewarded. Established researchers are less accustomed to following open science practices, which often require increased time and effort, and may thus struggle to change their habits without the presence of strong incentives.
Another concern is that the increasing use of proprietary government or corporate data may stall the movement toward data sharing. The use of confidential data combined with growing concerns about data sensitivity present limiting factors in this regard. Considerable efforts to provide instructions on how to obtain such data and codes so that other researchers may replicate findings will be necessary.
Finally, some economists may fear the risk of peer appropriation if they share their data and codes. Building a data set takes a lot of time and effort and they may feel that other researchers will unfairly benefit from using their data set.
Summary and policy advice
The ongoing open science and research transparency movement represents a challenging time for economists and policymakers. The key question for proponents is how to transform these challenges into opportunities. How can researchers be incentivized to share their data sets and codes and to review and re-test the conclusions of previous studies? And how can incentive structures be altered to decrease the extent of publication bias in published literatures?
At least four major actions could increase transparency and credibility within economic research. First, while much progress has been made, it is still surprising that many scientific economic journals do not require (or allow) researchers to share their codes and data sets. The growing number of free and open source data repositories such as the Open Science Framework facilitate data sharing for preprints and working papers, but could also be used for published articles. Second, simple, low-cost, editorial policies could easily decrease the extent of publication bias. Third, replication grants and a greater recognition of the value of replications are necessary. And fourth, there is growing evidence that improved research design may make empirical economics research more credible, suggesting that authors themselves hold a key role in promoting the open science movement.
Acknowledgments
The authors thank anonymous referees and the IZA World of Labor editors for many helpful suggestions on earlier drafts. The authors also thank Taylor Wright for research assistance. Previous work of the authors contains a larger number of background references for the material presented here and has been used intensively in all major parts of this article [2], [7], [10].
Competing interests
The IZA World of Labor project is committed to the IZA Code of Conduct. The authors declare to have observed the principles outlined in the code.
© Cristina Blanco-Perez and Abel Brodeur