Elevator pitch
Might the Belgian labor market be included in the gallery of "Belgian surrealism"? At first sight, Belgium with its 11 million inhabitants has withstood the Great Recession and the euro area debt crisis relatively well, quickly getting back on track toward growth and employment, apparently without rising earnings inequality. But if one digs a little deeper, Belgium appears to be a strongly segmented labor market, first and foremost in an astounding north–south regional (linguistic) dimension. This extreme heterogeneity, along with several demographic challenges, should serve as a warning for the future.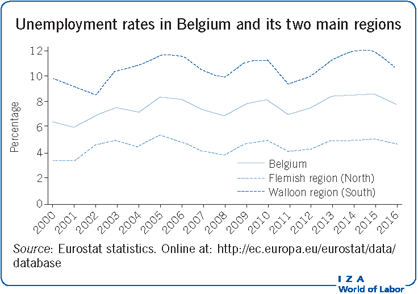 Key findings
Pros
By the end of 2016, employment was about 5% higher than its pre-Great Recession level.
The unemployment rate for women has been trending downward since 2005.
There is no clear-cut rise in earnings inequality.
The gender pay gap is shrinking.
Cons
Over the 2000–2016 period, the unemployment rate has trended upward.
The north–south unemployment rate gap remains huge.
Youth unemployment is far above the adult average, in particular for the low-skilled and foreign-born.
In 2016, the labor force participation rate remained well below the EU15 average, especially for people aged 55 and over.
Real earnings have hardly increased since 2000, and the incidence of poverty among the unemployed has risen in the last decade.
Author's main message
Several standard labor market indicators suggest that Belgium has mostly recovered from the Great Recession, and has done so without experiencing increased inequality. However, these trends have been accompanied by government wage controls, a slight decline in real disposable income, and a rise in poverty among the unemployed. Notwithstanding improvements in the average position of women, the labor market continues to be plagued by several long-term problems. Among these, mass youth unemployment, a high incidence of long-term unemployment, and low participation rates among older people present a real threat to social cohesion and economic development.
Motivation
This case study of Belgium illustrates that geographical unemployment clusters largely ignore national boundaries. In addition, this is not a temporary phenomenon. These observations question standard analyses of the causes of unemployment, which take the country as the unit of observation and stress that the poor design of national labor market institutions is the culprit for bad labor market performances. Access to employment is also persistently difficult for several subgroups in Belgium. Making the labor market more inclusive definitely remains a daunting challenge.
Discussion of pros and cons
Limitations and gaps
Belgian labor market data suffer from some general shortcomings. First, there is no easy access to individual labor force data. Second, statistics on labor market flows are very imperfect (and hence have not been mentioned here). Third, the data available to measure changes in inequality among workers are unsatisfactory.
Summary and policy advice
Despite significant improvements since the Great Recession and the euro area debt crisis, the Belgian labor market's situation remains problematic. On average in 2016, 7.8% of the labor force was still unemployed, half of these for more than 12 months. It also appears that the aggregate unemployment rate has been on an upward trend since 2000, with women being a notable exception. In spite of the small size of the country, (un)employment rates are extremely varied, first and foremost in a north–south regional (linguistic) dimension. This fact, the large share of long-term unemployment and the high unemployment rate among young low-skilled or minority workers point to a highly segmented labor market. A number of problems plaguing the Belgian labor market are shared with other EU countries, the primary one being mass youth unemployment. Others, such as the relatively low employment rate of older people, seem more Belgium-specific.
Heavily indebted, often blocked by a complex institutional architecture, and facing the necessity to meet several demographic and ecological challenges, Belgian authorities find themselves pushed to the wall with very few innovative solutions on hand. Historically, policymakers in Belgium have indeed paid limited attention to analyzing the causes of unemployment problems and to evaluating the impact of the various policies put in place. The lack of innovative solutions is at least partly explained by this insufficient level of investment.
Acknowledgments
The author thanks the IZA World of Labor editors for many helpful suggestions on earlier drafts.
Competing interests
The IZA World of Labor project is committed to the IZA Guiding Principles of Research Integrity. The author declares to have observed these principles.
© V. Bodart, M. Dejemeppe and B. van der Linden