Elevator pitch
Since the end of World War II, occupational licensing has been one of the fastest growing labor market institutions in the developed world. The economics literature suggests that licensing can influence wage determination, the speed at which workers find employment, pension and health benefits, and prices. Moreover, there is little evidence to show that licensing improves service quality, health, or safety in developed nations. So, why is occupational licensing growing when there are such well-established costs to the public?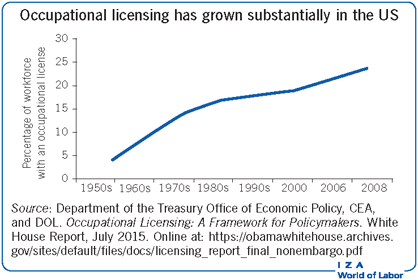 Key findings
Pros
Wage premiums resulting from occupational licensing attainment are positively associated with the stringency of licensing requirements.
Gaining employment in a universally licensed occupation has been shown to increase hourly earnings compared to unlicensed individuals with similar education and skills.
Licensing raises long-term earnings and employment opportunities for low-income occupations.
Certification by government can provide information about the quality of the practitioner while reducing the monopoly effects of licensing.
Cons
By making it more difficult to enter an occupation and move across political jurisdictions, employment opportunities may be reduced in licensed occupations.
Licensing raises the prices of services with no clear demonstrated benefit in overall quality.
The additional requirements needed to earn licensure may steer low-skilled or low-income workers into even lower-paying but more accessible jobs that do not require a license, such as janitors or waiters.
Wage premiums resulting from licensing are primarily due to reductions in competition as well as perceived higher quality of service, which may be associated with increased income inequality.
Author's main message
The wage benefits of occupational licensing are concentrated primarily among individuals who are already well paid. Evidence indicates that occupational licensing can hamper mobility, making it harder for workers to take advantage of job opportunities in other regions. Moreover, there is little evidence to show that occupational licensing has actually improved the quality of delivered services in many fields, although it has been shown to increase prices and limit economic output. Hence, governments should require cost–benefit analyses prior to new licensing rules, allow practitioners to cross borders without economic penalties, and reduce regulations on certain occupations.
Motivation
Occupational licensure is the process by which governments establish qualifications required to practice a trade or profession, so that only licensed practitioners are allowed by law to receive pay for doing work in the occupation. This labor market institution has grown substantially in many developed countries; the Illustration shows the growth of occupational licensing in the US over time. Following the end of World War II, occupational licensing in the US covered about 4.5% of the workforce, but by 2015 it had climbed to 25% according to the US Bureau of Labor Statistics. In addition to this significant overall growth, there is much geographic variation in the percentage of the workforce that is licensed in both the US and the EU. Figure 1 shows the variation in occupational licensing in the US using a 2013 survey conducted by the Harris Polling firm, which based its polling on the demographic profiles of each state. The survey found that Iowa and Nevada have the highest percentage of licensed workers (33.3% and 30.7%, respectively), with South Carolina having the smallest percentage (12.4%).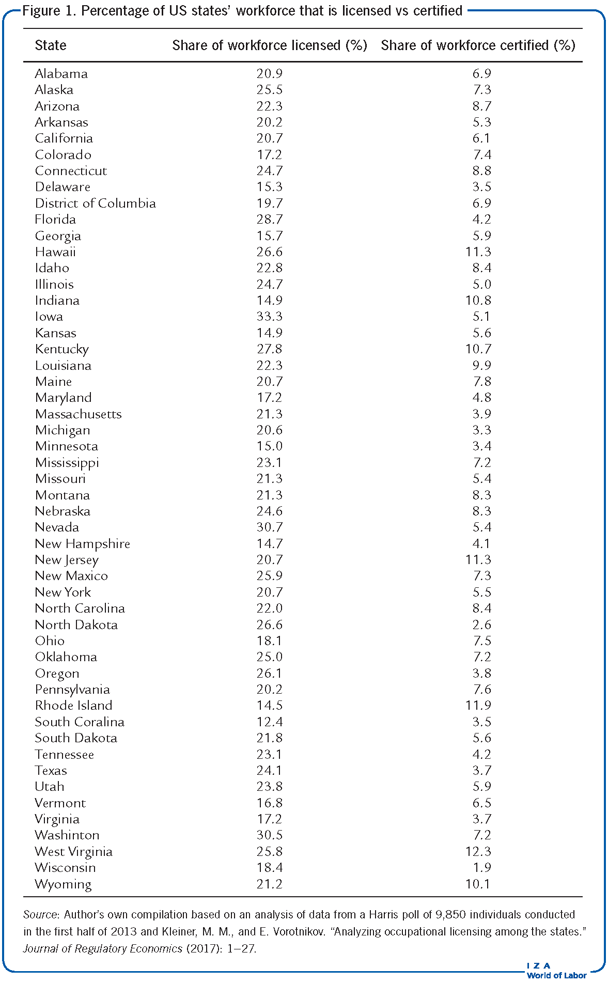 Occupational licensing in the UK has also been growing in a similar fashion to the US. By 2015, 19% of all UK jobs were subject to government licensing, a growth of over 2% in just a decade, though still well below the US estimates. Like the US, the wage premium in the UK is positively related to the stringency of occupational licensing requirements. In addition, for the UK, the premium increases with the length of time since occupational licensing was first implemented [1].
The UK approach to occupational licensing shares many features with other Commonwealth countries, such as Australia and Canada, but has some marked differences with the US approach. It can be statutory, meaning that the requirement for a license is established by law, or it can be voluntary. In the former case, professions are typically granted status by an act of parliament, indicating that regulation is at the national level. The approach can also vary according to the range of products or services: an individual with a specific licensed job title can provide all products and services covered by that occupation (known as "protection of title"); or a specific job title can enable the individual to undertake certain activities or provide only specific services (known as "protection of tasks") [2]. These issues are commonly referred to as the "scope of practice" [3].
Licensing that covers protection of tasks does not restrict individuals from entering an occupation, but it does place limits on the activities that they are legally allowed to perform as part of that profession. For example, an unlicensed electrician can perform many electrical installations, but a licensed electrician must inspect these installations and certify their safety. Regulation can also vary depending on whether the license is issued by an occupational body or a government organization, as well as whether the license is issued on a local basis or attained at the state or national level. Regulatory bodies in the UK, for instance, are independent of any branch of government, but work closely with government departments when reviewing occupational regulation issues.
Considering the above, occupational licensing in the UK can be classified into two groups: certification or registration. Certification, or accreditation, is the process by which a relevant authority determines whether practitioners meet a minimum set of predetermined criteria that demonstrate competence and knowledge in a specific area. A private nonprofit industry body is usually responsible for overseeing the process and granting the certificate. As in the US, certification is not mandatory; therefore, a noncertified practitioner may also provide similar services. This gives the certified individual a right to the title, but not an exclusive right to work in the occupation. However, given that certification indicates a certain level of skill, consumers may be prepared to pay a premium for using a certified practitioner as opposed to a noncertified one. In contrast, registration is when the government provides a list of practitioners who provide a service. Individuals who do not meet the criteria or have multiple complaints are taken off the list. This is consistent with definitions in the US.
Discussion of pros and cons
Although initially motivated by concerns over public health and safety, for many occupations regulation may limit worker opportunity more than it protects consumers. Economic studies have found minimal impact of licensing on service quality in occupations that are not widely licensed, such as interior designers and upholsters. Even in occupations that are widely licensed, studies have found only few and typically small impacts on health measures or quality-related outcomes from tougher licensing requirements [4]. In contrast, many studies have found that occupational licensing affects wages, employment, and fringe benefits, such as health insurance and pensions [5], [6], [7]. Most of the literature shows that licensing is beneficial for those who manage to obtain a license, and that these benefits primarily come at the expense of consumers, who face reduced service availability and higher prices [8]. Policymakers need to determine whether the increases in economic status experienced by many licensed workers are due to increased service quality resulting from greater training, or if they are caused by restricting competition, or both.
Overall, few studies have shown significant benefits of occupational licensing on the quality of services received by consumers or on the demand for the service. Hence, although policymakers may view occupational licensing as a way to enhance quality, there is little evidence to support this assumption [9]. On the other hand, several studies have found significant effects on licensed practitioners' wages as well as on the prices faced by consumers, suggesting a negative influence of occupational licensing [9].
Limitations and gaps
Because there is relatively little published research on the relationship between performance on an occupational licensing exam and a worker's ability to deliver a safe and high-quality service, there is no assurance that the quality of services received by consumers necessarily improves when governments place additional requirements on the providers of those services. Yet these regulations can be costly: even for occupations with relatively few formal education requirements, such as cosmetology, job-specific training can take longer than one year and may include an apprenticeship followed by a governmental licensing exam. This process may result in fewer practitioners, especially in lower-income occupations, and higher prices, and can therefore result in reduced access to services. The net effects can be regressive, as lower-income consumers—who must now pay higher prices and may have less access to services—pay more to regulated practitioners, some of whom are well compensated.
Areas of future research include examinations of firm- or occupation-specific restrictions. For example, what are the additional costs to firms resulting from featherbedding practices, such as requiring licensed practitioners to install or monitor equipment? Other additional research could include the influence of occupational licensing for high-tech firms, such as Uber or Lyft, where licensing is required in some locations for ride-sharing, but not in others.
Summary and policy advice
Occupational licensing and the lack of cross-border consistency with respect to the education and training of licensed practitioners carries broad implications for the economic well-being of individuals in both developed and less-developed nations. Evidence indicates that occupational licensing influences the allocation of labor in critical areas of the economy, such as health care, construction, and education, and that it has had an important influence on employment, wage determination, employee benefits, and prices. Some even suggest that occupational licensing dampens the rate of innovation and misallocates resources within an occupation by setting fixed, and in some cases arbitrary, rules.
In order to enhance the benefits and reduce the costs of this form of regulation, the following three policies are recommended. First, governments should require cost–benefit analyses prior to the approval of new occupational licensing standards. Second, licensed individuals should be allowed to move across political jurisdictions with minimal retraining or residency requirements. Third, where politically feasible, governments should reclassify certain licensed occupations to a system of certification or should remove regulation on some professions altogether. These proposals should lead to employment growth in affected occupations and a reduction in consumer prices. Replacing licensing with certification in certain occupations, thereby providing more competition, would, in most cases, result in substantial gains in economic growth and employment without measurable harm to consumers.
Acknowledgments
The author thanks an anonymous referee and the IZA World of Labor editors for many helpful suggestions on earlier drafts. Previous work of the author contains a larger number of background references for the material presented here and has been used intensively in all major parts of this article.
Competing interests
The IZA World of Labor project is committed to the IZA Guiding Principles of Research Integrity. The author declares to have observed these principles.
© Morris M. Kleiner