Elevator pitch
There is growing concern that much of the empirical research in labor economics and other applied areas may not be reproducible. Correspondingly, recent years have seen an increase in replication studies published in economics journals. Despite this increase, there are many unresolved issues about how replications should be done, and how to interpret their results. Replications have demonstrated a potential for clarifying the reliability and robustness of previous research. Much can be done to encourage more replication research, and to exploit the scientific value of existing replication studies.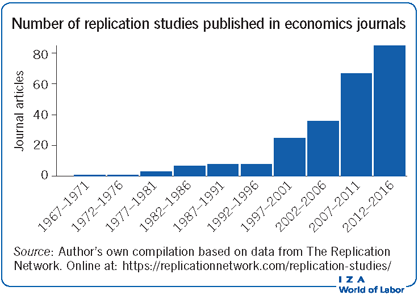 Key findings
Pros
Replications can help to confirm that an original study was done correctly.
Replications can be used to determine if the findings of a study generalize to other, similar settings.
Replications have demonstrated their usefulness in assessing the results of previous, high-profile research.
Cons
There is no consensus about what a replication is, nor about what constitutes a "successful replication."
Little is known about how frequently replications occur, or how often they confirm or disconfirm the original studies.
There is no standardized system to collect, categorize, and link replications to the respective original studies.
Author's main message
Empirical research inherently involves uncertainty. Across studies, this uncertainty is reflected in the fact that many studies investigating similar subjects report different results. Efforts to reduce this uncertainty can help solidify what is known, and unknown, in labor economics. Replication is one such effort. While the concept is seemingly straightforward, conducting and interpreting replications is difficult. Researchers and policymakers alike could benefit by improving access to original data sources, encouraging journals to publish more replications, and establishing a cataloging system to link replications to the original studies.
Motivation
The evidence on the reproducibility rate of scientific research is thin but alarming. In 2016, an article in the journal Nature reported the results of a survey in which 1,576 researchers were asked about the reproducibility of scientific findings. In response to the question, "Is there a reproducibility crisis?" 52% responded "Yes, a significant crisis." More than 70% reported failing to reproduce another scientist's experiments at least once.
Probably the most famous attempt to determine a discipline's reproducibility rate is the Open Science Collaboration's study on reproducibility of experiments in psychology, published in the journal Science in 2015. This collaborative effort attempted to replicate 100 experiments published in three top psychology journals. While acknowledging that there is no objective measure to determine "replication success," the authors judged that less than 40% of the replications were able to successfully reproduce the original result.
Discussion of pros and cons
Limitations and gaps
A major limitation to the usefulness of replications is that there is no accepted criterion for determining "replication success." This is partly due to the fact that there is no generally accepted definition of a replication. But the issue is even more fundamental than that, and perhaps can best be illustrated with an example. Suppose a study reports that a 10% increase in unemployment benefits is estimated to increase unemployment duration by 5%, with a 95% confidence interval of [4%, 6%]. Two subsequent replications are undertaken. Replication #1 finds a mean effect of 2% with corresponding confidence interval of [1%, 3%]. Replication #2 estimates a mean effect of 5%, but the effect is insignificant with a corresponding confidence interval of [0%, 10%]. In other words, consistent with the original study, Replication #1 finds that unemployment durations are positively and significantly associated with unemployment insurance benefits. However, the estimated effect falls significantly short of the effect reported by the original study. Replication #2 estimates a mean effect exactly the same as the original, but due to its imprecision, the effect is statistically insignificant. Did either of the two replications "successfully replicate" the original? Did both? Did none? This issue has not been addressed in the economics replication literature.
After a replication is completed, after the results are reported and interpreted, there remains a final challenge for replications: Cataloguing the results. For those who read the original study, there is no easy way to determine whether replications of that study have been done, and what they have found. As a result, original studies may continue to have important policy impacts, even when subsequent replication efforts have weakened or overturned their results.
Summary and policy advice
Replications have many challenges, only some of which have been touched on here. Even when data and computer code exist that allow one to repeat the analysis of a previous study, there is no formula, no commonly accepted procedure, for how a replication should be done. Further, there is no commonly agreed set of criteria by which a replication can be said to "successfully replicate" a previous study.
Even so, replications have the potential to greatly clarify researchers' and policymakers' understanding of empirical relationships. By carefully reviewing and re-testing the conclusions of previous studies, replications can clarify which empirical findings in labor economics are reliable and robust, and which are not.
Three major actions could increase both the number of replications done and the value from doing them. First, while much progress has been made, it is still difficult to obtain data and code to reproduce results from previously published research, even when the journals require that the authors provide these. Strengthened open access policies for authors' data and code would lower the cost of doing replications and encourage more replications to be undertaken. Second, if journals were willing to publish more replications, the benefits to doing replication would increase, resulting in more research of this type. And lastly, a system to catalogue replications and to link the original studies to subsequent replications would greatly increase the scientific value of replications. As things currently stand, a replication can overturn the results of an original study, and yet many subsequent readers of the original study will be unaware of its existence.
Acknowledgments
The author thanks the IZA World of Labor editors for many helpful suggestions on earlier drafts. Tom Coupé and Brian Haig also provided valuable comments. Previous work of the author has been relied upon throughout this article and contains a larger number of background references for the material presented here [4].
Competing interests
The IZA World of Labor project is committed to the IZA Guiding Principles of Research Integrity. The author declares to have observed these principles.
© W. Robert Reed