Elevator pitch
Public sector hiring has been an essential component of the social bargains that have maintained political stability in the Middle East and North Africa (MENA). As these bargains eroded, public sector workforces contracted in relative terms owing to a partial freeze on hiring and the promise of lifetime job security for incumbent workers. This had profound effects on the age composition of the workforce. The upcoming retirement of many workers provides an opportunity to restructure public sector hiring to emphasize meritocratic recruitment processes and performance-based compensation systems.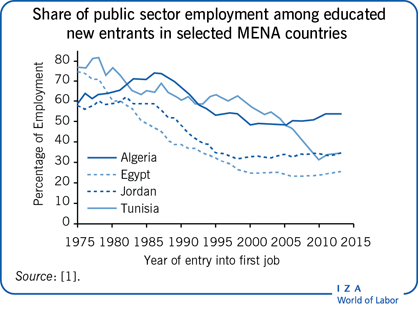 Key findings
Pros
Slowed hiring and an aging workforce in the public sector offer an opportunity to carry out necessary civil service reforms.
Increased access to education for women has resulted in an increasing feminization of public sector workforces in the MENA region.
The erosion of social contracts linking public sector hiring to political stability provides an opportunity to transition to more meritocratic hiring practices.
Civil service hiring reforms have the potential to improve the quality of public administration and service delivery.
Cons
Public sectors in the MENA region remain large, which leads to deleterious effects on both budgetary sustainability and administrative efficiency.
The slowdown in hiring within the public sector contributed to high rates of educated youth unemployment, particularly among young women.
Political pressures post-2011 to address youth unemployment have led some policymakers to resume inefficient public sector hiring to placate politically sensitive groups.
Author's main message
The gradual downsizing of public sectors across the MENA region and the associated aging of public sector workforces provides an opportunity to restructure public sector hiring and compensation practices in a more meritocratic direction. However, as the downsizing continues, women, who are disproportionately dependent on public sector employment will be adversely affected in a context with already low female labor force participation. Therefore, innovative policies are needed to support women's employment in the private sector to compensate for the loss of opportunities in the public sector.
Motivation
The dynamics of public sector hiring are important to study as they have major implications for the performance of public administration, good governance practices, and the quality of public services. Moreover, public sector hiring practices have a significant impact on the efficiency of the overall allocation of human resources in a given economy. The extent of public sector hiring, the qualifications of those hired and the compensation practices of the public sector not only determine how efficiently human capital is deployed in the economy, but also affect the type of human capital that is produced. For instance, by emphasizing credentials rather than skills, public sector hiring practices encourage the over-production of certain credentials that may have little use in the private sector.
Public sectors have traditionally been key employers in theMiddle East and North Africa (MENA)region, even more so than in most other parts of the world. This role has in large part been driven by political agendas, as a means of upholding so-called social bargains with the general populace. However, as these bargains have gradually eroded in importance, a new opportunity presents itself to remake the public sector in countries across the region. In particular, the aging of public sector workforces presents an opportunity to restructure through early retirement schemes and a re-orientation of hiring practices in a more meritocratic direction.
Discussion of pros and cons
Limitations and gaps
A key limitation when attempting to propose appropriate reforms in public sector hiring in MENA is the lack of information on public sector hiring and compensation practices, including the number of qualifications of recruits, the selection processes used, and the process by which compensation and benefits are determined.
Another major limitation is spotty data availability across many countries in the MENA region on the composition of the public sector workforce. For countries where no micro-data is available, this article relies on published figures by the International Labor Organization (ILOSTAT), which often lacks the necessary details or is outright missing for many countries. Greater access to micro-data would allow more detailed analyses of the changing demographics of public sector workforces over time.
Summary and policy advice
Public sector hiring is declining in the MENA region as social contracts that have traditionally offered public sector jobs in exchange for the political quiescence of critical constituencies erode. Because incumbent workers were protected as public sectors contracted, considerable aging has occurred within the public sector workforces in many countries. The imminent retirement of large numbers of workers, possibly aided by some early retirement schemes, provides an opportunity for a major restructuring of hiring processes in a more meritocratic direction.
This approach would capitalize on the already highly attractive nature of public sector jobs to substantially upgrade the quality of recruits. This is also an opportunity to institute civil service reforms that more directly tie compensation to performance as a way to upgrade the quality of public services.
Because women are more dependent on public employment, the decline in public sector hiring affects them disproportionately. There is therefore a need to facilitate greater access for women in the private sector through reforms in social services, such as public transportation and childcare, and other state-supported programs that make it possible for women to continue working in the private sector after marriage.
Acknowledgments
The authors thank anonymous referees and the IZA World of Labor editors for many helpful suggestions on earlier drafts. Previous work of the authors contains a larger number of background references for the material presented here and has been used intensively in all major parts of this article [1], [6], [7], [10], [11], [12].
Competing interests
The IZA World of Labor project is committed to the IZA Code of Conduct. The authors declare to have observed the principles outlined in the code.
© Ragui Assaad and Ghada Barsoum