Elevator pitch
Numerous studies have investigated whether the provision and generosity of parental leave affects the employment and career prospects of women. Parental leave systems typically provide either short unpaid leave mandated by the firm, as in the US, or more generous and universal leave mandated by the government, as in Canada and several European countries. Key economic policy questions include whether, at the macro level, female employment rates have increased due to parental leave policies; and, at the micro level, whether the probability of returning to work and career prospects have increased for mothers after childbirth.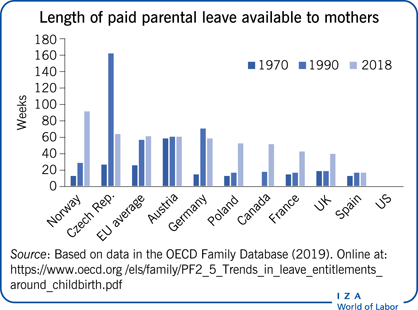 Key findings
Pros
Parental leave increases the family–work balance.
Workers are protected from losing their jobs due to parental leave policies.
Workers' and firms' investment in firm-specific human capital is protected through job-protected leave.
The likelihood that workers return to the same employer after parental leave is higher if the leave period is not too long (i.e. not more than one year).
The introduction of parental leave quotas for fathers has helped create incentives for employers to grant paternal leave, and for fathers to take it.
Cons
There is some evidence that entitlement to prolonged leave longer than one year negatively affects employment rates and careers.
Career interruptions due to parental leave can lead to detachment from work and human capital depreciation, especially with longer leave durations.
Losses in terms of wages and human capital depreciation from parental leave are higher for highly educated than for low or medium educated parents.
Evidence of discrimination against women and mothers in some areas of work exists; parental leave policies represent one potential explanatory factor.
Author's main message
Parental leave schemes provide policy options to increase maternal employment and improve the work–family balance. International experience, mainly from Europe, shows positive experience with short and medium leave periods. Nevertheless, there are career costs related to parental leave. As such, governments and firms should take notice of workers' career costs, which vary by educational level and increase according to the length of leave. Public policy and firm-based practices such as return-to-work mentoring programs should be established in order to reduce the costs associated with periods of leave and to provide incentives to return to work early.
Motivation
Two significant challenges firms encounter are how to recruit the best workers and how to maintain human capital within the firm. In many countries, women with children fall behind comparable men in terms of career prospects and wages. Part of the reason for this achievement gap is that a large proportion of women do not return to work soon after childbirth.
International data on employment rates used to show that women with children were much less likely to be employed than women without children. This picture has changed and the group of mothers significantly less likely to be employed is those with very young children, below the age of three (Figure 1). Employment rates for mothers are also relatively low for those with low education, and with a migration background (see OECD Family Database).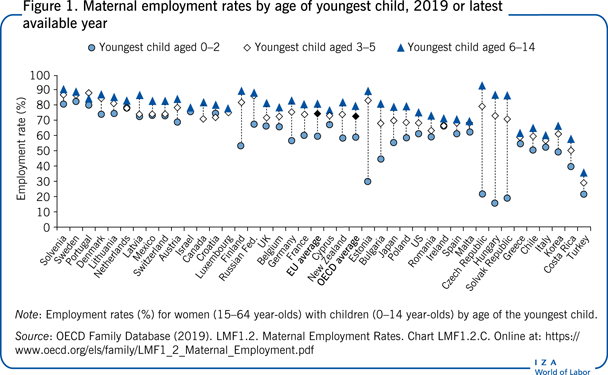 Parental leave policies are generally regarded as important tools to increase maternal employment and the work–family balance, that is, the time spent by parents with their family versus time spent at work.
Globally, women are still performing worse than men on the "career ladder." Quite pronounced is the underrepresentation of women in CEO positions throughout most countries (Figure 2). However, it is not just at the top echelon of corporations where women are underrepresented. This phenomenon is also seen in higher- and medium-level management positions as well as top academic positions.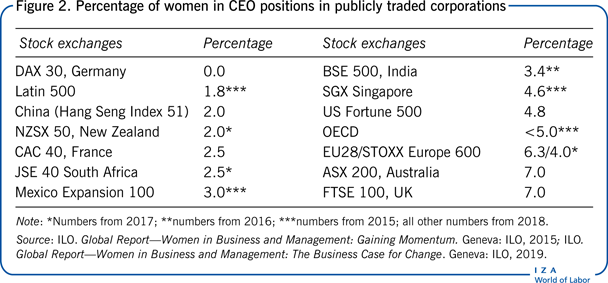 The overall impact of parental leave policies on maternal employment has been thoroughly investigated in country studies that use panel data at the individual level as well as international panel data at the aggregate country level. However, testing theoretical predictions and interpreting empirical evidence is challenging because it is very difficult to trace the direct or causal effects of parental policies on maternal labor market outcomes.
Discussion of pros and cons
Limitations and gaps
The main shortcoming of cross-country panel data studies is that they cannot completely rule out the possibility that the estimated effects of parental leave on maternal labor supply are not also related to other institutional differences, such as childcare provision or industry wage structure. More recent research stands out in this field by exploiting parental leave reforms as a natural experiment within one country, and by utilizing high-quality register data. Studies differ widely in terms of estimation method and model. Most studies trace the direct effect on maternal employment by applying so-called instrumental variables, differences-in-differences, or regression discontinuity design econometric estimation methods. Few studies in this literature use more structural approaches to model earnings or employment, where the optimization behavior of the individuals and the firms could be taken into account more explicitly. The methods in this literature attempt to carefully trace partial effects on the supply side, but have so far rarely simultaneously targeted other outcomes (or general equilibrium effects) or demand side responses.
Evidence has become available for many countries that have gone through expansionary reforms. The literature leaves a number of open questions that need to be answered before a more comprehensive understanding of the impacts of parental leave on women's careers can be achieved. First, the distinction between paid leave versus unpaid job-protected leave and potential interaction effects with flexible work arrangements, including part-time work during and after parental leave, has not been sufficiently investigated. For instance, the expiration of wage-replacement benefits may have stronger effects than the expiration of unpaid job-protected leave, which may lead to an underestimation of employment effects in studies that cannot make a clear distinction between the two.
Likewise, research has provided little evidence on whether mothers can continue on their career tracks as if they had not had parental leave. An important distinction seems to be the return to work in a part-time versus full-time position. Can women transition in and out of part-time work afterwards, when their children have grown older, or is a lock-in effect observed into low-paying jobs (or those with limited advancement opportunity) after childbirth? This raises the question of whether parental leave has detrimental effects long-term after childbirth, when mothers have entered their 40s and 50s, and on top-performing women and those on higher career tracks. These are promising areas of research to understand why women are underrepresented in such higher-level positions.
Summary and policy advice
Parental leave schemes have generally proven to be effective at promoting maternal employment and improving the work–family balance for employees. International experience shows positive results with parental leave periods that are not too short and not too long, that is, not exceeding one year, while extended leaves of more than one year seem to lead to increasing career costs for the mother.
Career costs accrue throughout parental leave and vary across educational levels. Both governments and firms should take notice of these costs, and should establish policies and practices to help reduce them during periods of leave, and provide incentives for women to return to work early. Women may self-select out of high-productivity jobs if they anticipate that it will be difficult to combine family responsibilities and high work demands. Women who want to return to work within the same firm may benefit from active mentoring programs (i.e. programs that help optimize the timing for return and create opportunities to return earlier). If the match between workers' skills and job tasks is improved after return from parental leave, then women may catch up to other employees more quickly after leave, in terms of their career paths. Such policies are not necessarily costly to firms; by contrast, firms can actually benefit from retaining the best workers, while returning mothers will have more opportunity to recover the human capital and job-specific skills they may have lost during parental leave.
Acknowledgments
The author thanks an anonymous referee and the IZA World of Labor editors for many helpful suggestions on earlier drafts. Previous work of the author contains a larger number of background references for the material presented here and has been used intensively in all major parts of this article. Research assistance by Anna Hautmann (University of Heidelberg) is greatly acknowledged. Version 2 of the article updates the figures, includes more research on the uptake of paternity leave, and adds new "Key references" [2], [6], [13], [15], and updates the "Further readings" and "Additional references."
Competing interests
The IZA World of Labor project is committed to the IZA Code of Conduct. The author declares to have observed the principles outlined in the code.
© Astrid Kunze