Elevator pitch
Evidence shows that many college graduates are employed in jobs for which a degree is not required (overeducation), and in which the skills they learned in college are not being fully utilized (overskilling). Policymakers should be particularly concerned about widespread overskilling, which is likely to be harmful to both the welfare of employees and the interests of employers as both overeducation and overskilling can lead to frustration, lower wages, and higher quitting rates while also being a waste of government money spent on education.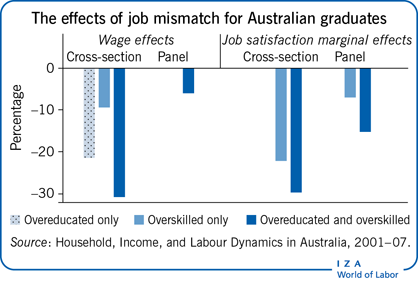 Key findings
Pros
Many college graduates are employed in jobs that neither require a degree nor make full use of skills learned in college.
Empirical analyses based on cross-section data suggest that overeducation is a sign of market failure.
Empirical studies using cross-section data find a significant wage penalty and a reduction in job satisfaction for overeducated workers.
Studies using panel data indicate that the combination of overeducation and overskilling is most damaging to employees' outcomes.
Cons
If overeducation is an investment in future earning power, mismatches are temporary and require no policy intervention.
Some people choose to work in jobs for which they are overeducated because they offer other non-financial benefits.
Panel data suggest no wage penalty for being overeducated or overskilled, and only a small penalty for those who are both, at least for men.
Overeducated workers find it easier to change jobs than overskilled workers or workers whose jobs and education are well matched.
Author's main message
Labor market mismatches (where employee qualifications do not match job requirements or are not used on the job) can result from overeducation or overskilling, which are two distinct phenomena. Policymakers should be especially concerned with overskilling which is likely to be harmful both to the welfare of employees (lower job satisfaction) and the interests of employers (lower productivity). Thus policy should ensure that education policies recognize that they must integrate with policies on skill formation outside the workplace, in case over-production of formal education interacts negatively with skill formation.
Motivation
The share of the workforce with a higher education is increasing in many countries. This trend necessitates large investments in time and resources by students as well as substantial government support. Yet there is evidence that many graduates are employed in jobs that do not require a college degree, and in which the skills obtained in college are not being fully utilized. What does this mismatch say about the supply and demand of graduates?
There are many reasons why the supply of and demand for graduates might not match in a dynamic labor market. For example, jobs that previously required college education may be at risk of replacement by advanced automation techniques. In that case, understanding the extent of and potential impacts due to mismatch in the labor market is a crucial question when designing both education and labor policies.
Discussion of pros and cons
Limitations and gaps
As mentioned previously, one important limitation of the current research is that the panel evidence discussed above is for a single country (Australia) only. However, the recent emergence of multi-country panel data sets has opened the door to more robust cross-country analysis. Likewise, due to space limitations the focus here has been primarily on male outcomes. The fact that some research indicates mismatch may be even more impactful on women calls for additional efforts to expand the literature across genders.
A broader limitation in the overall literature is the dearth of research concerning horizontal mismatching. Analysis of this phenomenon requires detailed information on both the type of qualifications held and the importance of different types of qualification in particular occupations. A study for the US reports that 20% of college graduates were mismatched horizontally in 1993. Among graduates who were mismatched, those whose studies emphasized general skills, such as a humanities specialization, had a greater likelihood of mismatch but incurred lower costs in terms of wages from mismatching than graduates whose studies focused on acquiring specific skills, such as in medicine, law, and engineering [11], [12]. A study for Sweden found that 23% of men and 17% of women were horizontally mismatched and a further 18% of men and 8% of women were weakly mismatched, with the wage penalty being large for both sexes [13]. Clearly, horizontal mismatch is an important phenomenon requiring study, as is the combination of horizontal and vertical mismatch.
Another question still to be answered concerns the role of employers in generating job–skill mismatch. The European Centre for the Development of Vocational Training (Cedefop) notes that empirical evidence on the issue is limited because of the scarcity of appropriate data, such as employer surveys with questions on skill mismatch, matched employer–employee data sets with such questions from both sides of the employment relationship, and administrative data on firm performance and panel data on employers. Preliminary evidence from enterprise surveys supports a positive association between the share of overeducated workers in a firm and firm productivity. Though there may be a wage penalty to being overeducated, such workers are still paid more than the matched workers with whom they work. Precisely why employers hire workers for positions in which they are mismatched is a question that needs to be answered, but adequately linked employer–employee information on this is lacking.
Finally, there is a general limitation related to the process of measuring mismatch, as overeducation measures can be either objective or subjective. Data on overskilling is hard to obtain and typically a self-reported answer to the question of whether the individual has more skills than their job requires. In contrast, overeducation provides a comparison with a large number of other workers in the broader labor market, thus reducing individual reporting bias. Still, overskilling provides a more precise individual assessment of mismatch between each specific individual and their job, albeit being subject to more reporting bias. It could be argued that there is no single best way of measuring mismatch and that each measure offers its own meaning and has its own uses.
Summary and policy advice
Results based on cross-section analysis suggest that overeducation indicates some form of market failure. Such studies find that many college graduates are employed in jobs that do not require a college degree and in which the skills they obtained in college are not fully put to use [3], [11], [12], [13]. The same set of studies finds a wage penalty and reduced job satisfaction for overeducated workers. These findings need to be interpreted with caution, however, because they make no allowance for individual differences and preferences. Some workers may choose to work in jobs for which they are overeducated because they offer compensating non-financial advantages or better future job opportunities, or because it was the only job they could get due to low ability relative to their qualifications. These possibilities suggest that the market may at least in part be working efficiently. Why employers hire workers to positions in which they are mismatched is a question that requires answering, but adequately linked employer–employee information on this is lacking.
In contrast, estimates based on job changes in Australia suggest that there is no wage penalty for male college graduates who are overeducated or overskilled in their jobs. The estimates do show a small wage penalty of just under 6% for workers who are both overskilled and overeducated. They further reveal marginal negative job satisfaction effects for the overskilled, with considerably larger effects for workers who are both overskilled and overeducated. The estimates also reveal that overeducated workers have significantly higher voluntary mobility than workers whose qualifications and jobs are well matched, suggesting that overeducated workers who wish to change jobs can do so. The same is true for workers who are both overskilled and overeducated. There is no significant difference in mobility for workers who are overskilled only.
Employers need to adopt human resource strategies that maximize the inputs of their employees. Government agencies also need to enhance data-gathering initiatives, including household surveys with a panel element and matched employer–employee surveys. Asking workers and employers about the reasons for job mismatches might be the most effective way of finding useful answers. Although overskilled workers are likely to be more productive than their specific job requires, the evidence suggests that they will also have lower job satisfaction than well-matched workers. Employers should therefore be informed of the potential positive and negative effects of overskilling and the value of improving hiring practices to ensure that there is a good match between workers and the jobs they do, particularly when considering the long term.
Acknowledgments
The authors thank anonymous referees and the IZA World of Labor editors for many helpful suggestions on earlier drafts. Previous work of the authors contains a larger number of background references for the material presented here and has been used intensively in all major parts of this article. Version 2 of the article adds new sections on multi-country data sets and cross-country analyses and also employer–employee data, and new "Key references" [6], [7], [8], [9], [10], [13].
Competing interests
The IZA World of Labor project is committed to the IZA Code of Conduct. The authors declare to have observed the principles outlined in the code.
© Peter J. Sloane and Kostas Mavromaras