Elevator pitch
Countries have adopted a variety of legalization programs to address unauthorized immigration. Research in the US finds improved labor market outcomes for newly authorized immigrants. Findings are more mixed for European and Latin American countries where informal labor markets play a large role and programs are often small scale. Despite unclear labor market outcomes and mixed public support, legalization will likely continue to be widely used. Comprehensive legislation can address the complex nature of legalization on immigrants and on native-born residents.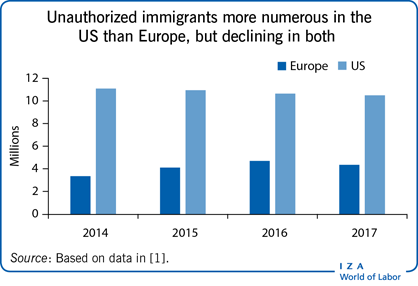 Key findings
Pros
Legalization allows unauthorized immigrants to come out of the shadows, reducing risks of workplace exploitation and increasing mobility.
Better job matches may result from legalization, increasing wages and non-pecuniary benefits.
Tax revenues may rise as more immigrants start paying taxes or contribute more as their incomes rise.
Legalization may result in increased investment in education and health and lead to reduced crime.
Legalization can address some humanitarian and political concerns by allowing access to social services, higher education, and equal protection under the law.
Cons
Legalization programs may attract more unauthorized immigration, which may have security implications.
Legalization may have negative consequences for workers who compete with newly regularized immigrants, through increased competition for jobs and lower wages.
Government budgets may be negatively affected due to increased spending on social services and use of tax credits.
Issues of fairness make legalization a politically contentious tool for dealing with unauthorized immigrants.
Author's main message
Legalization allows unauthorized immigrants greater labor market and geographic mobility, access to health and social services, and equal protection under the law. Comprehensive legislation can bring undocumented immigrants out of the informal sector and into the formal one, thereby increasing tax revenues. There are clear benefits from programs that combine access to labor markets with limitations on new migrant inflows. These programs can boost net benefits to the receiving country while reducing security concerns.
Motivation
Understanding what prompts people to migrate in an unauthorized status and how they perform after legalization is vital for designing effective immigration policy. Countries may be motivated to legalize migrants when they have a large stock of unauthorized immigrants within their borders. Policy options to address and reduce the level of unauthorized immigration range from stepping up border enforcement and deportation to granting temporary access or providing a path to citizenship. Proponents of legalization believe that it can help migrants who are "living in the shadows," boost tax revenues, regulate the informal economy, prevent worker exploitation, increase human capital, reduce crime, and support national security. Furthermore, legalization is a humanitarian action that can keep families together and improve access to social services and higher education.
Much of the political debate in the US and Europe has focused on how to address the large stocks and persistent flows of unauthorized immigrants. Legalization is often contentious as many people believe that immigrants can hurt the labor market prospects of native-born workers and previously authorized immigrants and impose costs on government and society. In addition, opponents feel that legalization encourages additional unauthorized immigration and rewards law breaking. Some feel that it is unfair that certain immigrants are "cutting the line," so to speak.
Studies use multiple terms for migrants who cross borders without authorization: "illegal," "undocumented," "irregular," and "unauthorized immigrants"; and for adjustment of legal status: "legalization," "regularization," "normalization," and "amnesty."
Discussion of pros and cons
Limitations and gaps
Research on the impact of authorization programs remains limited for several reasons. First, in the US there have not been many programs, and thus most of the research focuses on the two large-scale amnesty programs that resulted from the 1986 IRCA. While many more programs have been implemented in European countries, there is a lack of good data sets with information on immigrants' authorization status, employment, and earnings. This complicates efforts to count and track unauthorized and regularized immigrants. Many representative surveys do not include questions on legal status, which is a sensitive topic; inclusion may result in unanswered questions and unreliable responses. As a result, researchers often create a proxy variable for legal status based on demographics of the typical unauthorized immigrant derived from specialized data sets or case studies [4].
Second, methodological issues create limitations. Finding valid comparison groups or regions is difficult, and the assumption that becoming legal is an exogenous event may be too strong for modeling the true nature of the impact of legalization on labor market outcomes.
Third, some programs are difficult to assess because of implementation challenges. For example, lack of publicity and confusion can create delays or low take-up rates among immigrants eligible for legalization programs or mechanisms. On the other hand, some countries were overwhelmed by applications for regularization programs, which caused backlogs. Fraud and corruption can also plague the process and cloud the picture. Documents can be forged, and fake applications may be submitted as some people learn what is needed to game the system. For example, some programs demand evidence of work authorization, and there have been allegations of public officials selling these illegally.
Summary and policy advice
Overall, legalization programs have been more positive in terms of wages in the US than in Europe, while evidence on employment incidence and job characteristics is mixed in both regions. It is possible that these observed outcomes are due to the smaller scale of the European regularization programs, variation in whether or not regularization is tied to residency or employment, and the larger size of the informal sector in many European countries.
The need for authorization programs will remain strong as long as the disparity in global standards of living persists and there are not enough visas for all who wish to migrate. Policymakers who seek to reduce the number of unauthorized immigrants in their country often propose comprehensive legislation that is intended both to bring immigrants who are living in the shadows into the mainstream and to deter further inflows of unauthorized immigrants. Deterrence efforts such as increased border enforcement and employer penalties have been used in the US to reduce future inflows of unauthorized immigrants.
However, these policies also come with explicit administrative and implementation costs in the form of enhanced manpower and enforcement infrastructure. There also might be implicit costs from reducing return migration, increasing family reunification efforts, intensifying smuggling, and forcing migrants to cross borders at more dangerous and difficult locations. Raising penalties for hiring undocumented immigrants may reduce the demand-side or pull factor of undocumented immigration, but it also may result in more discrimination against legal immigrants if employers are worried about increased enforcement of immigration violations.
Countries that are concerned with potential rising costs to government coffers could link authorization to employment or impose waiting periods on eligibility for certain government services. For countries with a heavy reliance on an immigrant workforce, one way to achieve the goals of legalization would be to issue temporary work visas to coincide with demand for certain labor groups. To continue to provide a flexible pool of labor, immigrants with a temporary visa could be allowed to change jobs rather than being tied to a particular employer. For immigrants with special skills or long-time ties to a particular employer, a path to permanent residency could be provided as well.
Countries should continue to consider legalization reforms as a way to benefit immigrants and society as a whole. However, in many places federal immigration reform has stalled and there is a lack of consensus on immigration policy and how to address the stock of undocumented immigrants, especially in light of the recent global pandemic, recession, and the worldwide migrant crises.
Acknowledgments
The authors thank two anonymous referees and the IZA World of Labor editors for many helpful suggestions on earlier drafts. The authors further acknowledge the exceptional research assistance provided by Ha Bui, Adham Mousa, Norbert Oros, and Freya Woods, whose assistance with the literature review and editing were invaluable. Previous work of the authors, in particular [4] and the further reading, contains a larger number of background references for the material presented here and has been used intensively in all major parts of this article. Version 2 of the article includes a new Illustration, a new Figure 2, significantly updates the text, and includes new "Key references" [1], [2], [7], [8], [10], [11], [13].
Competing interests
The IZA World of Labor project is committed to the IZA Code of Conduct. The authors declare to have observed the principles outlined in the code.
© Cynthia Bansak and Sarah Pearlman