Elevator pitch
International trade and migration are two important dimensions of globalization. Although governments have been very willing to open their borders to trade, they have not been so liberal in their immigration policies. It has been suggested, however, that a causal positive link might exist between immigration and trade. Could governments further increase international trade by also opening their doors to immigrants? If they could, does it matter what type of immigrants are encouraged? And is there a saturation level of immigrants after which this positive impact disappears?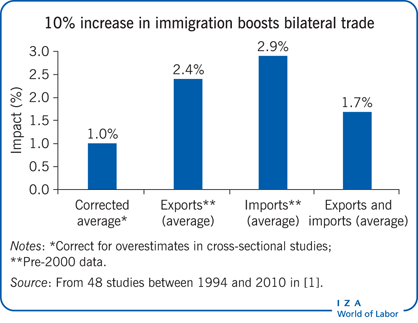 Key findings
Pros
There is a causal positive relationship between migration and international trade.
A 10% increase in the stock of immigrants can boost trade by an estimated 1.5% on average.
Almost no studies have found a negative impact.
Rich data with better and more immigration data than past studies yield similar results.
Cons
Some of the variation in the estimated effect of increased immigration on trade is due to the econometric methods used.
Most studies do not allow the estimated effect of immigration on trade to differ for different immigrant stocks.
Results from cross-sectional studies need to be interpreted with caution as they may overestimate the impact of immigrants.
Author's main message
Immigration increases trade. The size of the impact depends on the type of sending countries, the type of commodities, the type of immigrants, and the size of the existing migrant population. So, it makes sense for governments to follow more liberal migration policies. Promoting the pro-trade impact of immigrants in a wider public domain could make citizens more tolerant of more liberal immigration policies.
Motivation
Although the growth in trade since the 1980s has been welcomed by the people and governments of many countries, the same cannot be said for immigration. Most governments design and implement policies to open their borders to trade but are not so willing to do the same with immigration. This is despite the many empirical studies in the literature that find a positive impact of migration on trade. There are estimates that a 10% increase in the global stock of immigrants might cause global trade to increase by $29 billion and, for example, that each immigrant in Canada generated $8,000 in Canadian imports and $3,000 in exports in 1980–1992.
Discussion of pros and cons
Limitations and gaps
Although all the empirical evidence points to a pro-trade immigrant effect, there are issues with the econometric methods. The crucial issue is the direction of causality between trade and migration. But that has been specifically addressed particularly in recent studies, usually with an instrumental variables approach, which finds a causal impact of immigration on trade.
Another critical issue is that almost all of the studies implicitly assume that the immigrant elasticity of trade does not depend on the level of immigrant stock. Although this can be resolved by specifying the functional forms in the model accordingly, most studies have 
not done so. Recent studies show that the magnitude of the immigrant elasticity does in 
fact vary with the level of immigrant stock. Similarly, attention has been paid only recently 
to the possibility that the impact of immigrants may be different for immigrants with different skills.
Studies that use panel data (where the same trading partners are observed across time) show how important it is to control for unobserved bilateral ties in addition to controlling for other unobserved country-specific factors. Studies that fail to control for such unobserved heterogeneity are likely to overestimate the impact of immigrants. Because cross-sectional studies cannot by their nature account for such factors, their results should be interpreted with more caution.
Summary and policy advice
There is ample empirical evidence for a pro-trade impact of migration. Although the immigrant elasticity estimates differ greatly across studies, their average is about 0.15, implying that trade increases on average by 1.5% when the number of immigrants increases by 10%. But a substantial proportion of the elasticity estimates is based on cross-sectional studies. Given that cross-sectional studies may have overestimated the impact of immigration, the true average is more likely to be about 0.10. There is also evidence that the impact of immigrants on trade varies with the type of immigrants, with high-skilled or better-educated immigrants having a larger pro-trade impact, especially if they are employed directly in business network operations. Recent studies also show that not just the host country benefits, but the sending countries benefit as well.
A win−win situation like this suggests that liberalizing migration policy can further reduce trade barriers to facilitate trade. Thus, it would make sense for governments to follow more liberal migration policies. These policies can be formulated in a way that encourages particularly high-skilled immigrants, as their pro-trade impact is larger.
Acknowledgments
The author thanks an anonymous referee and the IZA World of Labor editors for many helpful suggestions on earlier drafts.
Competing interests
The IZA World of Labor project is committed to the IZA Guiding Principles of Research Integrity. The author declares to have observed these principles.
© Murat Genç