Elevator pitch
Compared to developing economies, European transition economies had high levels of human capital when their transitions began, but a lack of resources and policies to protect poor families hampered children's access to education, especially for non-compulsory school grades. Different phenomena associated with transition also negatively affected children's education: e.g. parental absence due to migration, health problems, and alcohol abuse. These findings call for a greater policy focus on education and for monitoring of the schooling progress of children in special family circumstances.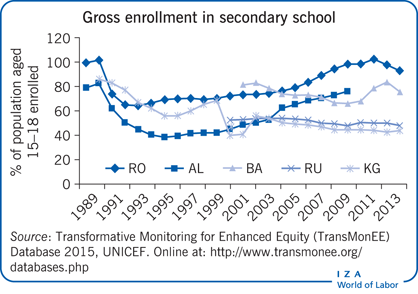 Key findings
Pros
Human capital development is crucial for economic growth and poverty reduction since it reduces intergenerational transmission of economic status and increases the probability of escaping poverty.
Human capital development depends on public and family investment in children's education.
During the early years of transition, south-east European and former Soviet Union countries had higher stocks of human capital compared to developing economies.
Access to education was universal during the socialist period.
Cons
Enrollment rates in pre-school and secondary school have dropped sharply in many transition economies.
Poor families have been disproportionately affected by changes in the educational systems of transition countries.
Real expenditure on education has fallen in most transition countries.
Parental health shocks due to economic transition or civil wars have negative impacts on children's schooling achievements.
Parental absence due to temporary migration is negatively associated with school attendance.
Author's main message
Children's educational achievements and the equality of the opportunities available to them have been negatively affected by the transition from centrally planned to market economies, due to governments' tendency to neglect educational expenditure. School dropout rates are associated with other factors closely related to the transition process, such as parental migration and health status. Policymakers in south-east Europe and the countries of the former Soviet Union should thus promote educational opportunities and improve the quality of their education systems. They should encourage school attendance for children with special family circumstances, such as when parents live far away or suffer from health issues.
Motivation
The transmission of human capital across generations is of great importance for social scientists and policymakers since it is a key factor for growth, poverty, and inequality. Investment in education pays off in terms of future earnings and stimulates intergenerational mobility. A child's educational success depends on its parents' decision to invest in its education, on the quality of education supply, on family background, and on family circumstances.
When the transition from planned to market economies started in south-east Europe and the former Soviet Union (FSU), the human capital inherited from the socialist period was high compared to other countries at similar stages of economic development [1]. However, many transition governments did not maintain this positive feature, allowing the human capital advantage to dissipate due to weak public investment in education [1], [2], [3], [4]. Several studies show that different household-level shocks further hampered children's educational success, forced children to drop out of school [3], [5], [6], [7], or increased their probability of suffering from depression or other health problems [8]. Transition shocks also reduce the presence of parents in the household and the time they are able to devote to their children [9].
Discussion of pros and cons
Limitations and gaps
The main limitation when studying the impact of transition and related microeconomic changes on children's educational outcomes is the lack of data. First, pre-transition data are completely missing, making it difficult to control for the starting conditions. Additionally, very few household surveys are available from the transition phase, especially for Western Balkan and Central Asian countries. Even when household surveys exist, they lack information on children's residential status and quantitative outcomes such as test scores. Another important feature often missing in household surveys is the longitudinal dimension. Very few have a panel structure, and even when a panel component exists, the number of observations is low and variables are not consistently measured in different waves.
Causal analysis at the micro level in south-east Europe and FSU countries is further inhibited by an absence of randomized experiments designed to perform unbiased program evaluations. Due to this lack of randomized experiments and of panel data, any estimation is subject to the presence of unobservable variables, which could bias results.
Finally, given the incidence of institutional childcare in many countries, an interesting field for future research would be to evaluate the impact of non-parental care on children's long-term development. Focusing on children in formal care would be socially relevant, but for the moment, lack of data on the welfare of those children limits any possible analysis.
Summary and policy advice
There was a widespread failure by governments in south-east Europe and the FSU to provide sufficient expenditure on education during their transition to market economies; as a result, children's educational achievements and equality of opportunities have been negatively affected. Additional factors closely related to the transition process, like parental migration or health status, are associated with higher school dropout rates.
Several studies show that different shocks at the household level further hampered children's educational success, forced children to drop out of school, or increased their chances of being depressed and suffering health problems. Transition shocks are also negatively associated with the time parents, especially fathers, devote to their children.
Policymakers should therefore pay greater attention to expanding educational opportunities and improving the quality of the education systems in an effort to recover the stock of human capital that has been lost since the socialist period. Specific public policies should promote school attendance for children that live in precarious family circumstances; in particular, policies should focus on the children whose parents have migrated, have bad health status, or are heavy drinkers.
Acknowledgments
The author thanks three anonymous referees and the IZA World of Labor editors for many helpful suggestions on earlier drafts. Financial support from the Spanish Ministry of Economics (Grant ECO2015-63727-R) is gratefully acknowledged. Previous work of the author (together with Gianna Claudia Giannelli and Luca Piccoli) contains a larger number of background references for the material presented here and has been used intensively in all major parts of this article [3], [9].
Competing interests
The IZA World of Labor project is committed to the IZA Guiding Principles of Research Integrity. The author declares to have observed these principles.
© Lucia Mangiavacchi