Elevator pitch
Environmental regulations raise production costs at regulated firms, though in most cases the costs are only a small fraction of a firm's total costs. Productivity tends to fall, and firms may shift new investment and production to locations with less stringent regulation. However, environmental regulations have had enormous benefits in terms of lives saved and illnesses averted, especially through reductions in airborne particulates. The potential health gains may be even greater in developing countries, where pollution levels are high. The benefits to society from environmental regulation hence appear to be much larger than the costs of compliance.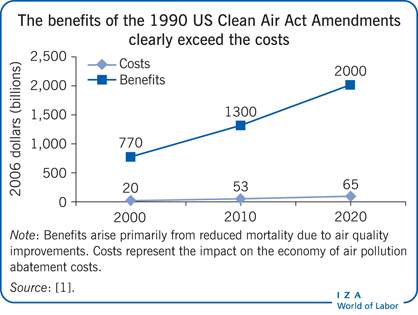 Key findings
Pros
Environmental regulations have greatly improved air and water quality, especially in areas that were dirtiest before regulation.
Reducing airborne particulates is especially beneficial, saving thousands of lives and preventing millions of illnesses each year.
The potential health benefits may be even greater in developing countries, where pollution levels are high.
Proposed reductions in greenhouse gas emissions have potentially large benefits from slowing climate change and preventing some of its adverse impacts.
Cons
Environmental regulations raise production costs and lower productivity by requiring firms to install pollution control equipment and change production processes.
Regulatory costs can influence firms' decisions about locating new plants and shifting production among existing plants.
Stricter regulations on new plants can discourage new investment and keep dirtier plants operating longer than originally expected.
Stricter regulations in dirty locations can lead to increasing pollution in once-clean areas.
Author's main message
Environmental regulations, intended to protect human health and the environment, generally result in higher production costs and lower productivity in firms, which can lead them to shift investment and production to less stringent locations. Research on the effects of environmental regulation has focused mainly on air pollution regulations in the US. Overall, regulatory benefits clearly outweigh the costs, but most benefits come from reductions in fine particulates; some other regulations have costs that exceed the benefits. Society gains only from environmental regulations whose benefits (e.g. reduced mortality) exceed their costs.
Motivation
Beginning in the 1970s, environmental regulation in developed countries became substantially more stringent as part of a wave of new social regulation reflecting greater government willingness to intervene in business decisions. Many countries established national-level environmental agencies (France's Ministry of Environment in 1971, Japan's Environmental Agency in 1971, and Germany's Federal Environmental Agency in 1974); environmental agreements were also adopted at the regional and international level (the UN Environment Programme in 1972 and the European Economic Community's first Environmental Action Programme in 1973). In the US, this expanded interest in environmental regulation was expressed in the creation of the Environmental Protection Agency in 1970 and the passage of the Clean Air Act in 1970 and the Clean Water Act in 1972. Both acts have been amended and additional regulations have targeted toxic waste, requiring firms to report toxic releases and assigning liability for cleaning up toxic waste sites. Opponents argue that these regulations impose huge costs on business, lowering productivity and prodding firms to move elsewhere. Proponents argue that regulation can spur innovation, thus providing economic benefits as well as reducing pollution. A better understanding of the costs and benefits of environmental regulation is needed to help design optimal policies.
Discussion of pros and cons
Limitations and gaps
Our understanding of the economic impacts of environmental regulation is shaped by the data that are available for analysis. Most research has focused on US regulation, because US data have historically been the best organized and most easily available. The best-known of the US studies examine air pollution regulation, specifically differences between non-attainment counties with dirty air that face stricter regulation than attainment counties with cleaner air. These differences could reflect a shifting of economic activity among counties rather than a reduction in overall activity, overstating the total effect. In any case, knowing the impact of this particular regulation may have little or no relevance for estimating the impact of some other regulation—for another country or another pollution medium—or even for US air pollution regulation in the future, since existing estimates are based on past levels of regulatory stringency associated with past standards for air pollutants.
Better information on pollution abatement costs is needed. Resuming regular collection of US PACE survey data and initiating similar surveys in other countries would greatly assist researchers and policymakers in developing more efficient regulations. These surveys could also gather data on specific abatement equipment being installed to meet new regulations, providing a more complete context for plant-level analysis. Those who are developing new regulations should provide more information on the range of control techniques expected to be used to achieve compliance. That information could be used for later comparisons with actual compliance outcomes, enabling more accurate retrospective cost analyses and eventually improving the quality of cost estimate prediction.
An important area of current research is evaluating the benefits and costs of proposed regulations on greenhouse gas emissions to reduce the risk of future climate change, but this topic is especially challenging. Reports from the Intergovernmental Panel on Climate Change leave little doubt that human-generated emissions of greenhouse gases are having substantial impacts on the earth's climate and could lead to serious problems in the future. However, the global nature of the problem makes it impossible to compare outcomes between affected and unaffected areas, and the long time lags involved make it potentially risky to wait until all the data are in before conducting econometric analyses of the benefits and costs of the regulations.
Most of this evidence comes from command-and-control regulation, which relies on detailed regulations specifying what is permitted and not permitted, combined with ongoing inspection. In theory, market-based regulation based on economic incentives, such as tradable permits, could provide greater flexibility and lower compliance costs, but the evidence is not yet in.
Summary and policy advice
Environmental regulations and their implementation have varied widely across countries, across pollution media, and over time. Policymakers using studies of past regulation as a guide for future decisions should carefully examine the regulatory context to ensure comparability.
The evidence demonstrates that environmental regulations impose costs on manufacturing plants. These costs can be observed in lower productivity, and the size of the productivity reductions helps in measuring the costs of regulation for plants, even without survey information on specific abatement costs. The costs of regulation can also be observed in the ways that firms respond to those costs—being more likely to open new plants in jurisdictions with less stringent regulations, investing less in plants where regulations are stricter, and choosing production technologies based on local regulatory stringency.
While environmental regulations impose costs, it seems clear that their overall benefits greatly exceed their costs. However, the distribution of costs and benefits across specific regulations varies widely. The vast majority of the overall benefits come from reductions in emissions of fine particulates from industrial sources. Regulations targeting air emissions from motor vehicles and water pollution discharges from point sources generate much smaller benefits, probably less than their costs [13]. Evaluating a new regulation must be done "on the margin" by considering only the incremental benefits and costs from the regulation, not those attributable to prior regulations. Society gains only from environmental regulations whose benefits (such as reduced mortality from cleaner air) exceed their costs.
Acknowledgments
The author thanks an anonymous referee and the IZA World of Labor editors for many helpful suggestions on earlier drafts. Previous work of the author (W. B. Gray (ed.) Economic Costs and Consequences of Environmental Regulations. Aldershot, UK: Ashgate Publications, 2002) contains a large number of background references for the material presented here and has been used intensively in all major parts of this article.
Competing interests
The IZA World of Labor project is committed to the IZA Guiding Principles of Research Integrity. The author declares to have observed these principles.
© Wayne B. Gray