Elevator pitch
Population aging in many developed countries has motivated some governments to provide wage subsidies to employers for hiring or retaining older workers. The subsidies are intended to compensate for the gap between the pay and productivity of older workers, which may discourage their hiring. A number of empirical studies have investigated how wage subsidies influence employers' hiring and employment decisions and whether the subsidies are likely to be efficient. To which groups subsidies should be targeted and how the wage subsidy programs interact with incentives for early retirement are open questions.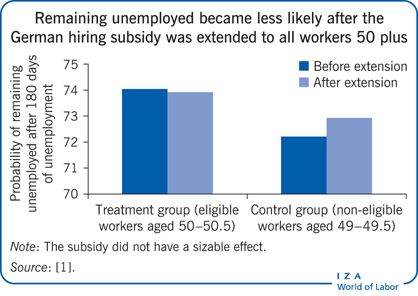 Key findings
Pros
With populations aging, countries are looking for policy instruments to boost the employment rates of older workers and re-integrate older unemployed workers into the labor market.
Subsidizing work rather than unemployment may be an effective market-based policy.
Wage subsidies compensate for any pay–productivity gap among older workers and may increase their employability.
Wage subsidies appear to be more effective than creating public sector jobs.
Even if rigorous studies find that the policy is mostly ineffective, there are positive effects for some population groups, such as women.
Cons
The effects of the policy on employment are severely reduced by deadweight, displacement, and substitution effects.
Only large and properly targeted subsidies can be expected to have substantial effects, limiting their cost-effectiveness.
If subsidies are given on a case-by-case basis, the policy may induce discrimination and stigma effects.
Abolishing early retirement incentives and increasing older workers' employability may be more effective than wage subsidies.
Author's main message
Analyses using natural experiments find at best limited overall effectiveness for wage subsidies paid to employers to encourage the hiring and retention of older workers. In general, subsidized work appears simply to displace unsubsidized work, with little net gain in employment of older workers. A closer look shows differences in effectiveness by gender, with some net gains only for women and only in some regions. Where subsidies are meant to counteract incentives for early retirement, the focus should be on removing such incentives and increasing the employability of older workers instead of subsidizing wages.
Motivation
Population aging in many industrialized countries means that workers need to extend their time in the workforce rather than taking early retirement. Working longer is necessary to ease the fiscal burdens of pension insurance systems and, in countries with a shortage of labor market entrants, to maintain a sufficiently large workforce. Employment rates of older workers have increased in many industrialized countries over the last decade, but not by enough, and more older workers who are not employed need to return to work.
Countries have introduced several policies to boost employment among older workers and to re-integrate them into the labor market, such as training and job search assistance. Providing financial incentives to employers is another market-based instrument being tried in many countries. Wage subsidies, whether granted temporarily to induce hiring or permanently to increase employment, could compensate employers for the gap between the pay and productivity of older workers. Surveys and meta-analyses find that wage subsidies are effective in bringing the unemployed back to work [2], [3]. However, these studies often do not consider older workers, and some studies suffer from methodological weaknesses. Contrary to the mainstream literature, more rigorous evidence questions the positive role of wage subsidies.
Discussion of pros and cons
There are two variants of wage subsidies: hiring subsidies, which are granted temporarily, and employment subsidies, which are granted over an extended period or indefinitely. In the case of hiring subsidies, benefits may be combined with a requirement to retain workers for a minimum period of unsubsidized employment after the subsidies expire. Instead of subsidies, governments sometimes provide exemptions from all or part of employers' payroll taxes. All of these policies potentially increase employment, but they may also result in deadweight effects if employers collect the subsidy but hire the same individuals they would have hired had the subsidy not been available [1]. There may also be displacement and substitution effects among subsidized and unsubsidized groups. In these cases, new hires take the place of incumbent workers, because of either the employer's hiring and firing decisions or crowding out in the product market, which occurs when companies benefiting from the subsidy can sell their products more cheaply than other companies.
This paper looks at employer-side subsidies only. Not examined here are worker-side subsidies, such as in-work benefits or reductions in workers' income taxes. These policies would work like employer subsidies where labor markets are competitive and workers can switch jobs freely, but not where labor markets are not competitive. For this reason, they are not considered here. There is, however, a rich literature that addresses these policies [4].
Limitations and gaps
The evidence on the effectiveness of wage subsidies for older workers is still patchy. The major studies differ in eligibility age (50 in the German subsidy program, 54 in the Finnish program, and 58 in the Belgian program), institutions (employment protection and early retirement), types of workers (low-wage workers or all workers), size of the incentives, and other characteristics. To date, these studies provide case study evidence for particular subsidy schemes, but it is not straightforward how results can be generalized.
There is also little systematic information on what drives different effects across population groups. This information would be necessary for targeting wage subsidies to particular population groups, such as men or women, low-wage workers, or the long-term unemployed. In addition, more research must be done on the interaction of wage subsidies with employment practices such as deferred compensation schemes, employment protection, and early retirement rules.
Summary and policy advice
Deadweight costs for wage subsidies for older workers are huge. Thus, these programs are unlikely to be cost-effective. Deadweight effects are largest in the case of subsidies given to current employees. However, the German experience shows that deadweight costs also matter when subsidies are paid only for newly hired workers. In all cases, the financial cost of these programs has been high, while the effects on employment have been small.
Finding a way to reduce deadweight effects is thus important if these programs are to be retained. One possibility would be to target the subsidies more closely to particular population groups. However, there is too little systematic evidence so far on differences in effects across population groups. Another possibility is to make subsidies conditional on net job creation, by paying subsidies only if total employment in the firm has actually increased [10].
To achieve the policy goal of increasing employment among older workers, policymakers need to consider other options. Where subsidies are meant to counteract incentives for early retirement, the focus should be on removing such incentives and increasing the employability of older workers instead of subsidizing wages. Limiting the incentives for early retirement is particularly important, as is shown by the analyses of subsidies in Belgium and Finland: these programs were effective only in preventing transitions into early retirement, a possibility that was created by policy incentives for early retirement in the first place [8], [9].
Acknowledgments
The author thanks an anonymous referee and the IZA World of Labor editors for many helpful suggestions on earlier drafts. Previous work of the author (together with Thomas Zwick, Andreas Ammermüller, and Michael Maier) contains a larger number of background references for the material presented here and has been used intensively in all major parts of this article [1].
Competing interests
The IZA World of Labor project is committed to the IZA Guiding Principles of Research Integrity. The author declares to have observed these principles.
© Bernhard Boockmann