Elevator pitch
The role of social interactions in modifying individual behavior is central to many fields of social science. In education, one essential aspect is that "good" peers can potentially improve students' academic achievement, career choices, or labor market outcomes later in life. Indeed, evidence suggests that good peers are important in raising student attainment, both in compulsory schooling and university. Interventions that change the ability group composition in ways that improve student educational outcomes without exacerbating inequality therefore offer a promising basis for education policies.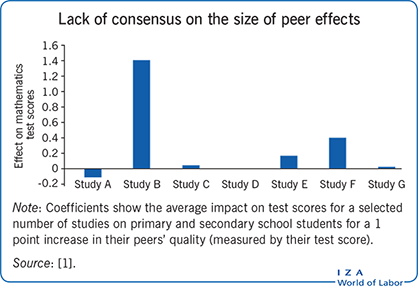 Key findings
Pros
Peer effects are important for student academic achievement throughout all levels of education.
Evidence suggests that the impact of peers is different for students of differing abilities.
Peer effects are heterogeneous: evidence suggests that low-achieving students benefit most by being placed in a class-room with high-achieving peers.
A higher proportion of girls in the classroom raises student attainment for both boys and girls.
Cons
There is still disagreement among economists about the magnitude and shape (i.e. linear or non-linear) of peer effects.
It is challenging to isolate peer effects from other factors that affect student attainment, such as family background, teacher quality, or other institutional factors.
Little is known about the mechanisms through which peer effects work.
Given the heterogeneous nature of peer effects, it is difficult to design a single optimal policy to raise student attainment.
Author's main message
Peer effects in education matter for students' achievement and, hence, for their success later in life. However, economists still disagree about the magnitude and shape of these effects and there is little evidence about the channels through which they might work. The contrasting nature of some research highlights a clear need for further investigation into these key areas. Nonetheless, interventions that manipulate student group composition in ways that improve the educational outcomes of low-achieving students may offer policy options that can simultaneously enhance welfare and reduce inequality.
Motivation
Education institutions are often judged according to their students' backgrounds, rather than the quality of their teaching. Many argue that social interactions among students, now generally known as "peer effects," must have an important influence on individual student achievement. The issue of peer effects is as important as ever, particularly given current educational policy in many countries, which often favors the expansion of school choice by students and their families. This freedom of choice may affect the way in which students of different prior ability are sorted across schools, which may in turn affect their overall outcomes.
Understanding the prevalence of peer effects is also important due to the potential for associated "social multiplier" effects, where educational interventions that appear beneficial when tested on an individual student may be even more effective when rolled out across the population. Motivated by these arguments, a rich economics literature has evolved in the last ten years, which attempts to understand the consequences of "peer effects." Over this period, hundreds of papers have examined empirically the importance of classroom peers on determining students' educational, social, and, more recently, labor market outcomes. A large part of this literature focusses on determining whether social interactions in the classroom matter for student academic performance, and this is also the main focus in this article.
Isolating the importance of peers from other factors affecting student attainment has proven to be a challenging task. This is because peer groups are formed endogenously, meaning individuals generally choose their own groups, so peer characteristics and unobserved individual characteristics are likely to be correlated through sorting. People sort into classrooms, schools/universities, and neighborhoods in ways that make it very difficult to disentangle self-selection effects from causal peer effects. However, it is important to identify the causal impact peers have on student academic attainment in order to provide accurate and meaningful policy recommendations. Armed with administrative data, economists have been attempting innovative ways to measure the causal effect of peers on students' academic achievement.
Discussion of pros and cons
There is a strong correlation between a student's academic achievement and his or her classmates' achievement in schools or universities. However, this says little about how much of the correlation can be attributed to peer effects; how much is due to self-selection into these groups based, at least partly, on some unobserved group characteristics; and how much is due to the so called "reflection problem," which arises when student and peer achievements are determined simultaneously. There are a substantial number of studies that have attempted to disentangle peer effects from other confounding factors affecting student outcomes. To this end, economists have attempted to find contexts in which peers are exogenously assigned to one another.
Limitations and gaps
Although there has been a surge in the literature on peer effects in recent years, there is still disagreement on the magnitude and shape of peer effects in primary, secondary, and postsecondary education. More research is needed to identify the causal effect peer quality has on student performance, especially in primary and secondary school settings. In this respect, additional evidence based on experiments is a promising avenue for future research.
Moreover, not much is known about the channels through which peer effects work. As better data become available, and as researchers learn more about the endogenous patterns of social interactions and the mechanisms through which they work, this area will demand further study.
Summary and policy advice
The role of social interactions in modifying individual behavior is central to many fields of social science. If being placed in a classroom/school with high ability peers matters in determining students' academic attainment, career choice, or labor market outcomes later in life, then policymakers should favor educational interventions that affect group composition in ways that increase total learning. However, the relevant literature is inconclusive. Although there is a general consensus among economists on the importance of peers, there remains disagreement on the magnitude and shape of social interactions within educational settings. Some studies suggest that low ability students benefit from being grouped with higher ability students, while high ability students may lose out by being placed with low ability students. However, other studies reach very different conclusions.
Some of the research suggests that streaming (i.e. sorting students into schools or classrooms with homogenous ability groups) may be more beneficial, while others favor mixing students of different ability levels. However, streaming may be socially undesirable, particularly if it exacerbates inequality. In either case, more research is required into the heterogeneity of peer effects, the presence of which makes it difficult to pinpoint a single optimal policy intervention.
Although a great deal has been learnt about peer effects during the last decade, this knowledge is still not sufficient to design and implement policies that will reliably improve student outcomes. As better data become available, researchers may be better able to causally identify the effect of peers and the mechanisms through which peer effects are mediated. This would then permit the design of interventions that improve students' educational outcomes, without exacerbating inequality.
Acknowledgments
The author thanks two anonymous referees and the IZA World of Labor editors for many helpful suggestions on earlier drafts.
Competing interests
The IZA World of Labor project is committed to the IZA Guiding Principles of Research Integrity. The author declares to have observed these principles.
© Shqiponja Telhaj