Elevator pitch
Long-term unemployment can lead to skill attrition and have detrimental effects on future employment prospects, particularly following periods of economic crises when employment growth is slow and cannot accommodate high levels of unemployment. Addressing this problem requires the use of active labor market policies targeted at the unemployed. In this context, hiring subsidies can provide temporary incentives for firms to hire unemployed workers and, when sensibly targeted, are a very cost-effective and efficient means of reducing unemployment, during both periods of economic stability and recovery.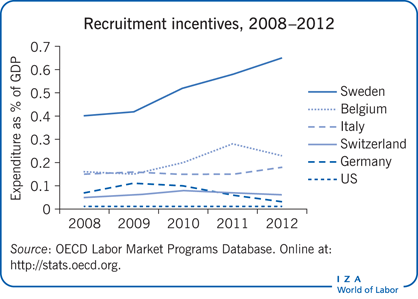 Key findings
Pros
Hiring subsidies have lower deadweight costs and other negative indirect effects than wage subsidies.
Hiring subsidies enable employers to screen workers and help the unemployed to regain their human capital.
Sensible targeting of the unemployed, especially the long-term unemployed, strengthens positive effects and their position in the labor market.
Targeted hiring subsidies can be cost-effective measures that yield higher employment probabilities in the future.
Cons
The impact of hiring subsidy programs varies depending on their targeting and design.
Targeting that is too loose may create high potential deadweight and displacement costs.
Targeting that is too tight may create stigmatization of workers and administrative and monitoring costs for the employer, and may therefore result in low employer take-up.
Evidence is still limited, especially on the longer-term effects on careers.
Author's main message
Hiring subsidies provide financial incentives to employers by temporarily reducing their labor costs. They can increase employment and are an effective means of supporting unemployed workers. Sensible targeting and design have to balance direct impacts and indirect effects. Targeting the long-term unemployed redistributes employment incentives to the disadvantaged and strengthens their labor market attachment. Hiring subsidies can thereby increase labor market flows, reduce labor market persistence, and enable a more equitable distribution of employment. They can act as a significant countercyclical policy tool to stabilize the labor market and are an important device for supporting economic recovery. Policies should ensure that targeting is tightened once the recovery accelerates to reduce costly negative effects.
Motivation
Active labor market policies (ALMPs) have been heavily advocated by the OECD and are gaining interest and relevance in many countries, particularly in the wake of economic crises when unemployment is often increasing and persistent. Jobless recoveries can lead to more prolonged unemployment spells, leading to attrition of skills that can reduce future employment prospects. At the same time, tighter budget constraints and deficits highlight the need to invest in cost-effective ALMPs.
When assessing the suitability and effectiveness of ALMPs it is important to ask whether, from a microeconomic perspective, they benefit the targeted workers, and whether, from a macroeconomic perspective, they are cost-effective and socially desirable [1].
However, to answer these questions it is not enough to evaluate the direct effects of such policies on employment, unemployment and earnings. There are also indirect and macroeconomic effects, reinforcing or countervailing, such as on wage bargaining and incentives for targeted employers and workers, which contribute to the overall net employment effect. In addition, there are implications for government budgets, as well as changes in the composition and dynamics of the labor market.
Although such negative indirect effects might outweigh the direct employment effects, policies that generate marginal net employment effects might still be desirable if they reduce long-term unemployment. Furthermore, beyond mere impact effects, longer-term effects of policies on workers' career paths must be taken into account [1].
Discussion of pros and cons
Limitations and gaps
It should be noted that the development of optimal evaluation methods is continuously evolving to avoid potential biases in the results. Most studies either look at whether the measures benefit the targeted workers, or whether they are cost-effective from a macroeconomic perspective. Most studies also do not perform a rigorous cost−benefit analysis.
Hiring subsidies are not a panacea. They will have limited effects and can have substantial deadweight and displacement costs. Impacts vary and depend on design, institutional settings, and on the resulting actual demand and supply elasticities.
The details of design and targeting play crucial roles in balancing the various effects and avoiding disincentives in the implementation. In any case, any program should be piloted and always continuously scientifically evaluated.
Furthermore, the existing evidence is still limited and more evidence is needed. Little direct and concise evidence on the impact of transition and screening effects also does not allow the determination of the optimal duration of hiring subsidies.
Nonetheless, with well-focused objectives and sensible targeting, hiring subsidies can clearly be cost-effective. This is something that will be significantly increased if, as recent longer-term evaluation studies indicate, they impact on workers' employment probabilities for a longer period of time (i.e. three to ten years).
However, while the evidence is still limited, these results clearly call for a shift toward following workers' employment trajectories and careers in order to better evaluate the role of screening and transition effects, and to ascertain the impact of individual ALMPs on the development of longer-term employment [1].
While there is some evidence for OECD countries, there is hardly any evidence for developing countries. Open questions remain in terms of the applicability of hiring subsidies to developing countries due to the necessary budgetary outlays involved and to the limitations of the formal sector. However, hiring subsidies could also serve to increase incentives for formal employment, which may be the actual objective [1].
Finally, there is a lack of evidence on the effectiveness of hiring subsidies as a countercyclical policy tool having stabilizing effects [4].
Summary and policy advice
Clearly limited-period hiring subsidies to private employers are preferable to general wage subsidies. They can be cost-effective and have modest macroeconomic employment effects.
Sensible targeting and design need to balance direct impacts and indirect positive and negative effects, e.g. deadweight, substitution, and displacement costs, as well as stigmatization, take-up, and monitoring costs.
To maximize positive competition, transition, and screening effects, hiring subsidies should be targeted at outsiders in the labor market, especially the long-term unemployed [11], [13]. Targeting the long-term unemployed also reduces costly deadweight and may avoid targeting too tightly and stigmatizing workers.
To further reduce deadweight costs and increase cost-effectiveness, the size of subsidy payments could negatively depend on workers' qualifications so that subsidy payments could be increased for those with fewer qualifications. Payments could also continuously increase with unemployment duration and decrease with the subsequent employment duration [13]. However, these specific adjustments may lead to increased monitoring, administration, or take-up costs, which will reduce cost-effectiveness.
Hiring subsidies for the long-term unemployed may be socially desirable, even without any net employment impact, i.e. when positive employment effects balance out significant deadweight costs and displacement effects. Hiring subsidies redistribute employment incentives and thereby strengthen outsiders' position in, and attachment to, the labor market. As a consequence, long-term unemployment is reduced (at the cost of increasing short-term unemployment). The flow of workers out of unemployment is also increased and labor market persistence is reduced. As a result, hiring subsidies enable a more equitable distribution of unemployment [2].
Hiring subsidies do not reduce the incentive to increase skills, but rather, to the contrary, can also implicitly act as an automatic stabilizer, which incentivizes unemployed workers to search for jobs and to adapt and develop their skills.
Finally, hiring subsidies can be significant automatic countercyclical stabilizers that provide direct incentives for job creation rather than income protection. In order to support recoveries, policies should be directed toward tightening the targeting of hiring subsidies so as to adapt to potentially increasing and costly indirect effects [4].
Acknowledgments
The author thanks two anonymous referees and the IZA World of Labor editors for many helpful suggestions on earlier drafts. This article benefited from previous work and discussions with Christian Merkl and Dennis Snower. Previous work of the author and Johannes Koettl contains a larger number of background references for the material presented here and has been used intensively in all major parts of this article [1].
Competing interests
The IZA World of Labor project is committed to the IZA Guiding Principles of Research Integrity. The author declares to have observed these principles.
© Alessio J. G. Brown