Elevator pitch
In addition to the traditional education system targeting children and youth, one potentially important vehicle to improve literacy and numeracy skills is adult literacy programs (ALPs). In many developing countries, however, these programs do not seem to achieve these hoped for, ex ante, objectives and have therefore received less attention, if not been largely abandoned, in recent years. But, evidence shows that ALPs do affect other important socio-economic outcomes such as health, household income, and labor market participation by enhancing participants' health knowledge and income-generating activities.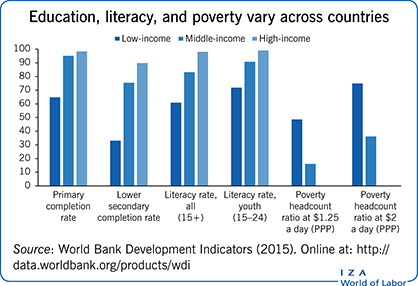 Key findings
Pros
Literacy impacts of ALPs can be high, if novel approaches and modern technologies are utilized.
ALPs have relatively low demand-side/direct costs and low supply-side/indirect costs.
There is some, though scarce, evidence of positive effects on labor market participation, consumption/income, and health.
Literate parents (especially mothers) are more likely to send their children to school and are more engaged in their children's education.
Evidence suggests that ALPs increase empowerment and civic participation among program participants.
Cons
ALPs mostly show only limited impacts on literacy and numeracy (their ex ante stated objectives).
ALPs are historically riddled with low initial enrollments, high dropout rates, and relapse into illiteracy.
There is minimal evidence (especially, more rigorous evidence) of program impacts.
Robust evidence is particularly scarce with respect to other important outcomes than literacy and numeracy, such as employment, wages, and health.
ALPs have had hugely different impacts across countries.
Author's main message
Despite the poor performance of ALPs in improving the literacy and numeracy skills of participants in many developing countries, other beneficial outcomes suggest that these programs should still be considered as potentially useful policy options. Because ALPs potentially affect multiple important development outcomes, a more holistic approach to evaluating adult literacy programs would be appropriate. Some recent successful programs offer potential examples to follow, particularly the utilization of novel methods and modern technology.
Motivation
National governments and international and bilateral development organizations alike seek to improve livelihoods for the developing world through public policy interventions. Being highly associated with economic development, education—and the outcomes of education, including literacy and numeracy—is key in this process. Adult literacy programs (ALPs) represent one such policy intervention that seems particularly useful for upskilling populations with low levels of human capital across many dimensions (literacy, numeracy, health, income generation)—even if they do not necessarily help generate all of these skills equally effectively.
Despite the historically poor performance of ALPs in improving participants' literacy and numeracy skills, which are the primary ex ante stated objectives of these programs, additional beneficial outcomes such as improved health, consumption/income, and labor market participation seem to more than justify increased attention on these programs in the future. Moreover, due to the composite nature of these programs (i.e. they affect multiple beneficial development outcomes), all actors in the developing world would be well served to adopt a more holistic approach to evaluating adult literacy programs.
Discussion of pros and cons
Limitations and gaps
Researchers still do not know enough about what works and what does not work in terms of achieving successful ALP effects. Even if some improvements have been seen, the statement made more than a decade ago that "even when statistics are reported, there are usually no research designs to establish cause–effect relationships" [6] unfortunately still holds true today, to a large extent.
A large part of this knowledge gap is due to a lack of relevant data. Often, researchers must rely on already available data from, for example, the World Bank's Living Standards Measurements Surveys, which are prone to potential issues of self-selection and non-random program placement. Recent research has certainly attempted to establish cause–effect relationships through applications of a combination of instrumental variables and community fixed effects, though much more research is called for in the future to try to better understand what works, and why [4], [5].
What is required are (more) randomized controlled trials (RCTs), where the randomization is performed at the village level, rather than the individual level, so as to jointly avoid the issues of non-random program placement, individual self-selection into programs, and potential contamination in terms of spillover effects from participants to non-participants. But this is both expensive and time-consuming, and so "state-of-the-art" evidence along these lines is only recently starting to emerge (as a prime example, see [1]).
Relatedly, it is unclear exactly which parts of the components work and which do not work. For example, in the Ghana NFLP it has been suggested that—given the poor literacy and numeracy performance of the program—the positive impact on household consumption might be due to either the income-generation activities component or to network effects from participating in the program [5]. To truly determine that, however, requires RCTs at the village level, where the program components are randomized as well (e.g. one version would only include the literacy program, one would include the literacy program and a health component, and another the literacy program and an income-generating activities component).
Lessons may also potentially be learned from ALPs conducted in developed countries (though this would require a new, separate study for assessing that body of work). In a similar vein, though perhaps more surprisingly, some of the lessons learned from developing countries in terms of what works and why, may also have implications for developed countries—especially for the most vulnerable parts of the population, which face many of the same constraints as their counterparts in the developing world.
Lastly, the teaching style itself might matter, but this is also something that requires more examination. It has been suggested, for example, that it is possible—using more modern, research-based methods—to provide reading literacy skills in as little as 100 days [12]. This comes up against issues of funding, however—as well as the fact that the methods used for teaching people to read in many countries are complex and hard for teachers to execute [12].
Summary and policy advice
ALPs have not proven very effective in promoting their intended outcomes of literacy and numeracy, which is probably one of the main reasons they have been reduced, if not largely abandoned, throughout developing nations. Yet, based on the review of research findings presented here, it is obvious that there have been (and are) many other important outcomes from ALPs that have helped promote human socio-economic development across several dimensions. These include the provision of information (e.g. health knowledge, occupational skills, importance of education, bookkeeping) and the networking of participants among each other, which could also be affecting the other outcomes. Hence, ALPs, in some cases, seem to be a cost-effective way of achieving such impacts. The strengthening of ALPs should therefore remain of interest for policymakers seeking to improve the livelihoods of people in developing nations in a broad sense, not just in terms of improving literacy and numeracy.
Toward this end, there was a noticeable increase in attention given to ALPs in the early 2000s, in particular from the World Bank, as evidenced in the publication of several major papers and reports at that time [6], [7], [8], [10], [11]. However, there is evidence that the focus on/promotion of ALPs (if not adult education more generally) has substantially decreased in the past couple decades [13].
With limited funds available, particularly in the developing world, it is even more important to better understand what works and what does not—and why—among the wide range of experiences in terms of the effectiveness of ALPs. More and better research—based on more and better data—should therefore be made a policy priority.
In the meantime, based on the evidence reviewed here, a few programs stand out, which may be particularly useful for emulation across countries—notably the Ghanaian experience, which was of much longer duration than most other programs. A more recent example of "best practice" involved the use of mobile phones in Niger [1], though the likewise more modern research-based teaching methods discussed in [12], including using well-sized and well-spaced letters, explicitly teaching each letter, practicing patterns, and blending letters into syllables, might also be useful for making future ALPs even more successful.
In summary, ALPs should not be viewed as a magic bullet, and certainly not as an alternative to the formal education system. Rather, they can be seen as a complement to the formal education system, by offering adults who never went to school as children (or, if so, only very briefly) an alternative way of improving their human capital and obtaining more general life skills.
Acknowledgments
The author thanks an anonymous referee and the IZA World of Labor editors for many helpful suggestions on earlier drafts. Previous work of the author contains a larger number of background references for the material presented here and has been used intensively in all major parts of this article [3], [4], [5].
Competing interests
The IZA World of Labor project is committed to the IZA Guiding Principles of Research Integrity. The author declares to have observed these principles.
© Niels-Hugo Blunch