IZA World of Labor Spotlight: Happiness and the Labor Market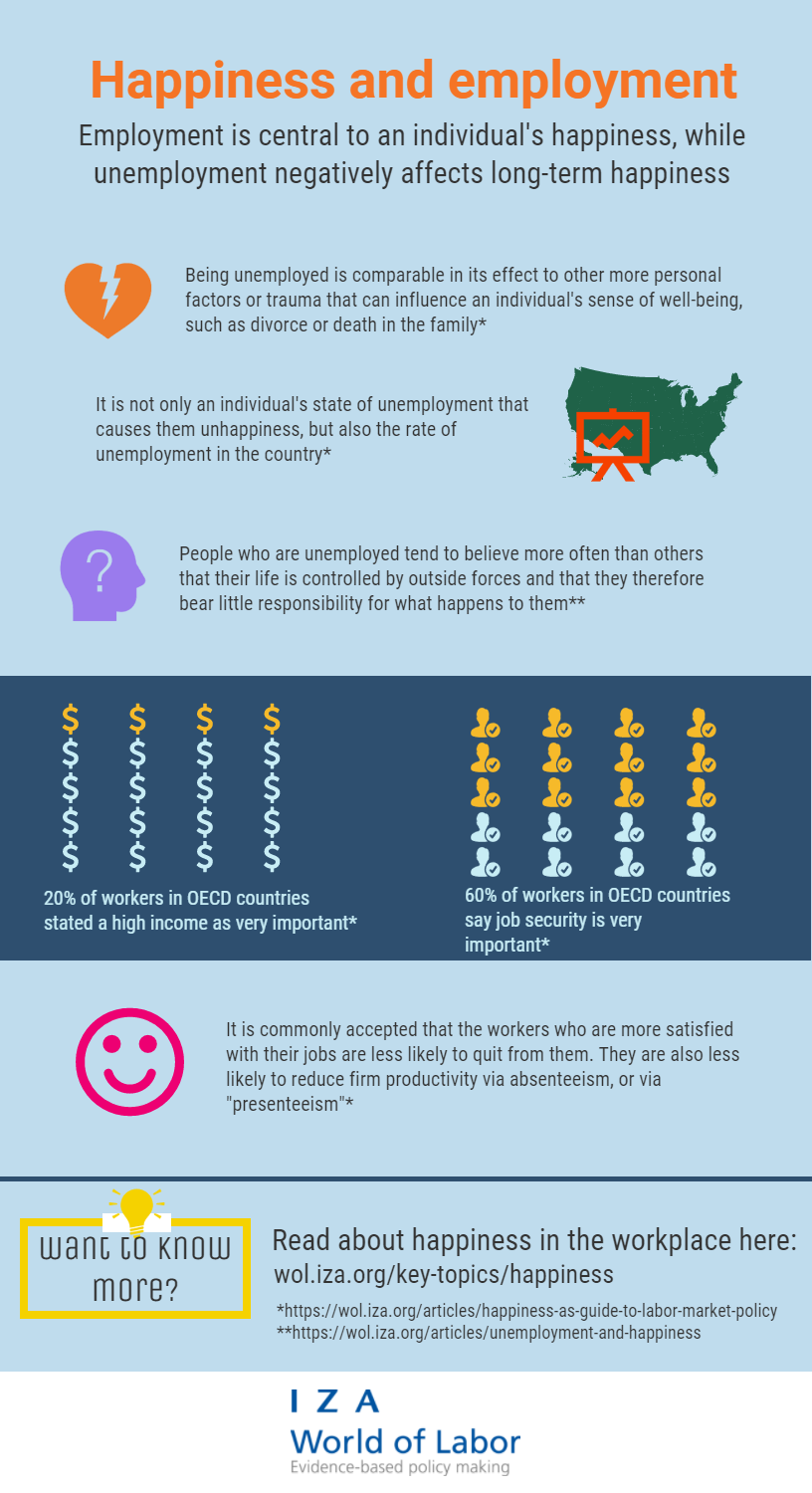 With the creation of the International Day of Happiness on 20 March the UN recognised happiness as a "fundamental human goal" and called for "a more inclusive, equitable and balanced approach to economic growth that promotes the happiness and well-being of all people." In time for the International Day of Happiness tomorrow IZA World of Labor has put together a wide range of recent research focusing on happiness (or its absence) and its implications for the labor market and for people's everyday life. Furthermore, based on the research they present the IZA World of Labor reports make recommendations for policies aiming at increasing people's well-being.
The selected IZA World of Labor reports cover a wide range of topics including:
Lord Richard Layard (LSE) talking about The Economics of Health.
Eugenie Proto (University of Warwick) answering the question: Are Happy Workers More Productive?
Barbara M. Fraumeni (Hunan University, China) arguing that apart from GDP other measures such as the individual well-being should be used to describe a country's condition.
Rainer Winkelmann (University of Zurich) looking at the relationship between Unemployment and Happiness.
Andrew E. Clark of the Paris School of Economics–CNRS tackling the question of What makes a good job?
Furthermore, please listen to the economists Alex Bryson (UCL) and Jan-Emmanuel de Neve (Saïd Business School, Oxford University) talking about the relationship between well-being and economic instability.
Should you have any questions relating to happiness research our expert and spokesperson, economist Jo Ritzen of Maastricht University, is available to answer questions.

Media Contact:
Please contact Anna von Hahn for more information or for author interviews: anna.vonhahn@bloomsbury.com or +44 7852 882 770