Elevator pitch
Female labor force participation is mainly driven by the value of women's market wages versus the value of their non-market time. Labor force participation by women varies considerably across countries. To understand this international variation, one must further consider differences across countries in institutions, non-economic factors such as cultural norms, and public policies. Such differences provide important insights into what actions countries might take to further increase women's participation in the labor market.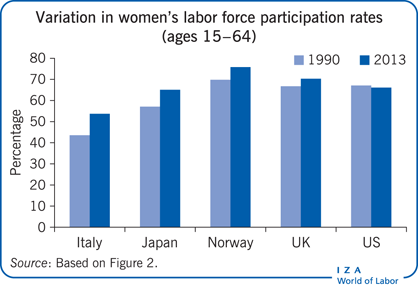 Key findings
Pros
Women's economic activity outside the home translates into better outcomes for girls and women (improved health, reduced domestic violence for women), and society as a whole (greater economic growth).
Women's labor market activity—not just entry, but also long-term attachment—provides the path for women to participate in the top ranks of academia, industry, government, and the non-profit sector.
Family-friendly policies (e.g. family leave and childcare subsidies) encourage women's labor force participation.
Cons
Rising educational attainment by women does not always translate into increased labor force participation rates.
While family-friendly policies may encourage women's labor force participation, they may also inhibit women's advancement to the highest levels of their professions.
It is difficult to discern if rising educational attainment causes increased labor force participation, or if women's rising labor force participation rates spur them to undertake additional educational investments.
Author's main message
Women's labor market activity makes women and girls more economically valuable to their families and to society. While women's labor force participation rates have risen in many countries, rates remain quite low in some countries and regions. In some countries, like the US, after a steady rise, rates have plateaued since 1990. Given societal benefits such as greater economic growth, governments have a compelling interest to undertake policies to encourage women's labor force participation. Parental leave and childcare subsidies are two such examples.
Motivation
Women perform a substantial amount of unpaid work within the household, but it is paid work that translates into increased bargaining power in the household and raises families' standard of living as a whole. The UN Millennium Goals laid out in 2000 underscored the crucial role of women's paid labor market activity in enhancing economic development. These goals included "achieve universal primary education" (which is crucial, in that education is a key determinant of labor force participation) and "promote gender equality and empower women." The latter was to be achieved by increasing women's paid labor market activity, eliminating the gender gap in primary and secondary education, and increasing women's political participation.
Considerable progress was made in achieving these goals by 2015, the target year, though the desired change is far from complete. Effective as of 2016, the UN established a new set of goals called the Sustainable Development Goals, with a target date of 2030. These goals explicitly include the following: "achieve gender equality and empower all women and girls."
Discussion of pros and cons
Limitations and gaps
International comparisons of labor force participation rates must be regarded with some degree of caution. First, the age distribution of the population differs across countries, and so does the age distribution of the labor force. Individuals aged 25 to 54 (typically regarded as the "prime age" for employment) are the group most likely to be in the labor force. If more women are in this age range in a particular country, this should lead to higher female labor force participation rates, all else being equal. Countries may also differ with respect to the age at which young people usually enter the labor market, which partly depends on college attendance. Additionally, countries may differ on the age at which older people typically exit the labor market, which partly depends on access to retirement funds or familial support.
Second, as with many relationships, it is difficult to disentangle causation from correlation. Is it the case that women's educational attainment spurs labor force activity, or is it rather women's anticipated degree of labor force attachment that leads to educational investment? A similar set of issues arises when thinking about the relationship between fertility and female labor force participation. The presence of small children deters labor force participation because they increase the value of home time, and hence, the reservation wage. On the other hand, one would expect that as female labor force participation (and the associated wage) increases, the opportunity cost of having children also rises, thereby reducing the demand for children. As a final example, cultural attitudes such as the view that "men should be the breadwinner and women should be the homemaker" clearly discourage women's labor force participation. However, increased labor force participation by women likely helps alter prevailing attitudes about what are considered appropriate roles for both males and females. The implication of this discussion is that researchers need to utilize research methods that can clearly identify the direction of these relationships.
Summary and policy advice
Women's labor force participation rates are largely rising across the globe, which bodes well for women, children, families, and society. However, progress is clearly very uneven, and rates have even plateaued in the US. Family-friendly policies represent one lever that can be used to increase women's participation. Father quotas seem to be an especially promising policy. However, in selecting the mix of family policies, policymakers must be careful to recognize that the benefits of some family-friendly policies such as longer paid maternity and parental leave and the "right to request" flexible hours may have unintended negative consequences for women's career advancement. It is also the case that women continue to bear greater responsibility for care of the home and family. Child care subsidies are one way to reduce this unequal burden, and in turn, facilitate women's labor force participation and career advancement.
Acknowledgments
The author thanks two anonymous referees and the IZA World of Labor editors for many helpful suggestions on earlier drafts. Previous work of the author contains a larger number of background references for the material presented here and has been used intensively in all major parts of this article [5].
Competing interests
The IZA World of Labor project is committed to the IZA Guiding Principles of Research Integrity. The author declares to have observed these principles.
© Anne E. Winkler