Elevator pitch
A growing body of research has begun to examine the match between student ability and university quality. Initial research focused on overmatch—where students are lower attaining than their college peers. However, more recently, attention has turned to undermatch, where students attend institutions with lower attaining peers. Both have been shown to matter for student outcomes; while in theory overmatch could be desirable, there is evidence that overmatched students are less likely to graduate college. Undermatched students, meanwhile, have been shown to experience lower graduate earnings.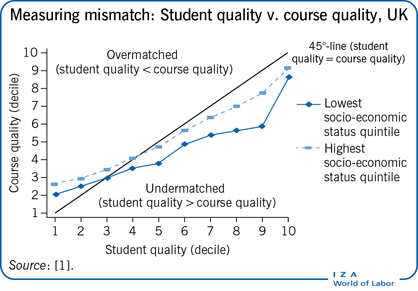 Key findings
Pros
Researchers have a good understanding of the characteristics of mismatched students, and the drivers of mismatch.
Mismatch is driven predominantly by student application behavior, rather than because well-matched colleges have rejected them.
Well designed and targeted information interventions have been shown to be effective in reducing undermatch by encouraging disadvantaged, academically able students to apply to, and enroll in, selective institutions.
Cons
Evidence suggests that overmatched students are less likely to graduate college.
Undermatched students are shown to experience lower graduate earnings.
Well-informed students have been found to overmatch more, i.e. they appear to prefer higher quality institutions even if they end up overmatching as a result.
Disadvantaged students are more likely to undermatch and less likely to overmatch.
There are significant research gaps on mismatch's non-cognitive drivers, the relative importance of subject choice and student preferences, and impacts on future outcomes.
Author's main message
Evidence suggests there is a high degree of mismatch between student ability and university quality. There is consistent evidence that disadvantaged students are more likely to be undermatched and less likely to be overmatched than equally qualified students from better-off backgrounds. Lack of information, geographical isolation, and financial constraints are documented drivers, though mismatch can arise in the absence of these conditions. Highly targeted interventions such as coupling information with financial assurances have been shown to be effective at improving match.
Motivation
Increasing enrolment in higher education is an important element of governments' human capital accumulation strategies. Consequently, much academic research has been devoted to examining policies aiming to encourage students into university. However, less attention has been given to the types of universities and courses students enroll in and whether being well matched to a course is beneficial for students. Given the high degree of variation in university quality and student ability, it is important to understand how efficient the higher education market is in matching students to courses.
A well-functioning market would be one in which students attend the institution offering the highest net marginal benefit, conditional on their characteristics. Net benefits could depend on a variety of factors including preferences, cost of attendance, geography, and so on. A more simplified approach is to examine student qualifications in comparison to other students attending a given university. Using variation in student quality as a proxy for returns, it can be assumed that, all other things being equal, students will want to attend the institution with the highest returns (i.e. the highest student quality). Therefore, the extent of mismatch provides one metric of how well the higher education market is functioning; the more mismatch, the more students could benefit from making different choices. The question of mismatch is why some young people do not access top institutions when they could. For example, many Ivy League courses in the US offer free admission and generous financial support to students from low-income backgrounds, yet the vast majority of high-achieving low-income students do not access them. The question is, why not?
Discussion of pros and cons
Limitations and gaps
There are still too few studies adopting causal identification strategies to be sure of the impact of under- or overmatch on both academic and labor market outcomes. The lack of convincing and consistent evidence of the impact of both under- and overmatching on future outcomes is an important gap in the literature.
Moreover, the current definition of match may be inaccurate. Evidence from the above studies implies that mismatch can arise even in the presence of near perfect information, and when credit constraints are not an issue. This implies that high-achieving students from poor backgrounds may be experiencing other factors discouraging them from attending selective universities. Two likely candidates are non-cognitive factors and preferences.
First, students from disadvantaged backgrounds may have low academic self-concept (i.e. how an individual views their own academic achievement), and hence may not apply in the first place. Furthermore, those students who do attend may lack some of the non-cognitive skills required to succeed, and the institutions to which these students would be well-matched may not provide the required support structure. A link between family background and non-cognitive skills has been demonstrated by past research, but the role of these so-called "soft skills" has not been fully explored in the mismatch literature.
Second, studies of mismatch typically do not take account of students' preferences. Students may appear to be academically mismatched, but they may be satisfied with their choice of institution, and may have unobserved preferences such as to be in a particular location, or to be among peers. They may also derive high rates of satisfaction from their chosen courses even if they appear to be mismatched "on paper." Earlier research points out that even if some of the ex-post outcomes for minority students are worse under affirmative action, it may be the case that such students are better off when considering a wider range of outcomes.
Summary and policy advice
Studies from the UK and US have revealed a high incidence of both undermatch and overmatch, with the proportion of students who are mismatched ranging from 15–25% (of each undermatch and overmatch), depending on country and context. This implies that the higher education market has considerable search frictions, which is problematic given the small body of evidence establishing the existence of complementarities in student ability and college quality. Therefore, policymakers should aim to improve the match of students to institutions and courses by removing these frictions and so ensure that high-ability students choose to attend more selective universities.
Most studies agree that students from disadvantaged backgrounds and geographically isolated students are most likely to be undermatched, thus presenting a potential target population for policy to relieve undermatch. Other studies have shown that minority students undermatch, even in the presence of affirmative action, and that females are more likely to be undermatched than males when course quality is measured according to graduates' earnings.
Encouraging high-attaining but disadvantaged students to attend better quality universities and courses is important from a social mobility perspective. Recent evidence suggests that the institution chosen and subject studied are important for future labor market returns. Thus, improving the choices of disadvantaged students is likely to improve intergenerational mobility.
In addition to the well documented SES gaps in student choices, research from the UK also finds evidence of a gender gap in match when considering the returns of specific majors. This gender gap—showing that high-attaining females choose equally selective courses than males, but ones associated with lower earnings—is comparable in size to the SES gap and is also, therefore, worthy of investigation and action.
So, what can policymakers do? There are a number of strategies potentially open to policymakers concerned with improving the fit between students and institutions. However, the success of these policies will depend on context. Research points to the role of information provision as a relatively cheap and effective strategy to reduce undermatch of high-attaining, low SES students. The information interventions described above had very encouraging positive results and suggest a potential way forward for policymakers.
Acknowledgments
The authors thank anonymous referees and the IZA World of Labor editors for many helpful suggestions on earlier drafts.
Competing interests
The IZA World of Labor project is committed to the IZA Code of Conduct. The authors declare to have observed the principles outlined in the code.
© Gillian Wyness and Richard Murphy