Elevator pitch
As the third-largest economy in the world and a precursor of global trends in population aging, Japan's recent experiences provide important lessons regarding how demographic shifts affect the labor market and individuals' economic well-being. On the whole, the labor market showed a remarkable stability during the financial crisis, despite decades of economic stagnation and sluggish real wage growth. Rapid population aging, however, has brought substantial changes to individuals in the labor market, most notably women, by augmenting labor demand in the healthcare services industry.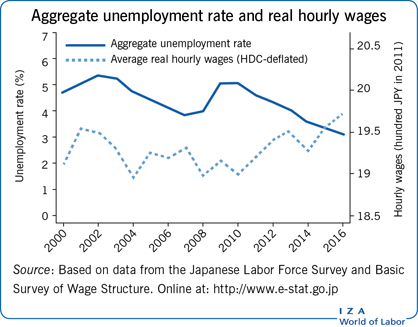 Key findings
Pros
Japan's aggregate unemployment rate has been relatively stable and low.
Women's employment is increasing quickly, while the employment rate among men remains high.
Japan's gender wage gap is shrinking.
Average real wages have been growing recently, most notably among women.
The magnitude of wage inequality in Japan remains relatively small.
Cons
Japan's working-age population has been declining rapidly.
Rising employment among women in Japan coincides with a decline in the marriage rate, which may further accelerate population decline.
Japan's gender wage gap remains substantial.
Wage inequality among men in Japan has increased at the upper end of the wage distribution.
Job stability in Japan has declined as jobs with fixed-term contracts have become more prevalent.
Author's main message
Japan used to be known for having relatively low labor force attachment among women. In the early 2000s, however, the employment rate for women began to surge, reflecting rapid population aging and growing labor demand in the healthcare services industry. Moreover, aggregate labor market outcomes remained steady during the last recession, with a relatively high labor force participation rate and a low unemployment rate. Despite the good news, major difficulties remain in the labor market, including a substantial gender wage gap, declining job stability, rising inequality at the upper end of the wage distribution, and falling real wages among young male workers.
Motivation
Aging populations pose challenges to the fiscal sustainability of many countries as a consequence of shrinking workforces and increasing costs of social insurance programs. Understanding how demographic shifts affect the labor market is crucial for efficiently designing various government programs, including public pensions and healthcare systems. This article documents and examines the recent experiences of a forerunner of global trends in population aging: Japan.
Discussion of pros and cons
Limitations and gaps
While some plausible causes that may account for changes in the Japanese labor market during 2000–2018 have been pointed out, many of the arguments remain speculative. Further research is clearly needed to understand the driving forces of these important changes. In particular, further research is warranted to understand better why women's LFPR has increased together with that of older men. An interesting research agenda would be to investigate the relative importance of potential reasons why the LFPR has risen so quickly among prime-age women in recent years.
The fast-rising LFPR for women and older men likely altered skill compositions among workers, which may generate non-trivial sample selection problems for identifying changes in the wage structure. Analyses of wages are entirely descriptive and thus subject to this caveat. That being said, it would be interesting to see how rising wages among women are driven by changes in skill compositions, as well as by variations in skill pricing.
Summary and policy advice
Japan's recent labor market experiences exemplify how rapid population aging affects the structure of the labor market through an expanding healthcare services industry. As a consequence, female labor force participation is increasing and more than one in five female workers is currently employed in the healthcare services industry.
In the face of the growing demand for childcare services due to rising employment among women, securing an adequate supply of healthcare workers and childcare professionals is a key policy issue. Given that the markets for healthcare and childcare services are publicly run or heavily regulated, comprehensive policy designs that address the pricing of such services and the training of childcare workers are necessary. Carefully designed interventions in those industries may facilitate an efficient division of labor based on the comparative advantages of workers with heterogeneous skills and may generate efficiency gains from the scale economies in providing services. Policymakers should therefore design healthcare and childcare programs in light of their potentially positive welfare effects.
Acknowledgments
The authors thank the IZA World of Labor editors for many helpful suggestions on earlier drafts. This work was supported by JSPS KAKENHI grants 15H05692, 16H06322, 16H03630, 16K21743, and 17K13747. Version 2 of the article updates the content and figures to 2018.
Competing interests
The IZA World of Labor project is committed to the IZA Code of Conduct. The authors declare to have observed the principles outlined in the code.
© Daiji Kawaguchi and Hiroaki Mori