Elevator pitch
The Italian labor market suffered a sizable negative shock from the double-dip recession and has since experienced a moderate recovery beginning in 2014. Despite some improvement, unemployment remains higher than pre-crisis levels, especially for young workers. Female participation has been slowly increasing. Regional heterogeneity is still high, with the stagnating south unable to catch up with the north. Real earnings have been increasing, but productivity is stable at relatively low levels compared to other European countries. Finally, undeclared employment is high, especially in the south.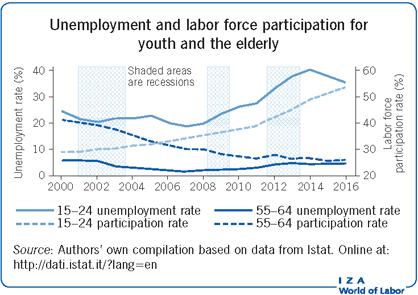 Key findings
Pros
After increasing significantly during the recent double-dip recession, both average and long-term unemployment began to decrease in 2014.
Job vacancies have increased since the large drop in 2009.
Female labor force participation is increasing, albeit slowly.
Older workers' (aged 55–64) labor force participation has increased substantially in recent years.
Real earnings have increased, although they should be accompanied by proportional increases in productivity, which so far have not been seen.
Cons
Unemployment remains higher than pre-crisis levels.
Southern regions are lagging behind the rest of the country in all labor market aggregates, with no appreciable sign of convergence.
Female labor force participation is still low, especially in the south.
There has been a large increase in youth unemployment since the crisis, with only minor improvements seen since 2014.
The labor force participation of young individuals (aged 15–24) has decreased significantly since 2000.
Author's main message
Italy's labor market performance is characterized by pronounced differences across age groups. Young individuals are facing high unemployment and low participation rates, while older individuals have seen their participation and employment levels increase. Regional differences are still significant, as shown by a more dynamic north and a stagnant south. Italy's structural issues threaten to limit the extent of its ongoing moderate recovery. Among other measures, policymakers should promote youth employment activation policies and invest more in research and innovation programs across the country, as well as creating a more competitive business environment in the south by tackling inefficiencies and corruption and making private investments more profitable.
Motivation
The Italian economy, one of the largest in Europe, was severely hit by the recent double-dip recession, and full recovery has yet to happen. The current favorable economic scenario, characterized by steady economic growth in the whole euro area, represents an important opportunity to implement some needed structural reforms and tackle key labor market problems, such as high youth unemployment and the north–south disparity.
Discussion of pros and cons
Limitations and gaps
Limitations in the available data have forced the current analysis to neglect an important aspect of the Italian economy: entrepreneurs and small enterprises, especially with respect to earnings. The available data on real earnings in the private sector were restricted to employees in firms with more than ten employees, thereby excluding entrepreneurs and self-employed individuals. In addition, Labor Force Survey data do not provide reliable information on individuals' earnings before 2009. In the absence of administrative tax returns data, this prevents an evaluation of the evolution of the income distribution as well as any reliable analysis of inequality.
The analysis of wages in the private and public sectors was based on the amounts stated by national collective bargaining agreements. While all workers in the public sector are covered by such agreements, this approach might leave out a substantial fraction of private sector workers, since, for example, nearly 24% of workers in that sector were self-employed in the last quarter of 2016 [6].
Further limitations include the unavailability of regional unemployment data before 2004, of hire rate statistics, and scarce availability of immigrants' labor market aggregates.
Summary and policy advice
The Italian labor market is undergoing a moderate recovery that could be aided by policy interventions aimed at increasing efficiency and competitiveness. A major issue that should be of paramount importance to policymakers is the strikingly poor performance of Italy's southern regions. This well-known long-term stagnancy pattern, exacerbated by ineffective institutions and policies, places a heavy burden on Italy's recovery. Innovative structural policies aimed at creating a more competitive business environment in the south and making private investments more profitable are required. Legality should be restored by sharply reducing the extent of the shadow economy, which would result in increased fiscal revenues and more efficient allocation of resources.
Another major problem is the stunningly poor labor market performance of young Italians, whose participation has declined markedly since the turn of the century, owing to increased difficulty finding a job. Such poor performance stands in contrast to the relatively good performance of older individuals, suggesting once again that the Italian economy is not investing enough in its younger citizens. Average productivity should also be increased in order to keep up with the rest of Europe, by promoting investments in human and physical capital and allocating more resources to research and development.
Acknowledgments
The authors thank the IZA World of Labor editors for many helpful suggestions on earlier drafts.
Competing interests
The IZA World of Labor project is committed to the IZA Guiding Principles of Research Integrity. The author declares to have observed these principles.
© Francesca Marino and Luca Nunziata