Elevator pitch
There is widespread interest in universal early education, both to promote child development and to support maternal employment. Positive long-term findings from small-scale early education interventions for low-income children in the US have greatly influenced the public discussion. However, such findings may be of limited value for policymakers considering larger-scale, more widely accessible programs. Instead, the best insight into the potential impacts of universal early education comes from analysis of these programs themselves, operating at scale. This growing research base suggests that universal early education can benefit both children and families, but quality matters.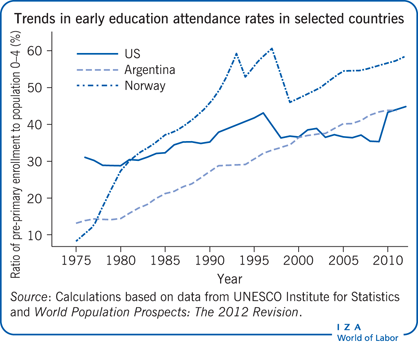 Key findings
Pros
High-quality universal early education raises test scores.
High-quality universal early education improves other markers of school readiness that may be critical for generating long-term impacts.
High-quality universal early education may increase adult educational attainment and employment and reduce welfare dependency.
The benefits of high-quality universal early education are larger for disadvantaged children.
Availability of early education can increase maternal employment, providing revenue to offset program costs.
Cons
The test score advantage from universal early education declines as children progress through school.
For children from more advantaged families, the costs of universal early education may exceed the benefits.
Universal early education that is oriented more toward childcare than preschool and is lower quality may make even disadvantaged children worse off.
Maternal labor supply impacts are larger for programs that are less beneficial for children.
Universal early education provides income support to relatively high-income families where mothers are already working.
Author's main message
Policymakers interested in expanding access to early education face tradeoffs in policy design. High-quality universal early education can promote more equitable outcomes, both in school and in adulthood. However, the benefits for the most advantaged children may be lower than the costs of their participation. While the overall program benefits may still exceed program costs, policymakers should consider the possibility that income-targeted policies could yield the same benefits for less cost. This is important, since programs that deliver benefits over the long term will not fund themselves in the short term.
Motivation
There is widespread interest today in universal early education, both as an investment in future economic productivity and as a means of relieving financial pressures on working families. Since the 1970s, several Nordic countries have offered high-quality childcare at a low price to all families, regardless of need. By the 1990s, many countries across the world were following suit, either by extending public education systems downward to include younger children or by using government subsidies to promote the growth of the childcare sector. There is pressure for this trend to continue. For example, in a recent initiative, the Obama administration proposed using federal grants to encourage states to introduce high-quality, high-access pre-kindergarten ("pre-K") programs for four-year-olds. Further, in the early 2000s, the EU set out a goal for childcare to reach 90% of young children aged three and older by 2010.
Public discussion of universal early education has been greatly influenced by the positive long-term findings of social experiments on small-scale "model" preschool interventions conducted in the US starting in the 1960s [1]. When correctly executed and analyzed, social experiments can yield compelling evidence on the impacts of the program being evaluated. But these particular social experiments have limited applicability to universal early education today, for at least three reasons.
First, these small-scale programs served only very disadvantaged children. Second, participants would have been at home with their mothers in the absence of the experimental program. This situation would not occur as frequently today, at least not in the US, where there are now public early education programs that serve poor children. Participation in private preschool is also widespread in higher-income groups. Third, large-scale early education programs may have impacts on educational opportunities that small-scale programs do not. For example, if universal early education better equips children to learn in primary school, curricula in primary school may become more rigorous. By displacing private early education or existing public programs, universal early education programs may also have implications for the care of infants and toddlers. The best insight into the impacts of universal early education thus comes from analyzing the programs themselves, operating at scale.
Discussion of pros and cons
Limitations and gaps
Knowledge of the impacts of universal preschool has grown tremendously in recent years. However, the literature has some weaknesses. For example, despite the popularity of the RD approach, there remain important unanswered questions surrounding its use to estimate the immediate test score impacts of universal preschool [12]. Regardless of methodology, estimates also tend to be less precise than would be ideal, with more uncertainty about the results than researchers often acknowledge. As a result, the literature as a whole provides stronger evidence than any individual study. Expanding the quasi-experimental research even where it is relatively strong to include more countries and more programs—following best practices with regard to implementation, presentation of findings, and assessment of their uncertainty—should therefore be a priority for future research. Developing social experiments to estimate the impacts of large-scale universal programs, so as to sidestep some of these limitations, should also be a priority.
Evidence on universal early education is also lacking in some substantive areas. For example, there is much demand to know how universal preschool transforms people's lives as adults, so it is important to lay the groundwork now to produce such studies as participants enter adulthood. In the meantime, we need to learn more about the effects of these programs on the non-cognitive skills that might be the bridge to later life outcomes, as well as about the process of test score "fadeout" more generally. We also need to learn much more about which inputs generate the types of learning environments that deliver results. Resources like teacher education and the length of the program day are easily observed and legislated, but there is considerable heterogeneity in the true process quality of programs that share these characteristics [13]. Knowing what makes for an effective program would go a long way toward designing programs that deliver greater benefits at lower cost.
Summary and policy advice
The evidence on universal early education points to a series of potential tradeoffs in policy design. For example, childcare orientation may be more effective in raising revenue in the short term to pay for the program, though childcare programs tend not to be as beneficial for children as do preschool programs—and they may even be harmful. Furthermore, because the benefits of high-quality early education are larger for disadvantaged children, such programs can promote a more equitable distribution of outcomes. However, the costs of the program are the same for all, and the most advantaged children could even be made worse off by participation. While the overall social benefits of high-quality universal programs might still exceed the costs over the long term [3], policymakers should consider the possibility that the same benefits could be delivered at lower cost through an income-targeted program.
Acknowledgments
The author thanks an anonymous referee and the IZA World of Labor editors for many helpful suggestions on earlier drafts and Diane Schanzenbach for helpful conversations.
Competing interests
The IZA World of Labor project is committed to the IZA Guiding Principles of Research Integrity. The author declares to have observed these principles.
© Elizabeth Cascio