Elevator pitch
The perceived lack of economic or social integration by immigrants in their host countries is a key concern in the public debate. Research shows that the option to naturalize has considerable economic and social benefits for eligible immigrants, even in countries with a tradition of restrictive policies. First-generation immigrants who naturalize have higher earnings and more stable jobs. Gains are particularly large for immigrants from poorer countries. Moreover, citizenship encourages additional investment in skills and enables immigrants to postpone marriage and fertility. A key question is: does naturalization promote successful integration or do only those immigrants most willing to integrate actually apply?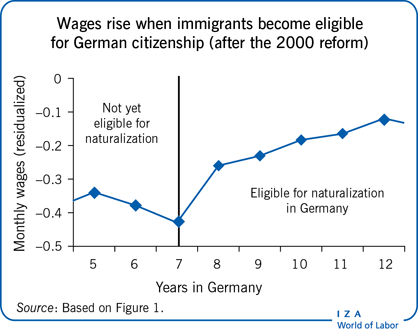 Key findings
Pros
Citizenship is associated with large and persistent wage gains.
The wage gains suggest that naturalized citizens "catch up" to natives with similar characteristics.
Wage gains are larger for immigrants from poorer countries; immigrants also invest more in skills, especially vocational education.
In Germany, women gain more than men do; and recent immigrants gain more from access to citizenship than traditional guest workers do.
With access to citizenship, immigrant women postpone marriage and fertility thus closing one-third of the immigrant–native gap in age of marriage and age at first birth.
Cons
Citizenship appears to have little effect on men's employment and wages.
The propensity to naturalize is low in some European countries.
It is a challenge to separate whether naturalization causes success in the labor market or is taken up by those immigrants most likely to succeed anyway.
Author's main message
Evidence suggests the benefits of naturalization for first-generation immigrants are significant. Citizenship results in higher wage growth, more stable employment relationships, and increases upward mobility into better-paid occupations and sectors. Better assimilation in the labor market in turn benefits destination countries through fiscal revenues and societal cohesion. Citizenship reduces immigrant–native gaps in education, family formation, and fertility, which might further increase acceptance of immigration among natives. Liberalizing access to citizenship could thus be a key policy tool for improving the rate of economic and social integration of immigrants in their host country.
Motivation
In many European countries, immigrants have higher unemployment rates and lower wages than the native population. Poor labor market integration generates sizable challenges for the receiving countries by imposing a fiscal burden and higher transfer payments, for example. Problems with social and cultural integration might provoke resentment, hostility, or anti-immigrant sentiments among the native population. In response, many governments have imposed or considered imposing restrictions on immigration. Such restrictions might include limiting the entry of low-educated immigrants into the country and/or limiting the entry of immigrants from certain countries. An alternative for policymakers is to encourage immigrant integration in the receiving country.
Citizenship offers immigrants several important advantages. First, citizenship is a prerequisite for a number of public sector or government jobs. Many countries also require citizenship in order to become a civil servant (within the EU, citizenship of an EU member state suffices). Second, in the private sector, employers might be hesitant to hire and train immigrants who stay only for a limited amount of time before returning to their home country. Acquiring citizenship of the host country would eliminate such barriers to employment, training, and mobility. Some employers may further prefer to hire naturalized citizens because they discriminate against immigrants, or in order to avoid possible discrimination by employees or customers. To the extent that citizenship reduces or eliminates this type of discrimination, a naturalized immigrant has a higher chance of succeeding in the labor market.
Most importantly perhaps, the option to naturalize makes immigrants full members of the host society with all rights, opportunities, and responsibilities. Naturalization might thus lead immigrants to invest in learning the native language and to obtain the skills necessary to succeed in their host country. These investments in turn speed up assimilation as immigrants become more productive on the job or can switch to better jobs. Moreover, citizenship may influence the network of people immigrants interact with and thus affect the norms or values immigrants internalize and follow. Additional human capital investments, better labor market opportunities, and different norms might also influence other important life choices of immigrants such as when and whom they marry and the timing and number of children they have.
Discussion of pros and cons
Limitations and gaps
Integrating immigrants into the labor market is just one important aspect of citizenship. The benefits of citizenship, both for the immigrants and the destination country, are likely to extend well beyond the labor market.
The few studies on social integration indicate that naturalization shapes immigrant lives in terms of social interactions, partner choice, and fertility decisions. These effects may well extend to the health and well-being of the immigrants and their families. Citizenship could also strengthen their identification with the host country, which contributes to social cohesion. Exploring these additional margins with credible estimation strategies is important to assess how access to citizenship affects the lives of immigrants and natives.
Similarly, more research is needed on whether citizenship that is tied to language requirements improves labor market outcomes, or whether it simply deters immigrants from applying for citizenship.
Summary and policy advice
The existing evidence suggests that citizenship carries substantial benefits to immigrants in the labor market. Citizenship results in higher wage growth, more stable employment relationships, and upward mobility into better-paid occupations and sectors. Earnings gains appear to be most significant for women and immigrants from poorer countries. As women and immigrants from poorer countries receive lower than average wages, citizenship helps those immigrants to improve their relative economic position. Recent studies show that the benefits of liberal citizenship go well beyond the labor market to fostering social integration and human capital investments among immigrants.
The policy lesson emerging from this research is that citizenship appears to be a catalyst for integration. Given the substantial benefits of citizenship to immigrants, especially for women and for immigrants from poorer countries, more liberal access to citizenship in host countries is a powerful policy instrument to speed up immigrants' economic and social integration. Ultimately, the opportunity to become full members of the host society helps the immigrant but also carries sizable benefits for the receiving country.
Acknowledgments
The authors thank two anonymous referees and the IZA World of Labor editors for many helpful suggestions. Previous work of the author contains a larger number of background references for the material presented here and has been used intensively in all major parts of this article [4]. The authors also thank Nicolas Keller for collaboration on the research project. Version 2 of the article includes further evidence on the economic and social effects of naturalization for immigrants and adds new "Key references" [8], [9], [10], [13].
Competing interests
The IZA World of Labor project is committed to the IZA Code of Conduct. The authors declare to have observed the principles outlined in the code.
© Christina Gathmann and Ole Monscheuer