Elevator pitch
A key element of anti-poverty policy is the accurate identification of poor individuals. However, measuring poverty at the individual level is difficult since consumption data are typically collected at the household level. Per capita measures based on household-level data ignore both inequality within the household and economies of scale in consumption. The collective household model offers an alternative and promising framework to estimate poverty at the individual level while accounting for both inequality within the household and economies of scale in consumption.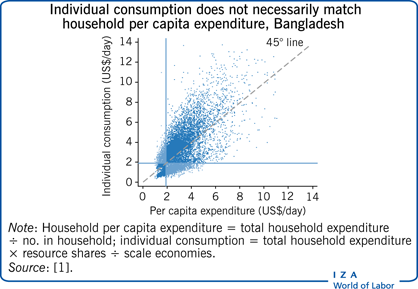 Key findings
Pros
Accounting for intra-household inequality and economies of scale is critical to measuring individual-level poverty.
Poor individuals may live in non-poor households; so, poverty measures based on per capita household consumption or equivalence scales may misclassify poor individuals.
The collective household model provides a framework to estimate individual-level poverty from household-level data.
Evidence suggests that poverty measures estimated using the collective model can improve upon per capita poverty measures.
Cons
The data requirements to estimate poverty at the individual level may be burdensome.
The collective model per se does not account for differences in needs across household members (e.g. children versus adults).
Identification results assume separability between consumption and other critical aspects of household behavior (e.g. labor supply, savings, and home production); this is usually not the case.
Individual welfare is multidimensional; both per capita poverty measures and those estimated using the collective model focus only on consumption.
Author's main message
Poverty is an individual-level concept but typically measured using household-level data. Standard household per capita consumption measures do not account for inequality within the household or economies of scale in consumption, which may be important. Collecting individual-level consumption data on a large scale is challenging and costly. The collective household model provides a promising framework to measure poverty at the individual level that only requires data on one private assignable good. Results suggest that standard poverty measures may dramatically understate the poverty status of certain individuals (e.g. women and children), and that many poor individuals reside in non-poor households.
Motivation
Poverty measures should be consistent in the space of welfare: if two individuals have the same welfare, they should have the same poverty status [2]. But welfare is unobservable, and poverty measures must rely on proxies, with the most common one being consumption. In this article, the use of consumption expenditures to measure individual poverty and related practical issues are examined. Welfare is discussed as it applies to standard utility maximization theory; however, welfare can also be derived from other non-material sources that may not be correlated with consumption. An overview of the issue is provided in [2].
Identifying poor individuals using consumption is challenging because consumption data are almost always collected at the household level. So, poverty rates are typically calculated based on per capita expenditure, that is, total household expenditure divided by the number of individuals that habitually reside in the household. If this measure is below the poverty line, then everyone in the household is poor; if not, then no one in the household is poor. It follows that per capita poverty measures implicitly assume that there is equal sharing of resources within the household. These measures also ignore economies of scale in consumption and assume that individuals derive the same amount of welfare from the same value of consumption, regardless, for example, of their age or gender. This begs the questions: how important are (i) intra-household inequality in consumption, (ii) household size, and (iii) the household's demographic composition for poverty measurement? And, if they do matter for accurate poverty measurement, how can they be accounted for?
Discussion of pros and cons
Limitations and gaps
While the collective household model can help address some of the weaknesses of existing methods for poverty measurement, much more work and development are required before these results can be viewed as clear improvements to current practice. First, none of the approaches discussed in this article (including the collective household model) can pin down what the utility threshold really is, nor are they able to address the amount of resources each individual needs to attain it. To address this issue, the poverty lines for children could be set to a fraction of adults' [8] or be rescaled based on caloric requirements by age and gender [5]. Both approaches, however, are admittedly ad hoc, and could be improved on. Second, the model outlined earlier is a model of household consumption behavior and ignores decisions about savings, labor supply, and home production by implicitly assuming separability (that is, consumption and non-consumption decisions are made independently). Future work should try to incorporate these components into the model. Third, much of the existing work is limited to nuclear households (two parents and their children), but future research should focus on family structures that are common in developing countries (e.g. extended households, which include near relatives, such as grandparents, aunts, or uncles, in addition to a nuclear household) [1]. Fourth, future work should focus on improving researchers' understanding of why existing identification approaches may fail (as in [11]), and relaxing some of the modeling assumptions (as discussed in [12]). Fifth, the empirical implementation of the collective household model typically requires the estimation of highly nonlinear models, which has proven to be computationally difficult. Frameworks delivering simpler estimation models would be beneficial [13].
Summary and policy advice
Measuring poverty at the individual level is a critical task of anti-poverty policy. Relying on household-level targeting strategies for anti-poverty policy may mean that poor individuals in non-poor households will not be reached. This underreporting of poor individuals in non-poor households may undermine highly needed policy.
The collective household model provides a coherent framework to make advancements in measuring poverty more effectively, with relatively few data requirements. Work by policymakers is underway to incorporate it into standard policy analysis [13]. Nevertheless, more information on individual-level welfare is needed. Furthermore, the collection of richer and more detailed data is also essential to improve the identification and estimation of the collective household model and provide ways to validate its use for poverty measurement.
As a final note, policymakers are encouraged to take within-family allocation (and its implication for poverty reduction) seriously. In instances where intra-household inequality is expected to be substantial, different targeting approaches may be more effective in reaching the poor. In-kind transfers (such as school meals for children) may be a valid alternative.
Acknowledgments
The authors thank an anonymous referee and the IZA World of Labor editors for many helpful suggestions on earlier drafts. The authors would also like to highlight work by Olivier Bargain, Martin Browning, Pierre-Andre Chiappori, Laurens Cherchye, Angus Deaton, Bram De Rock, Olivier Donni, Geoffrey Dunbar, Sylvie Lambert, Valerie Lechene, Arthur Lewbel, Krishna Pendakur, Martin Ravallion, Dominique van de Walle, Frederic Vermeulen, and their coauthors, who have been instrumental in this literature.
Competing interests
The IZA World of Labor project is committed to the IZA Code of Conduct. The authors declare to have observed the principles outlined in the code.
© C. Brown, R. Calvi, J. Penglase, and D. Tommasi