Elevator pitch
International migration alters the socio-economic conditions of the individuals and families migrating as well as the host and sending countries. The data to study and to track these movements, however, are largely inadequate or missing. Understanding the reasons for these data limitations and recently developed methods for overcoming them is crucial for implementing effective policies. Improving the available information on global migration patterns will result in numerous and wide-ranging benefits, including improved population estimations and providing a clearer picture of why certain migrants choose certain destinations.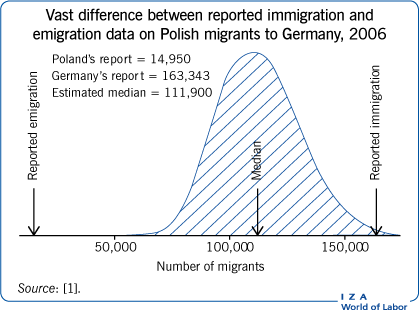 Key findings
Pros
Migration is important for understanding population and societal changes.
Data on international migration flows are becoming increasingly available, especially in Europe.
Countries can improve their migration flow reports by sharing data with each other.
Statistical modeling can be used to harmonize and estimate missing and conflicting international migration flows.
Measures of uncertainty improve researchers' understanding of the quality of migration data and estimates.
Cons
International migration data are highly inconsistent and incomplete due to different measurements and collection methods.
The effects of incorrect measurement on the levels of migration are poorly understood.
Even the best available data sources likely undercount flows of immigration and emigration.
Most national statistical offices do not share information on cross-border movements.
It is unrealistic to expect countries to change their data collection practices in the next ten years.
Author's main message
Migration flow data are deficient due to differences in measurement and collection systems. However, most analysts ignore this and instead design policies based on incomparable or inaccurate data. In the best case, effective information sharing and standardized migration flow measuring practices would be adopted on a global scale. However, this is a lofty and perhaps unrealistic short-term goal. In the interim, recent research using statistical modeling techniques to produce synthetic data holds great potential to provide more reliable and consistent information on international migration and its impacts over time.
Motivation
International migration has become an increasingly important global issue. Despite long-term efforts by the UN to provide clear guidelines on how to measure migration, very little is known about the actual number of annual migrants throughout the world and the scarce information available is contradictory [2], [3]. Today, countries typically rely on their own definitions of what constitutes a "migration." This creates inconsistencies among international data and makes it challenging to understand the process by which people move across national borders.
Consistent and reliable data on international migration flows are needed so that governments know where their populations are moving; this knowledge would enable governments and policymakers to recruit the appropriate types of workers needed in increasingly specialized markets, or to develop policies for providing effective services for migrants.
Discussion of pros and cons
Limitations and gaps
As discussed above, migration flow data suffer from serious inaccuracy and incompleteness. Research that compares different reports of international migration statistics could provide the basis for improving the consistency and quality of data. Comparing international reports could also improve understanding of existing data and, ultimately, the migration processes themselves. Ideally, this process would be conducted by an independent organization that receives data inputs directly from national statistical offices. However, there are many short-term obstacles to consider before this type of structure could be implemented. The exact procedures and methodologies for sharing migration data across countries would take time to organize and develop, though the current Nordic system does provide a working example.
In the absence of a functioning international system for sharing migration data, statistical modeling is really the only feasible option for harmonizing and estimating flows. Using such synthetic estimates as a means of understanding migration represents a radically different practice than what currently exists. However, recent research on European migration has shown the advantages of doing so [2], [11], namely a consistent and comparable set of flows that can be used to understand migration processes and to assess migration policies across countries. Considerable efforts will be needed to apply these tools to other regions in the world, where international migration flow data are even sparser. While many developed countries, such as the US and Australia, provide somewhat reliable information on international migration flows, there is a real and urgent need to understand how people are moving amongst less developed countries in Africa, Asia, and Latin America—areas that are experiencing rapid economic development and urbanization—where nearly no reliable data exist.
Summary and policy advice
Consistent migration flow data are needed for a range of reasons that are critical to the development of a reliable evidence base for migration policies and research. One of the main obstacles is the absence of a standard definition for measuring migration flows. There also needs to be communication and sharing of data between countries of origin and destination, and procedures to assess the reported migration flows. Problems associated with poorly measured migration data are not new and have been well documented; however, only recently have alternatives been proposed. The IMEM model for combining differently measured migration data provides a mechanism to overcome current migration data limitations and has the potential to lead to better migration policy and research.
To fully comprehend international migration, researchers and policymakers must first overcome the inadequacy of existing data. Having a reliable database on migration flows would provide a better understanding of the mechanisms driving migration patterns and population changes. To start with, countries should agree to send information about the number of migrants they receive from individual countries to the national statistical office in each different origin country. Second, more effort is needed to ensure that reported migration flows add up to the stocks of migrants measured by censuses. As population stocks are easier to measure consistently across countries, this could help verify the quality of the migration flow data. If countries are unable to collect migration flow data, then estimates from models that utilize information from other countries' reports and covariates could be considered. These two activities in combination with ongoing developments in statistical modeling of migration flows should greatly improve understanding of migration and its impacts on societies at large, thus enabling policymakers to devise better targeted and more effective migration policies.
Acknowledgments
The author thanks two anonymous referees and the IZA World of Labor editors for many helpful suggestions on earlier drafts. Previous work of the author together with Jakub Bijak, Joop de Beer, Jon Forster, Peter Smith, Rob van der Erf, and Arkadiusz Wiśniowski contains a larger number of background references for the material presented here and has been used intensively in all major parts of this article [1], [2], [10], [11].
Competing interests
The IZA World of Labor project is committed to the IZA Guiding Principles of Research Integrity. The author declares to have observed these principles.
© James Raymer