Elevator pitch
Gravity models have long been popular for analyzing economic phenomena related to the movement of goods and services, capital, or even people; however, data limitations regarding migration flows have hindered their use in this context. With access to improved bilateral (country to country) data, researchers can now use gravity models to better assess the impacts of migration policy, for instance, the effects of visa restriction policies on migration flows. The specification, estimation, and interpretation of gravity models are illustrated in different contexts and limitations of current practices are described to enable policymakers to make better informed decisions.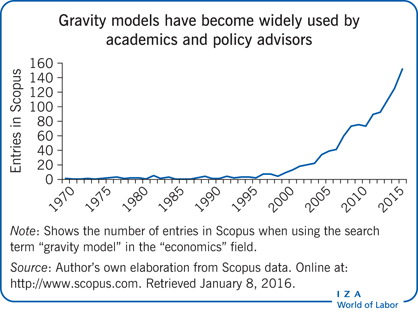 Key findings
Pros
Gravity models provide an intuitive framework to understand the determinants of flows between countries, in particular: trade, migration, or capital.
Gravity models can easily be derived from theoretical models such as random utility maximization models.
There are multiple methods to account for analytical challenges associated with gravity models such as the use of instrumental variables or fixed effects.
Empirical models can easily be augmented to consider different additional controls and policy variables.
Cons
The estimation of gravity models requires country-pairs detailed data (i.e. data regarding two specific countries experiencing direct flows between them), which is not always easy to obtain.
Gravity models encounter difficulty when using data sets that include negative or zero values; some solutions are being investigated, but the challenge remains.
The interpretation of gravity model results from a policy perspective is not always straightforward due to questions regarding data completeness and other influencing factors.
Author's main message
Gravity models assume that flows between two countries are directly proportional to their size (population or GDP) and are inversely proportional to the physical distance between them (similar to Newton's gravitational law). Due to the recent availability of bilateral (i.e. two-way, country to country) migration data, gravity models have become more frequently used in the context of migratory flows. This allows for a better understanding of migration determinants when assessing policy impacts. Further improvement in the application of new data sets will enhance the usefulness of gravity models in a migration policy context.
Motivation
The simplest versions of gravity models relate bilateral migration to the relative size of the origin and destination countries and the distance between them; however, there are additional factors that can affect migration flows. For this reason, gravity models are enlarged with variables related to different migration pull and push factors; for instance, better economic opportunities in the destination country (i.e. prospects for higher wages or lower unemployment rates), safer conditions, and higher political freedom, among others.
Gravity models have been used to understand the role of exogenous factors such as distance or linguistic proximity, while also being used to assess policy impacts such as visa restrictions. In fact, the use of gravity models has been growing extensively during the last decades, although there are still some limitations in terms of data availability and other technical issues.
Discussion of pros and cons
Limitations and gaps
The primary limitation to gravity models within the context of migration analysis has been the limited availability of bilateral migration data; however, the situation is improving quickly. Nowadays, the main concerns are related to issues such as multilateral resistance to migration or the frequent presence of zero observations. Data limitations are also more evident when the focus is not on international migration, but on internal migration, a topic that is receiving increasing attention, and where microdata from censuses are becoming the most relevant source for this kind of analysis.
Some authors have also used gravity models to estimate potential future migration flows between different pairs of countries. For instance, a 2010 study specified and estimated a gravity model that could be included as part of a demographic projection model [12]. Taking this objective into account, the authors selected explanatory variables that could easily be projected in terms of demographic scenarios. Although this analysis can provide some insights to help predict migration flows, the use of gravity models from this perspective will provide only limited utility in assessing the impact of different policy scenarios. In particular, although gravity models could be used to perform counterfactual evaluations of the evolution of migration flows after policy changes, counterfactuals need to be performed carefully, and must properly take into account the impact of multilateral resistance to migration. As previously mentioned, one relevant assumption of the RUM model is that the attractiveness of a destination is not supposed to be affected by migration, which may not always be the case in reality. Researchers using gravity models to calculate migration potentials should be aware of this limitation.
Summary and policy advice
The use of gravity models as a tool to analyze international migration flows has substantially increased during the last decade. The improved availability of bilateral migration data has allowed researchers to analyze the role of pull and push factors that had not previously been considered in the literature. Taking advantage of these new data sets, researchers have obtained new evidence on the role of networks, or on the relative contribution of linguistic proximity between countries, to help explain international migration flows. As a part of structural analysis, gravity models have also been used to shed new light on the impact of migration policies such as bilateral visa restrictions.
Moreover, and in a parallel way to the recent evolution of studies focusing on bilateral trade, new theoretical and methodological advances have allowed researchers to overcome some of the methodological challenges posed by the use of dyadic (i.e. bilateral origin to destination) data. For instance, by referencing the underlying theoretical framework in terms of RUM models, gravity models now allow researchers to clarify key points for applied research such as the need to control for multilateral resistance to migration. However, there are still some issues that require further attention in order to improve the applicability of gravity models such as the excess of zeros in data sets or the presence of endogeneity problems.
Acknowledgments
The author thanks two anonymous referees and the IZA World of Labor editors for many helpful suggestions on earlier drafts. Previous work of the author (together with Jordi Suriñach) contains a larger number of background references for the material presented here and has been used intensively in all major parts of this article (Ramos, R., and J. Suriñach. A Gravity Model of Migration between ENC and EU. IZA Discussion Paper No. 7700, 2013).
Competing interests
The IZA World of Labor project is committed to the IZA Guiding Principles of Research Integrity. The author declares to have observed these principles.
© Raul Ramos