Elevator pitch
Women's labor force participation has rapidly increased in most countries, but mothers still struggle to achieve a satisfactory work−life balance. Childcare allows the primary caregiver, usually the mother, to take time away from childrearing for employment. Family policies that subsidize childcare and increase its availability have different effects on female labor supply across countries. For policymakers to determine how well these policies work, they should consider that policy effectiveness may depend on country-specific pre-reform female employment and earnings, and childcare availability, costs, and quality.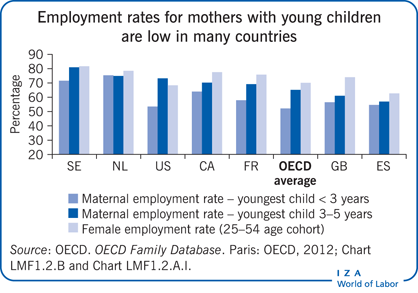 Key findings
Pros
Countries with a higher availability of affordable childcare exhibit high maternal labor force participation rates.
The provision of childcare, especially for pre-school-aged children, helps mothers achieve a satisfactory work−life balance.
Higher childcare subsidies result in a substantial increase in childcare utilization.
Larger labor supply effects occur in countries where employed single parents or two-earner couples are eligible for the subsidies.
Cons
The scope for policy to increase labor supply is limited in countries with very high female labor force participation and/or highly subsidized childcare systems.
Good access to affordable care might result in little or no increase in maternal labor supply if it only crowds out other forms of non-parental care.
Difficulties in measuring the lack of qualified people working in childcare and the quality of care may prevent families from using this service.
Preferences and social norms may drive childcare choices, and not only costs and availability.
Author's main message
Policymakers must identify the most effective instruments when designing approaches for encouraging maternal labor force participation. Investing in quality childcare facilities, especially for young children, can help achieve this goal. Accessibility, affordability, and quality are all important. Women's pre-subsidy employment statuses, average wages, childcare arrangements, and other factors not directly associated with childcare costs and availability are also important. These indirect factors include childcare regulations, welfare systems, and social norms. All of these factors might strengthen or reduce the effectiveness of family policies.
Um eine höhere Erwerbsbeteiligung von Müttern zu erreichen, muss zunächst ermittelt werden, welche Instrumente im jeweiligen Kontext wirksam sind. Dazu zählen Investitionen in qualitativ hochwertige Kinderbetreuung, vor allem für Kleinkinder. Verfügbarkeit, Preis und Qualität sind gleichermaßen wichtige Kriterien. Allerdings kommt es auch darauf an, in welcher Situation sich Mütter auf dem Arbeitsmarkt vor der Reform befanden und welche Rolle gesetzliche Vorschriften, Sozialleistungen und gesellschaftliche Normen spielen. Diese können die Wirkung der Familienpolitik verstärken oder auch konterkarieren.
Competing interests
The IZA World of Labor project is committed to the IZA Guiding Principles of Research Integrity. The author declares to have observed these principles.
© Daniela Vuri