Elevator pitch
The time household members in industrialized countries spend on housework and shopping is substantial, amounting to about half as much as is spent on paid employment. Women bear the brunt of this burden, driven in part by the gender wage differential. Efforts to reduce the gender wage gap and alter gendered norms of behavior should reduce the gender bias in household production time and reduce inefficiency in home production. Policymakers should also note the impact of tax policy on housework time and its market substitutes, and consider ways to reduce the distortions caused by sales and income taxes.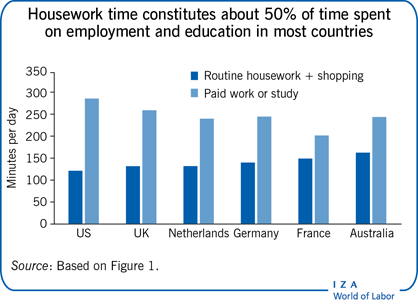 Key findings
Pros
Household production yields valuable services and constitutes an important sector of the economy.
Gender differences in housework time that are caused by gender differences in opportunity costs or productivity are efficient.
Some observed differences in housework time could be attributable to preferences; the limited evidence available on preferences suggests that, on average, women prefer housework more than men do.
Evidence suggests that the time spent on home production has decreased while reliance on market substitutes has increased.
Gender differences in housework time have been declining and may be contributing to reduced gender differentials in earnings.
Cons
Contributions in the household sector are often undervalued, leading to underestimates of economic well-being.
Gender differences in housework time caused by social norms or discrimination are not efficient.
Income taxes distort incentives and lead individuals, especially women, to allocate more time than is socially optimal to household production.
Women who spend more time on housework have been found to earn lower wages, suggesting a vicious cycle, with wage differentials driving allocations to housework time and vice versa.
The value households place on market purchased versus home produced goods is uncertain, but sales taxes likely distort households' choices.
Author's main message
Substantial resources are devoted to household production, and boosting efficiency in this sector could have large economic effects. A number of policies could support this effort. Sales and income taxes motivate people to spend time on housework that would be better spent on other activities. Basing tax rates on individual rather than household earnings would reduce such incentives, particularly for women entering couple households. Policies to reduce labor market discrimination and discourage gendered norms of behavior would further enhance efficiency, but any gender differences in housework time that reflect different preferences or abilities are appropriate.
Motivation
The focus in this article is on routine household tasks that every individual performs, such as cleaning, laundry, meal preparation, home maintenance and repair, and shopping. Time spent on care activities for children and adults, in and outside of the household, is not addressed here. While caregiving is a very important use of time, research indicates that the determinants of caregiving differ substantially from those for routine housework and so caregiving deserves separate analysis.
Household members spend considerable time on routine household tasks even in industrialized countries. Figure 1 compares the average time prime-aged individuals spend on housework and the time spent on employment and education in 28 mostly developed countries [1]. The time devoted to housework exceeds 50% of the time spent on employment and education in 16 of these countries and exceeds 40% in all but three. Average time spent on housework ranges from a low of 89 minutes a week in South Korea to a high of 203 minutes a week in Mexico.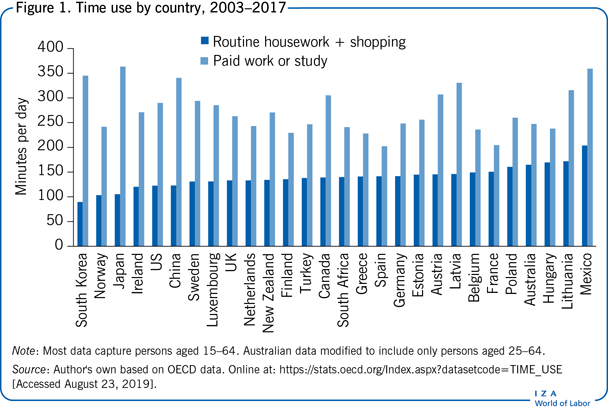 Standard economic measures of well-being such as national gross domestic product (GDP) exclude the value of household production. No one disputes that housework produces valuable products, like clean clothes, well maintained homes, and healthful meals, which contribute to individual health and well-being. The difficulty lies in valuing these contributions. If this time were valued as highly as labor income, incorporating the value of household time in GDP would increase GDP by roughly the same proportion as the time differential between housework and employment, or 50%. More careful estimates vary with the methodology employed to value time but are also typically large. An OECD estimate for 2011 suggests that including unpaid housework would boost OECD average GDP by about 33% [1]. The value of unpaid housework in the UK in 2016 was estimated by the Office for National Statistics in the Household Satellite Account, UK 2015 and 2016, to be about 39% of GDP. Improving inefficient resource allocation in this sector could have substantial ramifications throughout the economy.
Discussion of pros and cons
Limitations and gaps
While the literature on home production is substantial, it is lacking in several respects. First, there has been little analysis of the nature of the home production function. Whether economies of scale are important, how valuable experience is, the extent to which capital goods substitute for labor, even whether there are fixed time costs associated with production that might influence the timing of as well as time spent on such activities—these are all relatively unexplored research questions whose study could advance understanding of the demand for housework time. Second, information is lacking on decision-making in multi-person households. Theories abound, but there is no consensus on the appropriate way to model this decision-making. A more accurate model would shed light not only on household time allocations but also on household consumption decisions. Third, although evidence suggests that preferences constitute an important determinant of individual time use, data on preferences are rarely available. If reported differences in housework time are due primarily to different preferences, policy actions are unnecessary. Only data on preferences can address this key question. Finally, information on the use of market alternatives for home production is limited and the degree to which these goods are substitutes is unknown.
Summary and policy advice
The time spent on home production constitutes a significant resource that is not recognized in national accounts and is likely greater than is socially optimal given its exceptional position as an untaxed input. Marked gender differences in household time use exist. Gender differences in earnings play an important role, and that role is of some concern given the evidence that the time women spend on housework is quite sensitive to intra-household earnings differences and that women's wages are negatively affected by time spent on housework.
Designing tax policies that focus on individual rather than household income would reduce women's tax-distorted incentive to increase their home production time once they are married. Policy designed to reduce the gender wage gap could also reduce the gender gap in housework time. However, the gender wage gap alone cannot explain the entire gender difference in housework time. Some of the difference has been attributed to differences in social norms; some may be attributable to differences in relative productivity and preferences. Preferences are for individuals to determine, not policymakers. However, education programs that provide both boys and girls with the skills necessary to maintain a home and that discourage gendered notions of behavior could increase the efficiency of time allocation decisions. There is evidence that the overall time spent on home production and gender differences in housework time are decreasing, mostly because women now spend less time on home production. Some evidence suggests that market substitutes for home production are becoming more important, even though such substitutes are typically taxed at a higher rate and so likely underutilized. Whether these changes are for the better depends on how one values home production and its alternatives.
Acknowledgments
The author thanks an anonymous referee and the IZA World of Labor editors for many helpful suggestions on earlier drafts. Previous work of the author contains a larger number of background references for the material presented here and has been used intensively in all major parts of this article [3], [5], [12], [13], [14]. Version 2 of the article includes a new "Pro" and a new "Con," as well as a further discussion of market-based alternatives. The text has been reorganized, the figures updated, and a new "Key reference" [9] added.
Competing interests
The IZA World of Labor project is committed to the IZA Code of Conduct. The author declares to have observed the principles outlined in the code.
© Leslie S. Stratton