Elevator pitch
Most public expenditure on childcare in the US is made through a federal program, the Child Care and Development Fund (CCDF), established as part of landmark welfare reform legislation in 1996. The main goal of the reform was to increase employment and reduce welfare dependence among low-income families. Childcare subsidies have been effective in enabling parents to work, but apparently at some cost to the well-being of parents and children.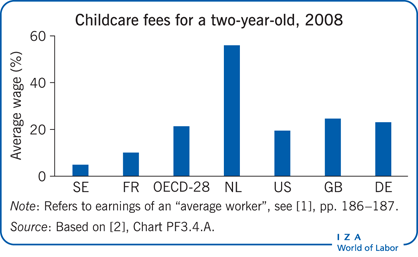 Key findings
Pros
The CCDF childcare subsidies increase employment among low-income parents.
The subsidies encourage parents to invest in their own potential by engaging in educational and job-training activities.
To the extent that childcare subsidies encourage human capital investment, they may lead to long-term economic self-sufficiency.
Childcare subsidies coupled with an employment requirement facilitate the move from welfare to work among low-income parents.
Cons
The way the CCDF is designed to operate may discourage low-income parents from looking for, and providers from offering, high-quality care.
Signature features of the current childcare policy (the work requirement and the relative freedom of parents to choose carers) appear to have adverse effects on the well-being of children.
Author's main message
Designing a childcare subsidy policy that promotes parental employment and improves the quality of childcare at the same time is difficult, if not impossible. Given the conflict between the two goals, childcare policy should be more about children and less about parental employment, as high-quality childcare has significant private and societal benefits. The employment goal could be achieved through more direct policy instruments.
Motivation
Employment is a vital indicator of economic self-sufficiency and independence for women. In recent decades there have been significant advances in women's participation in paid work in industrialized countries. Childcare has thus become a topic of major interest for policymakers trying to figure out how to ensure that parents—especially those on low incomes—can afford reliable, safe, and quality childcare, and how it should be financed.
Childcare fees are paid by parents to childcare institutions—this could be day-care centers or family day care—for services provided to them and their children. They can differ significantly by country (see Figure 1). Fees can be reduced for low-income families and sole parents (see Figure 2 and Figure 3). In order to ensure access for families with limited means ("to address equity concerns") and to ensure lower costs for larger families ("to address demographic objectives") childcare fees usually differ by the number of children in care and may decrease with children's age. Hence, countries try to help parents by providing a range of tax reductions and cash benefits to reduce the net cost of childcare, for instance through (income-tested) childcare benefit support and targeted rebates. These net childcare costs can be significantly lower than gross childcare fees [2].
In the US, childcare subsidies have long been seen as important to help low-income parents move from welfare to work. But childcare issues are not unique to the US and increasingly receive attention in Europe as well. In the US, the CCDF is the primary fund for childcare. Its twin goals are promoting parental employment by making childcare more affordable, and improving the quality of childcare. It is important to understand the design features of the CCDF and the fund's implications for US families in order to draw inferences as to the potential of similar policy reforms being debated in Europe.
Discussion of pros and cons
Limitations and gaps
It is almost indisputable that child subsidies from the CCDF help low-income families leave welfare and find employment. Studies from the US, Canada, and a number of European countries all point the same way. There is also growing evidence that a policy regime that makes receipt of childcare subsidy conditional on parental employment puts both child development and parental well-being at risk.
However, the evidence on the effect of subsidies on outcomes other than parental employment comes almost exclusively from the US. This is no surprise, as the US is nearly unique in tying eligibility for childcare subsidies to employment. Therefore, questions remain about how far the US evidence can be a reliable guide to the effect of similar policies in Canadian and European contexts, which differ from the US in important ways.
Finally, large-scale studies with carefully crafted randomized designs are needed to shed light on the mechanisms through which childcare subsidies influence child and parental well-being.
Summary and policy advice
The CCDF is the primary assistance program for childcare services for working mothers in the US. It strongly emphasises employment, requiring parents to work or seek work, or engage in work-related training or education as a condition of receiving childcare subsidies. Accordingly, it is well established that CCDF subsidies have been effective in moving low-income populations out of welfare and into jobs. However, there is growing evidence that this is at the expense of the well-being of both children and parents.
Given the significant economic and social payoffs associated with high-quality childcare, future government proposals should consider reorienting the design of the CCDF to place more emphasis on improved quality of care. Lessons could be learned from Head Start—another federal program—which provides education, health, and nutrition services to low-income children and their families, but without requirements concerning parental employment. In conclusion, childcare policy should be more about children and less about getting parents into work.
Acknowledgments
The author thanks an anonymous referee and the IZA World of Labor editors for many helpful suggestions on earlier drafts.
Competing interests
The IZA World of Labor project is committed to the IZA Guiding Principles of Research Integrity. The author declares to have observed these principles.
© Erdal Tekin