Elevator pitch
Managers are supervising more and more workers, and firms are getting flatter. However, not all firms have been keen on increasing the number of subordinates that their bosses manage (referred to as the "span of control" in human resource management), contending that there are limits to leveraging managerial ability. The diversity of firms' organizational structure suggests that no universal rule can be applied. Identifying the factors behind the choice of firms' internal organization is crucial and will help firms properly design their hierarchy and efficiently allocate scarce managerial resources within the organization.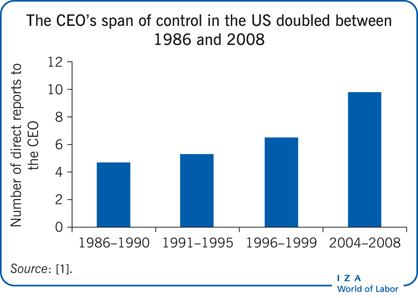 Key findings
Pros
Larger spans of control facilitate the leveraging of managerial talent to more workers.
More knowledgeable workers can work more autonomously and therefore need less managerial time, allowing managers to supervise more workers.
Performance evaluation facilitates learning about workers' ability and makes the allocation of talent within the firm more efficient.
Product market competition leads to flatter organizations and makes firms more responsive to their changing environment.
New technologies improve communication and information acquisition and allow managers to supervise more workers.
Cons
Higher spans of control limit the attention that managers can allocate to each worker, diluting the transmission of talent.
The reduction in the number of layers limits promotion opportunities and can lead to an increase in wage inequality within the firm.
The highest performers do not necessarily make the best managers, as leadership skills may differ from task-specific skills.
Loss of control associated with reducing the number of layers might affect the quality of decision-making.
Learning takes time, and lack of knowledge about individual managerial ability can lead to short-term misallocation of talent.
Author's main message
How to efficiently allocate managerial talent within an organization is of tremendous importance for the modern firm. Assigning more workers to a manager helps to leverage the manager's talent but also limits the amount of attention the manager can devote to each worker. Modern information and communication technologies can assist managers to supervise more workers and also make workers more knowledgeable. Product market competition also makes firms adopt flatter organizational structures as they try to respond more quickly to a rapidly changing competitive environment.
Motivation
The organization of firms and the nature of managerial work have changed dramatically over the last 30 years. Firms have adopted flatter organizational models, leading to a reduction in the number of hierarchical layers, the delegation of authority lower in the organization, and a decrease in the layers of middle managers. The adoption of flatter organizational models has also led to an increase in the span of control, that is the number of subordinates that managers directly control. A survey of a sample of Fortune 500 firms reveals that the CEO's span of control has increased dramatically, rising from 4.5 direct subordinates in the mid-1980s to 6.8 in 1998, while the number of layers between the CEO and divisional managers has been cut by nearly 25% (Figure 1) [2]. More recent data indicate that the CEO's span of control had risen to around ten direct subordinates by the mid-2000s (see Illustration) [1]. Firms are therefore overseeing more employees with fewer managers, and evidence from the business press seems to indicate that this trend is on the rise.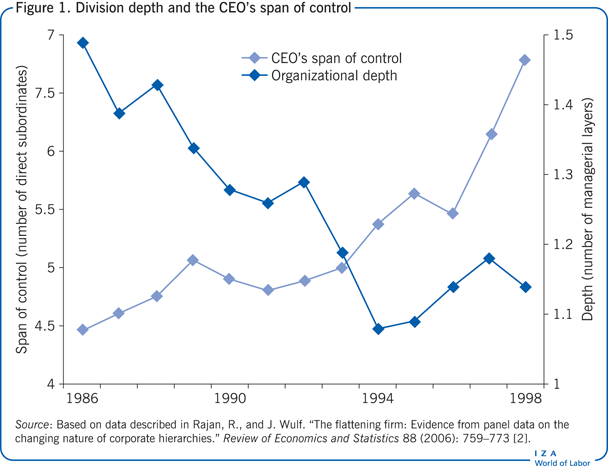 Discussion of pros and cons
Limitations and gaps
A clear difficulty in the literature is the lack of sources of information about the span of control and firms' organizational charts. Researchers have to make creative use of compensation surveys on top executives or administrative data not necessarily designed to study those questions. Some have used information taken from detailed personnel records of individual firms, but it is not clear how their results can be generalized. A more convincing approach is to ask firms directly about their organizational structure in a survey designed for this purpose. But even then, firms may be reluctant to disclose potentially sensitive information, and the way they are organized can be complex to summarize.
Another challenge is that many factors that influence the span of control and firms' organizational structure can be subjective or difficult to evaluate. For example, task complexity, task divisibility, information flows, and the need for interaction are extremely hard to measure. As a consequence, there is a lack of systematic evidence on the determinants of span of control.
Among the questions that remain unanswered from an empirical perspective, two appear to be particularly important: (i) the role of internationalization and offshoring; and (ii) the effect of organization on productivity.
The link between the span of control and outsourcing/offshoring does not appear to have been thoroughly investigated, even though it may be mentioned in a few studies. Information and communication technologies ease communication within the firm but also between the firm and suppliers, changing the make-or-buy decision for various activities, with obvious implications for organizational structure. Information and communication technologies also improve the coordination of activities that take place within the boundaries of the firm but possibly in a foreign subsidiary. Very little is known about the internal organization of multinational companies and how domestic and international outsourcing affect them.
Similarly, there is almost no evidence on the consequences of organizational structure for productivity. Large firms reorganize their activities on a regular basis, leading to dramatic re-drawings of the organizational chart. The top management team makes these decisions to improve firm performance, but there does not appear to be any consistent evidence regarding the efficiency of these changes.
Summary and policy advice
Properly designing the firm's hierarchy and allocating scarce managerial resources within the organization have important implications for the efficiency of supervising workers, sharing knowledge, and coordinating tasks. However, there is no universal recipe for the optimal span of control since each firm has to fine-tune its internal organization to the task specificities and the level of complexity associated with various managerial decisions, as well as to the external environment and the strategy chosen. The information and communication revolution has clearly affected organizational structure by facilitating information acquisition and communication throughout the hierarchy. At the same time, increased product market competition has made organizations flatter as firms have tried to adapt more quickly to a more volatile environment.
There are several lessons to be taken from the findings described in this article. First, while flatter organizations clearly have advantages, firms also have to be careful not to overextend their managers, which might have adverse consequences for the quality of supervision and task coordination. Flatter organizations can also reduce career incentives by making promotions harder and less frequent. Second, training programs that increase workers' knowledge save on managerial resources and enable managers to supervise more workers. Moreover, matching managers and workers' skills appropriately can generate efficiency gains. Third, talent programs that help firms identify leaders improve the learning process and make the allocation of managerial talent more efficient. Fourth, changes in the hierarchical structure have important implications for within-firm wage inequality and, by extension, for aggregate wage inequality.
Acknowledgments
The author thanks an anonymous referee and the IZA World of Labor editors for many helpful suggestions on earlier drafts.
Competing interests
The IZA World of Labor project is committed to the IZA Guiding Principles of Research Integrity. The author declares to have observed these principles.
© Valerie Smeets