Elevator pitch
Cash transfers are a popular and successful means of tackling household vulnerability and promoting human capital investment. They can also reduce child labor, especially when it is a response to household vulnerability. But if not properly designed, cash transfers that promote children's education can increase their economic activities in order to pay the additional costs of schooling. The efficacy of cash transfers may also be reduced if the transfers enable investment in productive assets that boost the returns to child labor. The impact of cash transfers must thus be assessed as part of the entire social protection system.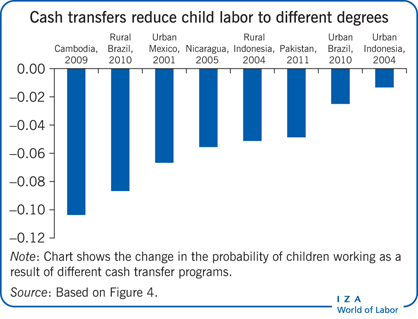 Key findings
Pros
Cash transfers can reduce the economic vulnerability of households and increase human capital investment, especially in low-income countries with weak social protection systems.
Cash transfer programs have proven to be valuable in reducing child labor that arises as a response to household vulnerability.
Adding interventions to reduce the costs of school and health care and improve their quality can increase the effectiveness of cash transfers in reducing child labor.
Cons
If invested in productive assets, cash transfers can increase household demand for child labor.
If cash transfers enable children to enroll in school, child labor might increase to support additional education costs.
Few cash transfer programs have reducing child labor as a primary objective.
In most cases, increases in school attendance are not fully matched by reductions in child labor.
Author's main message
Evidence shows that cash transfers can address child labor by reducing household vulnerability, but there is considerable variation in impact. Differences in program design are one reason. Another is that the effects on child labor may be dampened by the need to pay additional costs if the transfers enable children to go to school. There may also be incentives for increased child labor if transfers invested in productive assets increase the returns to children's work. Thus, adding interventions to reduce the costs and improve the quality of school and health care are a promising complement to cash transfer programs.
Motivation
Social protection policies such as cash transfers seem to be an obvious way to reduce child labor. Cash transfers aim to relieve household economic hardship by providing income support. By easing the economic vulnerability of households, cash transfers can remove some of the reasons that children work. Cash transfer benefits are often coupled with incentives for behavioral change, as in the case of conditional cash transfers that include conditions for children's education or health care.
Cash transfers can have complex effects on household behavior that go beyond easing budget constraints. For example, if cash transfers change the relative prices of children's time use (in work and schooling), that may affect a household's decision to send a child to school. School attendance requires the commitment of a certain amount of a child's time and incurs some fixed costs, which are likely to change the financial constraints facing the household. Also, the household might use part of the transfer for investments in productive assets instrumental to farming or small business activities, such as fertilizer, plows, or sewing machines, which can make it more profitable for children to work. Both of these mechanisms make the effect of cash transfer programs on child labor uncertain.
This paper discusses some of the potential benefits and limitations of cash transfers for vulnerable households, drawing on extensive evidence from impact evaluations. While this does not exhaust the evidence on this topic, focusing on impact evaluations means relying on statistically solid information generated by actual cash transfer programs. Also, there are limits to what cash transfers and, more generally, social protection programs can do to reduce child labor. Access to and the quality of education, returns to education, and access to good jobs after graduation are a few of the variables that also shape household decisions affecting children's work.
Discussion of pros and cons
Limitations and gaps
Cash transfer programs seldom have the reduction of child labor as a primary objective, and so impact evaluations rarely assess this outcome in depth. As a result, little is known about which program characteristics affect child labor. The role of the design elements that have been tested appears to be limited. There is little evidence that conditions that mandate that children attend school affect the programs' impact on child labor. The size of the transfer relative to household income also appears to have little influence in reducing child labor. Some conditional cash transfer programs that transfer substantial sums of money have had no effect on child labor, whereas other programs that provide only a small subsidy have resulted in large changes.
Another key issue concerns measurement of child labor. Only a few studies have examined the extent to which cash transfers prevent and reduce the worst forms of child labor, including hazardous work and long working hours, which can interfere with learning in school. Similarly, cash transfer programs appear to be more effective in reducing child work in economic activities, typically engaged in by boys, than in household chores, typically engaged in by girls. However, studies that look at impacts on child labor tend to focus solely on children's economic activities. Few studies have documented changes in household chores as a result of cash transfer programs, thus underreporting the effects of programs on girls. This is an important oversight as many girls can be attending school while burdened by a heavy load of household tasks, compromising learning and leading to early drop out.
Vulnerability is not the only cause of child labor, and therefore social protection policies such as income transfers are not the only relevant policies for reducing child labor. Poor access to education, low returns to education, and high demand for unskilled labor are other possible reasons for child labor. Therefore, policies aimed at addressing constraints to human capital investment are also relevant for addressing child labor.
Because cash transfer programs are generally part of broader social protection systems that include other components, ranging from health insurance to other targeted transfers or subsidies, their full potential can be determined only by evaluating them in the context of those broader social protection systems. Moreover, the source of financing is seldom considered in discussions of the effectiveness of cash transfer programs, but that is clearly relevant in determining their effects on child labor and other outcomes. Most studies assume, mainly implicitly, that funding is made available from outside the system and that changes in revenue or debt necessary to finance the program do not affect the target population. While this might be the case for small pilot programs, it cannot be so for large programs (like Mexico's Prospera I and Brazil's Bolsa Familia). In short, while impact evaluations provide a sense of the changes induced at the margin by a cash transfer program, any full assessment of their effectiveness requires consideration of the program's source of financing and its integration with the rest of the social protection system, which has not yet been done.
Finally, while the results discussed here can improve the effectiveness of cash transfer programs, the main problem facing vulnerable households is the lack of scale of many social protection interventions, especially those targeting families with children.
Summary and policy advice
Cash transfer programs have the ability to reduce child labor, especially in low-income countries and in countries where social protection systems are weak. Providing a safety net to vulnerable households that lack access to capital markets reduces their use of child work as a coping mechanism.
Evidence from impact evaluations shows that cash transfers are especially relevant if well targeted to the most vulnerable households whose children are at risk of missing school or working. For programs that address large numbers of households with children who are not working, the effects are more diluted.
There are also theoretical reasons, supported by some evidence, pointing to a smaller impact of cash transfer programs on child labor through schooling. The need to finance additional education expenditures, as well as the increased returns to child work when transfers are used to invest in productive assets, might dampen the effects of these programs.
Additional elements could be incorporated in cash transfer programs to deal with these problems and make them more effective. While adding conditions on child labor does not appear feasible, adding measures that reduce the costs of school and health care and improve their quality looks like a promising approach. Adjusting the level of transfers, especially through scholarships, might also be needed to ensure that households can afford the additional costs of sending children to school.
More complex is the problem of the increase in the returns to child work due to investments in household productive activities. Public information campaigns could provide households with information on the risks of children's early involvement in work and on the real return to education (including to the family business). In middle-income countries, cash transfer programs could, for instance, be complemented with services to help youth find profitable employment after graduation, thus increasing the expected returns to education.
Acknowledgments
The author thanks an anonymous referee and the IZA World of Labor editors for many helpful suggestions on earlier drafts. Previous work of the author contains a larger number of background references for the material presented here and has been used intensively in all major parts of this article [1], [3].
Competing interests
The IZA World of Labor project is committed to the IZA Guiding Principles of Research Integrity. The author declares to have observed these principles.
© Furio C. Rosati